back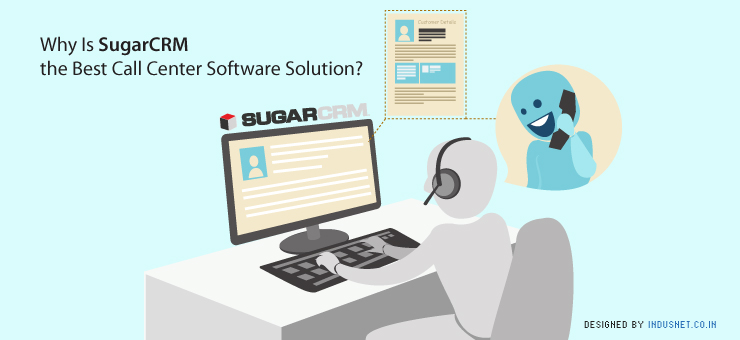 Design
Web Development
Why Is SugarCRM the Best Call Center Software Solution?
It is simply too much to expect that a call centre executive will be able to retrieve a lot of information from different programs in order to get the complete history of a client or customer who is waiting on the other end of the phone to get something resolved. If problems are not solved immediately and if information is not pulled up immediately, the client will get irrigated and may hang up or never do business with you. Thus, it is very crucial to ensure that the right customer relationship management system is used to resolve customers' problems quickly and effectively.
SugarCRM Is Great for Call Centers
SugarCRM, which is a popular customer relationship management tool, is a great way to ensure that the call center works smoothly and efficiently. SugarCRM for call centers is the right way to approach the problem, especially when customers will usually not have a lot of patience. SugarCRM ensures that the calls are short, effective and the customer hangs up happily instead of with a frown. Let us try and understand how SugarCRM can help you to achieve the results you want in a world that is quickly being dominated by different kinds of CRM platforms.
Call Centre Executives Can Perform Duties with Renewed Vigor
SugarCRM is designed to ensure that call center executives do not waste time in retrieving information about the caller. In fact, it is a great platform for government agencies and companies to construct their call center applications and let their executives use a multi-channel desktop program that provides them with all the information that is necessary from a single app. It reduces time, increases efficiency and keeps the customer happy. Let us take a look at the various features of SugarCRM for call centers.
Fast Agent Desktop
This program helps customer service executives to get a 360 degree view of the customer's concerns. All the information is available on one screen so that they do not have to toggle from one program to another. It provides with all the identification details and it will be easy for the executive to confirm the identity of the caller. This leads to increased customer satisfaction and quicker call resolution. B y allowing the executive to get all the information right on the desktop screen without wasting any time, SugarCRM increases productivity and reduces call duration. Lengthy calls can be avoided because information is available right on the screen.
CTI Integration
Computer Telephony integration (CTI) is very crucial in call centers. SugarCRM does this like a piece of cake and it will integrate your existing telephony program into its own so that a lot of confusion is eliminated. Most companies have their own CTI systems installed. SugarCRM usually helps them to integrate CRM into CTI so that call center executives do not have to waste time unnecessarily, when it comes to attending calls and resolving issues.
Smarter Commerce
Now that a lot of transactions take place online, many customers call up in order to ask about online transactions. SugarCRM helps executives to actually make sales when there is a call without any delay so that a prospective caller who could become a customer again is not wasted. No opportunity is wasted, when it comes to SugarCRM. Ecommerce is growing tremendously and it makes very good business sense to have call centers in place which can also conduct sales. This will help companies to increases sales and revenue, and they will be able to see better margins and profitability.
Customer Support
There is nothing more important than providing customer support in a call center, SugarCRM is specifically a customer relationship management tool and it helps call centers to provide customer support easily. It turns existing customers into repeat customers and also helps in locating new ones. It comes with several features such as Inbound Email, Knowledge Base, Self-Service Portal and Case Management.
SugarCRM is one of the best CRM tools out there, and when it comes to call centers, it is certainly one of the most affordable and effective ones. If you would like to know which software suits your call center the best, please contact us so that we can help you choose and install the right CRM tool across your systems.
Subscribe to our Newsletter