back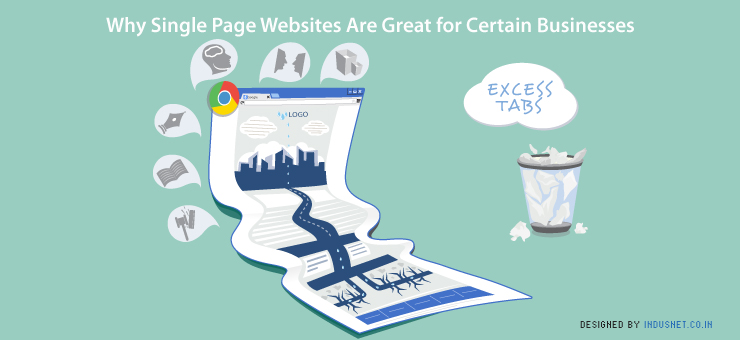 Design
Web design
Why Single Page Websites Are Great for Certain Businesses
A growing tendency among web designers is to create single page websites. Most people are aghast when we suggest single page websites to them, as it goes against conventional ideas about how a website must be. Usually, business and professionals expect websites to have at least 5 pages, with each dedicated to 'About', 'Products and Services', 'Blog', 'F.A.Q' and 'Contact'. This is a very simplistic view of a website and sometimes, websites need to be more complex or simpler. It all depends on what the clients' requirements are and what sort of business a person is running.
When to Use Single Page Websites
Single page websites work best when there is less content and more substance to offer. It is also great when a company or person has only a single product to offer and further information can be sought by talking on the phone or emailing. With that in mind, single page websites are great as all the content live on the home page and navigation. Users can jump from one section to the other easily without having to switch pages. Single page websites have gained popularity partly because of the use of jQuery and partly because of the ease of maintenance. Single page websites need not be minimalist and simple, they can be very vibrant and colorful as well. Writers, novelists, psychologists, consultants, companies that have only one or two products to offer and other such professionals and companies can use a single page website instead of confusing a visitor with a number of pages.
Single Page Websites Are Quick, Simple and Effective
A single page website reduces the amount of time that is required to click on purchase buttons and at the end of the day everyone likes a fast and quick way to get the product and information one needs. There is no other format of a website that is quicker and simpler than a single page website. All the information that one needs can be sought right on the same page, which leads to less confusion and noise. They can be an extremely attractive way to showcase portfolios, state interests and even float one's biography. Single page websites are great even when images are aplenty. If a website is text heavy and the text is related to just one topic, a single page website is again more useful than a multi-page website. Of course, there can be a link that directs users to a blog where you can provide dynamic content. However, for a website that has very little static content to offer, a single page website can be the right choice.
Single Page Website Themes
There are hundreds of themes available for those who like to work on a single page website. If one does not want to utilize templates that are already available, qualified web designers can help you build a single page website right from the scratch. Whether you need a minimalist website that highlights your achievements and portfolio or you need a classy website that describes the only product you sell, a single page website is a great alternative to clumsy and crowded multi-page websites that we often see even when they are not required.
Single Page Websites Are Not Necessarily Cheap or Easy
Often, people encounter doubts about why they need to have a number of pages on their websites. In fact, multi-page websites may not be necessary when the information is targeted, minimal and very specific. If information needs to be highlighted than be dispersed, single page websites are again a better choice than distributing information across many pages. However, building single page websites need not be cheaper than multi-page websites as these websites require an equal amount of creative and artistic effort on the part of a web designer.
In fact, single page websites may require more effort from a web designer in order to keep things aesthetic and simple. At the end of the day, a website needs to convey the information it wants to convey to the right target audience. It also needs to convey that message in the least distracting manner. If that information is better said in a single page website, then you must opt for a website that has only one page!
Subscribe to our Newsletter