back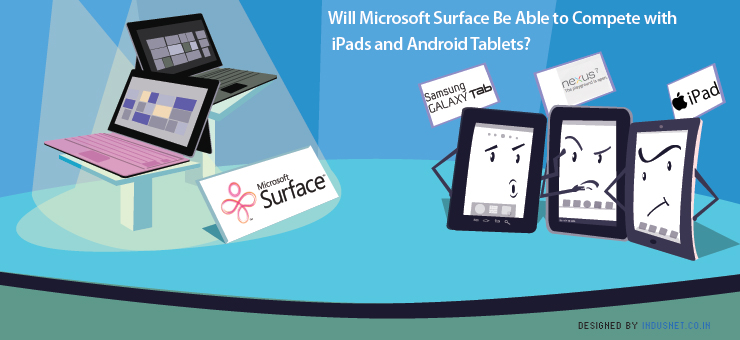 Mobile
Technology
Will Microsoft Surface Be Able to Compete with iPads and Android Tablets?
It has almost been a fortnight since Microsoft Surface was announced and industry pundits are still arguing and analyzing if Surface will manage to dent its competitors' sales or if it will go down history's timeline as just another product that failed to attract sales in spite of great features. Before one dismisses Microsoft Surface as yet another product that will not match up to the hype of other products, it is important to do a comparative study of all the tablets that might give Microsoft Surface a run for its money. Among the competitors are Apple's iPad, Samsung's Galaxy Tablets, and to an extent Google's Nexus tablet that was recently announced as well.
Microsoft Surface and Surface Pro
This Microsoft branded tablet is aimed to rival Apple's iPad but is so much more than just a tablet. It is a crossover device that blends the utility of a tablet with the functionality of a traditional laptop. In fact, it could be described as a hybrid gadget. The selling point of Microsoft Surface is that it comes with a super thin case that doubles up as a keyboard when opened. Microsoft Surface will come in two versions, "Surface" and "Surface Pro". The Surface will run on Windows RT OS and utilize an ARM CPU.
The Surface Pro will use Microsoft's Windows 8 Pro OS and an Intel CPU. Surface is expected to be launched in November, while Surface Pro is expected to be available after 3 months of its predecessor's launch. Surface will come with a 16:9 widescreen HD Display and Surface Pro will boast of Full HD Display. The multi-touch screen will make sure that the tablet is not what the previous generation was used to using on Windows platform. Surface shall come in 32 GB and 64 GB storage options while Surface Pro will come in 64 GB and 128 GB options. The Surface Pro is also expected to support a pen with palm block, but with everyone used to touchscreen finger input, there may not be many takers for a stylus at this point in time.
With just 2×2 MIMO Wi-Fi (802.11 a/b/g/n) connectivity, Microsoft Surface and Surface Pro will disappoint those who prefer to connect to the Internet via 3G and 4G networks. Surface will support USB 2.0, while Surface Pro will support USB 3.0. Microsoft has also made sure that it doesn't disappoint those who are into graphics and video games. With Nvidia Tegra ARM on Surface and Dual-core Intel Core i5 on Surface Pro, it should be very easy to play graphically rich video games. The actual date of release or the prices have not been mentioned. Microsoft did mention that Surface Pro's price will likely be similar to that of an Ultrabook, which makes it around $700 to $800, which is rather steep.
Microsoft Surface vs iPad
When Apple announced the 3rd generation iPad in March, the company sort of hit the nail with its marketing tactics. iPad is a brand name that people recognize and vouch for, and it shall support 4G (LTE) speeds as well. The new Apple A5X chip and the quad-core graphics processor make it a very sturdy device that is available for $499 for a 16 GB storage space. Microsoft will certainly cost more than an iPad and most people tend to believe that iPad is overpriced. Microsoft might have to bear the brunt for not providing 3G or 4G connectivity and pricing it higher than most premium tablets already available. However, Microsoft Surface is likely to be popular among those who prefer productivity to consumption.
Microsoft Surface vs Samsung Galaxy Tablets
Samsung's hugely popular Galaxy Tab series are popular precisely because of the apps that are available in the Android market, and also because of the pricing. These tablets are affordable to most people. The Samsung tablets offer GSM, GPRS and EDGE connectivity options while non-US users can accommodate a 3G data-only SIM if they do not need telephone functionality. Samsung's smaller Galaxy Note is a hybrid tablet-telephone that also supports 4G.
The LTE connectivity capable Note was announced in February 2012. With an 8MP main camera and a 2MP front camera, Galaxy Note is pretty much what a photography-enthusiast would want to purchase. On the other hand, the 10.1 version of Galaxy tab costs $399 and the 7.0 inch version costs $249. It is not clear what cameras Microsoft is planning to use on the Surface but it will have a lot of competition to meet. Moreover, Windows applications will not be able to meet the sheer number of apps that Android market offers.
Microsoft Surface vs Google Nexus 7
Google Nexus 7 comes with a 7-ionch screen and a 1.3GHz Nvidia Tegra 3 quad-core CPU. It does not have a back camera and just has a 1.2 MP camera in the front. It is compatible with Wi-Fi and is marketed as a Kindle Fire killer. Amazon's Kindle Fire is mostly used as an eBook reader rather than a tablet. The Nexus 7 is available at the Google Play store for $199 for an 8 GB device. The 16 GB device costs $249. Microsoft's Surface Pro on the other hand costs almost near $800 but packs in a lot of computer horsepower. In fact, Microsoft Surface is likely going to be popular among those who are stuck between the choice of using a laptop computer and a tablet.
Is Microsoft Surface a Winner?
That is a question which can be answered when the company announces its sales. It is pretty clear now that Microsoft cannot compare to the latest iPad in terms of pricing or in terms of connectivity and available applications. It will certainly be popular among those who need a physical keyboard but there are several cases available for iPad that double up as physical keyboards. Moreover, Microsoft may also have trouble competing with Android tablets as they are significantly cheaper and offer better connectivity and access to Android applications. If any, the Surface stands out as a productivity device that is targeted at loyal Windows users who prefer getting work done quickly on a computer that masquerades as a tablet.
Subscribe to our Newsletter