back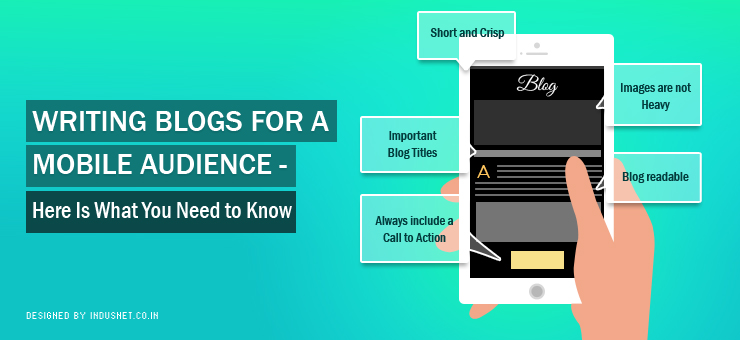 Content Marketing
Writing Blogs for a Mobile Audience : Here Is What You Need to Know
A lot has changed in the world today. People are accessing content on their mobile phones more than on desktops. There is a sea change in the way people approach content and also the way they use it. With more and more people using tablets and mobile phones to access content, traditional websites are not as popular as they once used to be. In order to be accessible to this burgeoning population that specifically uses mobile Internet, you will need to build the website and create content in such a manner that it is easily readable on mobile devices. In this article, let us take a look at how you can ensure that your blogs, in particular, are optimized for a mobile audience.
1. Keep your blogs short and crisp
There is nothing worse than having to scroll down using a mobile touchscreen to read lengthy and verbose articles. Keep your articles simple, short and crisp. A word length of 500 to 600 is optimal but for longer and more in-depth ones, you can choose to have around 1000 words. Anything longer will not be particularly comfortable to read on a mobile device.
2. Make sure that your images are not heavy
A lot of bloggers upload full resolution images, which take a lot of time to load. Also, it may not be a good idea to upload too many images anyway, in a blog post. Sometimes we see blog posts with more than 10 images. That is more akin to publishing an image after every few sentences. It distracts the reader and he may not read what is most important.
3. Get your developer to make your blog readable
Readability has got a lot to do with your spacing, design, and typography. All these can be fixed by your developer. Ensure that your blog looks neat and tidy and that the best font style and size are used. The more white space you use within your blog, the better it shall be.
4. Give even more importance to blog titles than you did previously
Blog titles should be catchy and attractive. Boring and lengthy titles will not attract people to click, especially when they are browsing on a small screened touch based device. Ensure that you make sure your title is as creative and attention-grabbing as possible.
5. Always include a call to action in the end
Most bloggers forget to add a call to action in the end. It is very important to add a CTA so that the readers do not forget to contact you again. Just asking them for their email address should be more than enough. If you can find another way to ask them to take action, please go ahead and do so.
Looking forward
At the end of the day, it is important to write blog posts with mobile users in mind. People are mostly using their cellphones and tablets to access the Internet and writing blogs with mobile screens in mind is very important. Also, people who read on their mobile devices might be doing on so while they are on public transportation or while they are waiting for someone on the streets. This means your content should be able to keep their interest in spite of all the disturbances around.
Subscribe to our Newsletter