back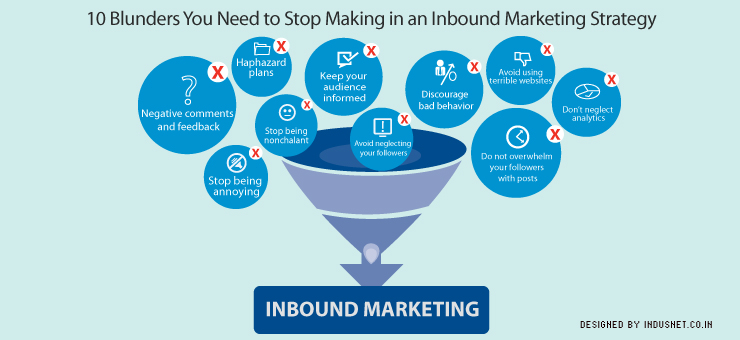 Digital Marketing
Marketing
10 Blunders You Need to Stop Making in an Inbound Marketing Strategy
Inbound marketing is based on the fact that creating awareness among the audience is most critical to the prospect of finding leads and resulting in conversions. It gives a much needed reprieve to the customer from the constant bugging and begging in other marketing models and has garnered a huge liking among marketers especially with the advent of the social media since the last decade or so.
The success of this model of marketing strategy is solely dependent on full and optimal utilization of the social media platform. The setbacks suffered otherwise, are listed in full detail in the course of this article's subsequent paragraphs. These should be considered a taboo in your model of the inbound marketing strategy.
Mistakes to avoid
1. Haphazard plans
Don't rely on poorly laid-out plans and bite only what you can chew. Gauge the resources at your disposal and plan with a keen foresight to utilize them effectively.
2. Negative comments and feedback
Don't ignore negative comments and feedback. Sometimes, these harried opinions can be a silent precursor of an impending carnage, threatening the very popularity of your deemed business. Discern between misguided, malicious, insulting comments (these are common on social media pages) and those that are constructive criticisms levied against you with best intentions in mind.
3.  Keep your audience informed
Avoid posting objectionable content that does not augur well for your business. Keep your followers constantly updated on a lot of happenings, be it the opening of your stores or branches in particular areas, recent changes in the designs of your products, new products added, changed specifications and features, details of acquisitions if you are expanding horizons, if any warm memories you conjure up from your historic past such as your founders or ancestors of your loyal partners, 'this day that year' type of posts and so on.
4. Discourage bad behavior
Don't encourage groupism, racism, sexism or rude behavior. In case you are hurtful to others sentiments by being outspoken, do not be indifferent. Be quick to respond. Try to laugh it off using a bit of humor. This can soothe ruffled feathers and alleviate tensions in a situation that could have otherwise blown out of proportion, amid a heightened sense of drama.
5. Do not overwhelm your followers with posts
Don't post material constantly and flood your followers' feed with a deluge of posts and thus alienate them. An average brand shares about 22 posts per day. If you post constantly, your followers cannot cope up with your posts and in the welling up of information, certain important posts may lose your clients' attention. This surely, from his side, will be a problem of plenty.
6. Avoid neglecting your followers
Don't neglect your followers and avoid a tendency to keep them in awe of you. Having interactive sessions with your followers can forge strong ties with them. Start with questions that can send a message to them that you are making an effort to know them. Get acquainted with their background, occupations, life, city and other credentials. Though it is not mandatory to have these sessions daily, try to include them in your schedule and make it a point to communicate with them at least once a week or on a fortnightly basis.
7. Stop being nonchalant
Be consistent with the brand image that you prefer on these sites. Here is an example of an amicable, pro government and philanthropic brand image: By way of your posts, you can dissuade your followers from engaging in riots resulting from a rage on part of the government's atrocities, negligence, corruption and the like and maintain calm in the society. You can also urge them to desist from supporting illegal, incriminating and anti-government organizations such as WikiLeaks.
8. Stop being annoying
Don't bug leads by pestering them into buying your products through using their personal information. Do it only with valuable lead prospects, arrived at by lead nurturing strategies.
9. Don't neglect analytics
Don't neglect analytics that you have collected. You will be at a loss of devising new and effective strategies to lure customers.
10. Avoid using terrible websites
Avoid using defunct and outdated websites, as they can falter in capturing qualified leads.
By avoiding these mistakes, you are bound to make great strides in your marketing endeavor, though improvisation and adaptability are key to success in any marketing strategy.
Subscribe to our Newsletter