back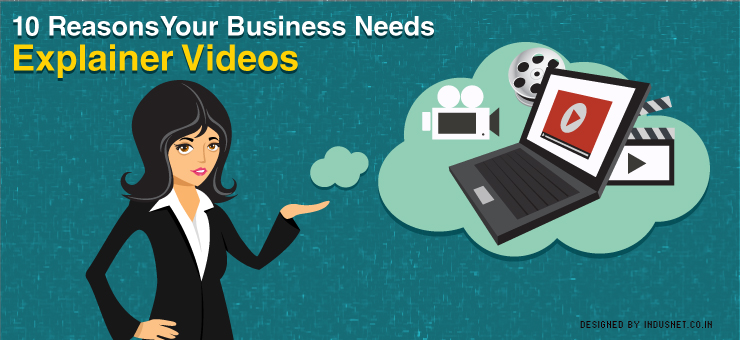 Explainer Video
Marketing
10 Reasons Your Business Needs Explainer Videos
There was a time when all that we did for our websites was to write content, publish static pages and forget about it for the entire world to care about. That was almost a lifetime ago. However, now, it is just not enough to have a blog even. One needs more media and audio-visual content to appease visitors. What's more, video content helps you to set yourself apart from your competitors and ensure that those who do not like to read also have a way of understanding your business. Here are 10 reasons why explainer videos are very important for any business.
• Many people do not like to read
A large number of people do not like to read textual content. They are mostly youngsters who feel intimidated by complex vocabulary and may not have even have the ability to concentrate and read through lengthy texts. An explainer video that uses animation may easily grab their attention and entertaining scripts will ensure that they are able to watch it in its entirety and understand what your business is all about. There are also many people who may not be able to understand what is written due to several problems. It could be related to levels of education, health issues which make it difficult for people to read text and also those who simply prefer video to text. Clearly, a large number of people prefer video to text.
• People find animation entertaining
There is this association with animation and entertainment. People usually associate explainer videos to something that is light-hearted and 'not-so-intimidating'. Text, on the other hand, may seem dry and intimidating. Also, people across all age groups can watch animated videos in order to understand your business.
• Explainer videos are affordable
It does not cost a lot to create an explainer video. All that one needs is a good script, a voice-over professional and an animator. A company that has access to all the 3 professionals may quickly create an explainer video which will ensure that you have a video for yourself, created at low costs. On the other hand, creating a real life video that uses models will cost astronomical figures. Animated videos on the other hand are simple and easy to create, not to mention again, very inexpensive.
• Provide more information in less time
It is easier to squeeze in more information in a short animated video because there is text, video and audio all at the same time. On the other hand, if one just uses text, the audio-visual element is stripped away. That makes comprehension of information difficult. In order to make sure that you help your visitors understand what your business is all about in the shortest period of time, explainer videos that are animated are great options.
• Explainer videos offer relevant information in a pleasing manner
Videos are inherently more attractive to people than reams of text. When you create a video that is entertaining, you will ensure that all the relevant information to your business is put together in a simple and convenient manner. This is one of the reasons why one needs to create explainer videos. You may demonstrate your product or service in a manner that is easily understood. Explainer videos make use of animation to put information together properly and in a pleasing manner. This is one of the reasons why it is very important to use explainer videos in businesses.
• Explainer videos have better impact
Videos can be shared across social media easily. They are watched by more people and call to action prompts are taken more seriously. It is easier to create a larger impact with a witty and quirky animation video than static content. When we talk about impact, we must understand that videos have a larger and better chance of being received favorably. A good video always attracts attention and people talk about it. When your animated video is spoken about widely, you have a better chance of being received favorably than someone who simply tries to market with the help of text or audio files.
• Success of explainer videos can be measured
The success of explainer videos can easily be measured, thanks to analytics. It is easy to understand and analyze how people watch your videos, which devices they use and from where they are visiting. This helps to create tailor made products and services in the future. In a way, it is a great way to understand how your business is functioning in the larger perspective, thanks to all the analytics.
• B2B solutions
Explainer videos are better than mere presentations. Presentations are fine but an explainer video speaks for itself. One does not need to go through the slides. Instead, business partners and owners of other firms will easily understand how you make money, why you want to partner with them or collaborate with them and what exactly you need from them. All these benefits ensure that your business relations grow better with videos.
• Videos are more than product walkthroughs
Most people think of explainer videos as product walkthroughs. They imagine an entertaining video where you tell people why your product or service is useful and why people must opt for it. However, an explainer video is a lot more than that. The character of your organization, your own knowledge about your products and services and your expertise can all be exhibited in an attractive manner. Your video also reflects your brand and making sure that your video is made by top-notch creators will ensure that people view your products and services in a favorable manner. It is clearly one of the most important ways to market your products and achieve laurels.
• Explainer videos prioritizes information
Though they seem entertaining and quirky, they mean business in every possible way. First of all, explainer videos are short. They are not more than a few seconds or minutes. They squeeze in as much information as possible in a very short period of time. This ensures that people understand what your product or service is all about in the most effective manner possible. A short video says a lot more than a lengthy eBook. People prefer to take in as much information as possible in the shortest time possible. Only an explainer video does that in the most affordable and time-saving manner.
• The case for explainer videos
There is nothing better than presenting information with text, audio and visual elements right in place. Only an explainer video can do all these and that too in an effective manner. They do not cost a lot and trump over plain text or plain audio. It may not be for all the target audiences and not everyone may want to watch videos. However, for a large number of people who prefer video to text, explainer videos will ensure that a lot of information is given in the shortest period of time.
If you are looking for a company who makes explainer videos, ensure that they are also experts in social media. There is an inherent link between explainer videos and social media. Your explainer video has to go viral especially on YouTube and other channels where people easily share and watch videos. By ensuring that your video is viral, you can make sure that a lot of people understand what your business is all about and come back to you when they need more information or even better, when they need your products or services. Explainer videos help you to become thought leader and lead the way.
This is a great way to not only advertise yourself but also make sure that your name is spread across social media and beyond. Moreover, explainer videos can act as valuable information resources to your own employees in the future. They can understand what your company's products and services are all about and why it matters in the long term. At the end of the day, your products and services need to be showcased in the most interesting and entertaining manner possible. One of the best ways to do that is to engage in explainer videos.
Explainer videos can be interesting, serious, witty, sombre, quirky, conservative or just about anything that you want your company to seem like. Explainer videos reflect your values and ethics, and it is a great way to build and promote your brand to people across the world at a fraction of the cost of making real videos.
To get all your explainer video needs addressed, get in touch with Oomphbox.
Subscribe to our Newsletter