back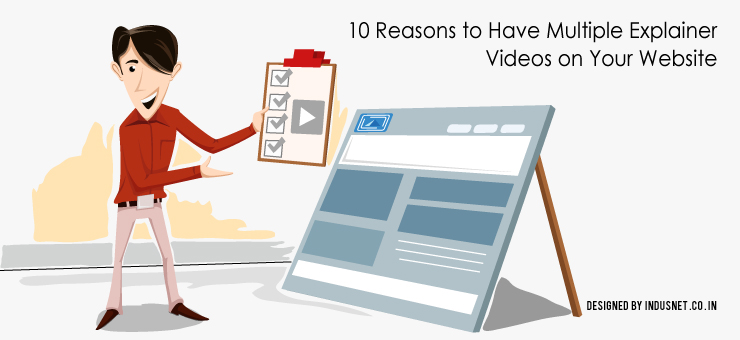 Explainer Video
Marketing
10 Reasons to Have Multiple Explainer Videos on Your Website
The use of explainer videos is growing exponentially in the business environment. Businesses gain several benefits by uploading multiple videos on their website. Videos make it easier for marketers to influence the customers thus serving as an effective marketing tool. With that background, let us discuss the ten most essential reasons for having multiple explainer videos on your website.
• Higher traffic and conversion rate
As a matter of fact, video is hundred times more enticing than the use of text. Customers find it irking to go through elaborate textual content when a short video is enough to explain what they want to know. If your website has multiple explainer videos, then your customer will be enlightened and is likely to generate more satisfaction with your offerings. A satisfied visitor will be glad to become your customer and share your videos with his friends.
We have already experienced the virality of social media campaigns. This brings us to the necessity of embedding social media buttons with the video. This will direct more traffic to your website and consequently a higher conversion rate. Even a survey conducted by Video Rascal concluded that 85% visitors are more likely to buy your product after watching an accompanying explainer video.
• Videos are fun to watch
Reading text becomes boring and tiresome. It is undeniable that videos hold the potential of instilling an element of entertainment for the fast-paced customers today. Besides infusing knowledge and information to your customers' head, you are providing them a means of amusement that can bring a smile on your customers' face. A happy visitor goes a long way onto the loyalty track. We have seen that TV ads work quite effectively for brand promotion but then they carry a huge cost of production and distribution.
On the contrary, explainer videos are produced and distributed at a much cheaper cost. On top of that, such videos turn out to be 38% more effective than TV ads according to a survey by comscore.com. Impressive videos with graphics and animation component leave an indelible mark on your customers. It improves your brand recall value.
• More than one story to share
Often businesses are caught in the dilemma of selecting one video out of multiple good videos to share. It keeps the marketers unsatisfied as they want to share myriad stories with their customers. A website with multiple explainer videos provide the marketers with the power to share different customer success stories, case studies, experiments, new products, experiences, challenges and so on.
Moreover, when you venture into different business verticals, the need more multiple videos for different sections further increase. A number of video hosting sites are available which helps to do away with storage issues on website.
• Videos for landing page
Customers have different queries depending upon the information they require from your company. It is not necessary that they land at your homepage when they click a result on the search page. Place multiple videos at different landing pages so that there is a video for the required information at every page they land. Your homepage may contain a video that talks about the vision and mission of your company.
On the other hand, there are sections like problem diagnosis, new products, R&D etc for which you can create unique set of videos. For instance, problem diagnosis section may contain videos which guide the customers to resolve the issue with their product by following user-friendly procedure. Similarly, I would suggest you to create interesting video clips when your company launches a new product or invests in innovative ideas.
• Higher ranking on SERP
I am sure you have observed that besides investing in SEO tactics, your company is unable to garner top position in the search results. It is due to the fact that the search engine algorithms are becoming complex with every passing day and their focus is skewed towards quality and originality of your content.
When you create and upload original videos on your website, search engines automatically give more preference to your web page. And higher the number of videos you create for different search queries, higher is your likelihood of appearing in the top search results.
Make sure that you provide new information and problem solving videos. And do remember to tag your videos with appropriate keywords and meta-data. Though I would recommend you to host high quality videos on Youtube and Vimeo, but you must prefer using your own domain for hosting most of your regular videos. It will help you to create video sitemap on a sub domain of your own site.
• Visitors spend more time on your website
The sole objective of your website content is to have a prolonged visiting time by your visitors. But often plunge on this objective when you fail to create content that interests the visitors. And t is a known fact that visitors read less but watch more. Why not take advantage of this congenital and congenial habit?
It is also found out by researchers that visitors tend to spend more time on the website after watching an interesting video clip. And spending more time means they will get to know your company and products more. Companies often build upon this fact and introduce email and video subscription by asking them to sign up. The whole idea is to grab the attention of the viewers to take forward your interaction with them.
• Data collection
It is a lesser known fact that many marketers use explainer videos to track the behavior and demands of their customers. Tracking the video metrics will empower you to serve your customers very effectively. You can track play rate that shows the number of people who actually clicked the play button. Play through rate adjudges the number of people who saw the entire video.
Apart from that, you can find what keywords led them to the video page. You can also determine your sales volume as compared to the number of views which again defines your conversion rate. Analyze the data collected and create appropriate video content. I would want you to remember that as a start-up company, you may not get enough feedbacks on your website. So, ask you viewers to comment what they felt about the video.
• Product demonstration
It is interesting to note that electronic items like air conditioners, mobile phones, laptops etc have multitude of features. Complex products such as these require demonstration for various features. One may argue that the installation and set up guide is available through provided user manuals. But we all know, nobody takes pain to go through these tiny written manuals to solve the problems.
And even they do, they are often unsatisfied with the solution provided especially for products like phones and laptops. The reason is besides being complex in nature they ask for constant upgrade of software and accordingly their usability changes. In such a scenario, new and updated video content on company website and blogs help the customers demonstrates exactly what needs to be done through a step-by-step video guide.
• Better clarity
Individual perception varies when it comes to perceiving textual content. People with different demographic characteristics perceive the text in their own manner. Also, the language used by you is often complex for some people to understand than for others. The problem is aggravated when the information you share is loaded with jargons.
Explainer videos conquer the situation by sending alike message and understanding across the viewers. They get absolute clarity about what you want to communicate to them. Moreover, a video guide does not require the customer to memorize anything as they can watch and follow simultaneously unlike textual content.
• Add personality
What business does not desire a unique identity, an identity that adds to their personality? Almost everybody yearns for that trait especially start-up and small businesses who struggle to make an impact on their customers. When marketers use text to say the same thing as their competitors, they end up using the same set of keywords. Differentiation becomes a challenge.
In contrast to that, a unique explainer video will make you shine discretely. Explainer videos give you a chance to be creative by using animation, graphics and colorful content by adding joie de vivre to your personality. After all, people love human facets when they associate with a brand.
To give your website the advantage of explainer videos, contact Oomphbox.
Share your feedback below. And do share your story if explainer videos define the success story of your business.
Subscribe to our Newsletter