back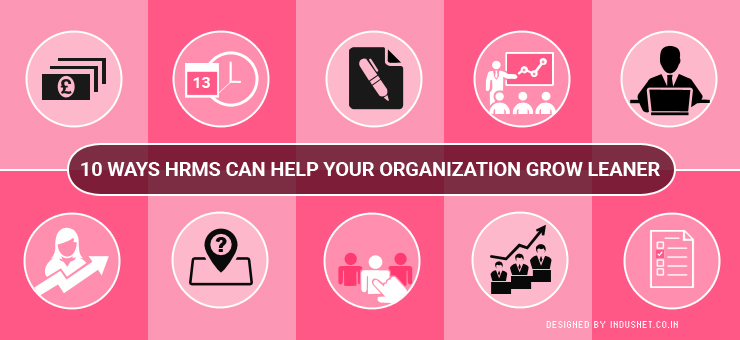 HRD
10 Ways HRMS Can Help Your Organization Grow Leaner
Most companies have some form of a Human Resource Management System (HRMS) installed across their systems. This may be a small and basic HRMS tool or a full-fledged cloud-based HRMS that helps the company with everything, right from hiring to managing employees, to paying their salaries and trying to retain them, when they want to leave.
Yet, HRMS is one of those enigmatic tools that confounds even the savviest CEO out there. There are an equal number of companies who do not use any form of HRMS and instead, depend on their human resource staff to do everything that a software program can do. In the end, they pay more salaries, waste man hours that could have been used more constructively and create a working culture that is far from being efficient. The only solution to this problem seems to be to install a good HRMS.
It automates most basic HR functions and reduces the burden on human resource professionals. Thereby, it helps them to focus on more important tasks than entering personal details of employees into a computer.
In this article, let us take a look at 10 ways HRMS can help your organization grow leaner.
1. Streamline payments
There is nothing worse than having to listen to complaints from employees when they are not paid in time. HRMS can automate payments and keep a track of all payments made to each employee and also help with taxes. In fact, all kinds of payments and reimbursements can be meticulously calculated on HRMS and one can rest assured that checks and balances are maintained automatically.
2. Track employees' time and attendance
It can become a serious problem when employees do not login or enter the office at the designated time. An HRMS will ensure that the entry and exit time are recorded so that employees are tracked for both their time in the office and also for their attendance. This will also help employees to keep track of their own time in office so that there will not be any confusions.
3. Automate performance appraisals
Performance appraisals are an important way to boost the motivation of employees. It helps employees to know where they are professionally and where they must improve. Future promotions and incentives depend on such performance appraisals. These can be automated so that employees always know how they are performing, maintaining their motivation levels adequately. Indeed, there is nothing better than automating performance appraisals in order to streamline an organization.
4. Build training modules for employees
A well-trained employee is many times more efficient than someone who is not. Thus, companies have a reason to train their employees and encourage learning. HRMS can help build training modules that are effective while also motivating employees to learn something new. This will help to increase productivity at work. Any kind of professional training can be undertaken which will ultimately help the company to grow in stature and size.
5. Employee self-service
One of the main reasons for missed days and lost man hours, is employees are often waiting to meet their supervisors, even for small requests and clarifications. All these queries and requests can be automated with employee self-service. This enables employees to change their addresses, print salary slips, apply for leaves and vacations and just about anything that you might allow them to do.
6. Gain access to HR analytics
HR analytics can be derived from the data that is accumulated in the various modules of an HRMS. This data helps companies to prepare policies and make changes to existing ones, in order to boost productivity. Using these analytics, one can predict what organizational changes need to be brought in order to increase efficiency and productivity while also improving employee satisfaction rates.
7. Address problems faced by employees quickly
Whenever employees have problems, they tend not to work as efficiently. It is important to ensure that working conditions of employees are adequately met and if they have any problems, they are quickly rectified. An HRMS helps to address grievances quickly and promptly without adding extra layers within communication. For this reason, it is a good idea to use an HRMS.
8. Streamline recruitment
Recruitment of employees can be an arduous process. It takes time and is also one of the most challenging tasks within the HR department. An HRMS can reduce the workload and also streamline the recruitment process. Applicants data and other factors can be analyzed and processed easily while recruited employees can be further inducted into the company easily. Certainly, HRMS is a great way to streamline the whole recruitment and interviewing process.
9. Maintain performance records
Performance records of employees can be saved and recorded, in order to retrieve when required. This helps to know how an employee is faring over the years. Performance records are also required for appraisals and any incentives that may be given. Automating this process helps to avoid confusion and human errors while also boosting efficiency and productivity. Moreover, regulators may always need copies of these performance records.
10. Focus on more demanding tasks
Most importantly, trained HR professionals can focus on more important tasks that cannot be performed by computers. They can engage in critical thinking and bring in policies that will enhance the productivity within a company. They can focus on engaging in more demanding tasks, and thereby help a company to grow leaner. An HRMS reduces most tasks to something that can be automated, leaving employees with more time and resources to handle complex tasks.
Using HRMS helps you to grow leaner
As it is becoming increasingly clear that we will need to automate most business processes, human resource tasks are not behind either. Automating HR tasks help to create an organization that has more time to focus on what is more important: to focus on core business activities and creating a healthy working culture. After all, the most important task of human resource professionals is not about maintaining records but actively building valuable human relationships with employees and motivating them to work productively.
Subscribe to our Newsletter