back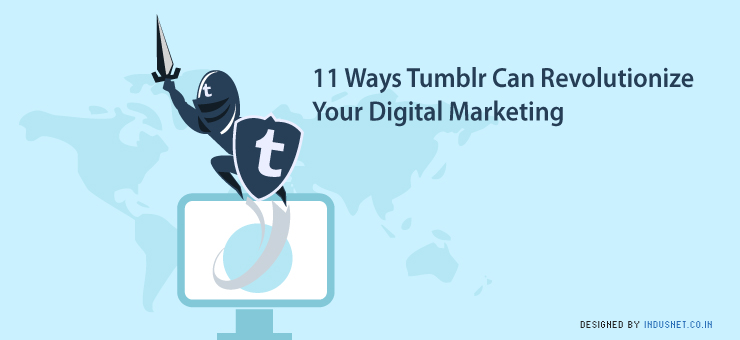 Digital Marketing
Marketing
11 Ways Tumblr Can Revolutionize Your Digital Marketing
By now, it should not come to us as a surprise that micro blogging and social networking are marketing tools employed by companies to reach their target audience. This concept has caught pace in the past few years and has benefitted businesses in more ways than one can imagine.
It is very crucial for every startup, be it small or big, to launch a blog as it opens a channel for the company to communicate with its customers and also collect valuable feedback. Most companies believe that they have seen a positive impact on their business processes and measurable improvements in their operations after launching a blog.
Why Is Tumblr Important for Marketing?
Tumblr is one such micro blogging service which has created quite a stir in the market because of its unique features and distinct style, which have aided in providing effective marketing and advertising strategies to many companies. Tumblr allows its users to blog with multimedia content and offers a global platform to companies trying to promote their upcoming products and services without any hassles.
Promotion of a brand is very important to make it big and small businesses usually suffer losses because they do not invest much in promotion and advertising. This is where Tumblr shows up like a knight in shining armor to save them from dying an untimely death. Small business owners who are planning to cut costs in advertising must consider Tumblr as it is an effective social networking tool that can propel your company to new heights.
Here are few tips that can help you in formulating successful marketing strategies using Tumblr.
1.Showcase Products with High Quality Pictures
Tumblr focuses on audience who is visual and prefer brevity over verboseness. This feature can be very well exploited by online merchants to sell their products. Multiple high quality pictures can be posted on Tumblr to give a comprehensive view of the product and lure visitors into buying it without having to go to a store.
2.Tumblr Can Fetch Visitors to Your Official Website
An official website is essential for a company to outsource information. It is crucial to have your target audience go through your company's website where they can get detailed information on what they are interested in.  Companies can direct traffic to their websites using Tumblr by creating a blog with a lasting visual impact on its audience.  There is also an option of providing a direct link to your official website which can boost traffic to your website.
3.Directs Traffic to Other Social Networking Sites
Tumblr directs target audience to your account on other social networking sites and increases your chances of making a lasting impact. With Tumblr you can make the most of social networking and micro blogging services by linking your company's accounts on other social networking sites with your blog. This optimizes the scope of advertisement and marketing with minimum investment. This strategy is very useful for small businesses which do not want to invest a lot in advertising and marketing and. It facilitates in focusing on different features of a product depending on the target audience available on different social networking sites.
4.Pictures Speak Louder than Words
The most appealing feature of Tumblr is its ability to host pictures which almost fill the entire screen space. These pictures can also be used to communicate thoughts and ideas and not just products. Text oriented businesses can also reap the profits of hosting a blog on Tumblr as they can use pictures to accentuate the features of their business and reach out to visual thinkers. Most news portals have used this idea to cater to their audience and the results have been strikingly impressive.
5.It Helps You to Add Character to Your Brand
One of the prime factors of brand communication is to create a certain character for your brand so that people can relate to it and Tumblr helps you achieve this with utmost ease. By hosting a blog on Tumblr companies get a chance to interact with their target audience and create awareness about the product or feature that they are talking about. This social networking site provides an interactive medium for companies to answer the Frequently Asked Questions (FAQs) and resolving doubts once and for all. Customers have a propensity to trust the comments of other customers and if the comments suggest a positive feedback then you have struck oil. All you have to do is go public with it, which Tumblr can very well help you with!
6.Promotion of Your Skills and Past Work
Consumer market relies heavily on the credibility of a brand. It goes a long way in creating a niche for the company. Promoting your company's distinct skill set and past work history on Tumblr can work wonders in building the credibility of your company. Letting your work speak for itself is another smart advertising strategy that you could employ. Companies could use testimonials from their clients to certify the quality or focus on the skill sets which make them distinguishable from others. By using pictures the effect of this strategy can be amplified.
7.Have Your Company Featured in Search Engine Results
Companies can do a lot to show up in the results returned by a search engine and why shouldn't they? It is one of the best shortcut methods to propagate a company's existence. Tumblr offers a feature which allows it to be easily accessed directly through the web and it can project your company's information directly on the search engine and increase traffic to your blog which in turn can increase traffic to your website if you have linked it on Tumblr. New business start-ups can benefit a lot by this as it requires minimum financial investment and the impact is far reaching.
8.Let the World know What Goes on Behind the Scenes
Companies have come to love and appreciate the platform Tumblr provides for them to associate with their customers. One more unspoken trick to make your brand dearer to customers is by letting them know how great your company is and that goes a long way in building brand loyalty. You could share post production videos, behind-the-scenes pictures, reviews from your company's employees and even pictures of the employees grinning widely to project how happy they are to be associated with the company.
Many companies have used this game plan as a financial instrument as it straight away increases the brand loyalty and drives people to believe that there is nothing better than your brand. The best part about this strategy is it can be used by any business type be it product oriented or project oriented.
9.Keep an Eye on Posts Related to Your Business
If you are planning to use social media tools to advertise your brand and benefit your marketing strategy then it is crucial to master the tricks of the trade, which are, listening to others and making others listen to you. It is very important to spend few moments every day or as often as you can to go through posts which are relevant to your business and leaving a mark there.
By doing so, you not only put yourself on the map but also divert a significant amount of traffic which majorly comprises of target audience. With this activity you can promote your brand among prospective customers and definitely expect some business. All you have to do is make your presence felt on related posts as often as you can.
10.Exploit the "Reblogging" Feature of Tumblr
When it comes to diverting traffic to your post Tumblr's "Reblogging" feature makes this taxing task as easy as pie. You don't have to device strategies and come up with myriads of tags. All you have to do is share other relevant posts: in Tumblr's lingo, re-blog! The process is fast and simple like ripping off a band-aid plus you can take up the role of a critic and express your views on the "reblogged" post. No matter how opinionated the audience is, it is always up and running to hear other's opinions.
11.Share and Show you Care
With Tumblr you can show your audience that it means a lot for you to stay connected with them or at least pretend to do so by sharing interesting relevant posts on web that you think your audience might be interested in. It helps you in establishing brand loyalty and for all you know at some point people might even start looking forward to reading your posts on Tumblr. If you install "bookmarklet" this activity gets even easier.
All you have to do is scan and skim the web and click "Tumblr" on your browser toolbar and it will immediately create a post without you having to log into Tumblr and doing an elaborate version of it. This is a smart way for small businesses and new start-ups to make their presence felt in the market without spending a dime.
Subscribe to our Newsletter