back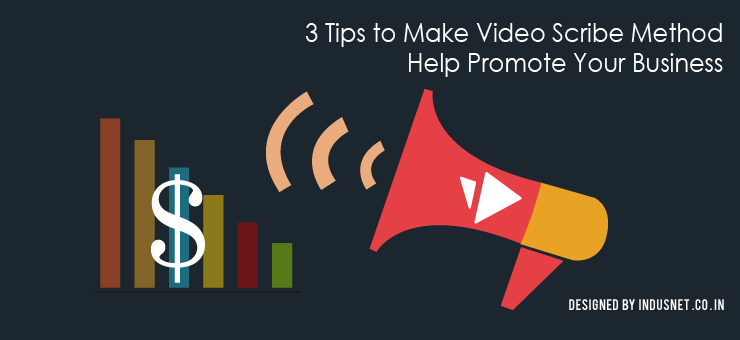 Digital Marketing
Marketing
3 Tips to Make Video Scribe Method Help Promote Your Business
If you thought explainer videos lacked that human touch and wanted a real human to do all the talking, live in the video, you are not alone. A number of companies have begun to utilize the method of video scribing. Now, you may ask what the video scribe method is all about. Well, it consists of a human being, a white board, whiteboard markers and a video camera.
Even if you didn't have access to world class cameras and a photogenic model, you can make an impressive "real" in a short span of time. In this article, let us take a look at why you need the video scribing method and what you need to do in order to make your videos look great.
What is the video scribe method?
Basically, when you use the video scribing method, you are essentially using someone from your office or someone who is hired for the purpose, to demonstrate your products and services, from an educative perspective. People are more attuned to educational and informative videos rather than pure commercial and marketing videos.
That being said, unlike explainer videos, video scribe method allows you to have a "real video", with a real human being et al. In the video scribe method, a model/professional demonstrates the purpose of your business, product, service or whatever that needs to be communicated, with the help of a whiteboard and some markers. It is just like sitting in a classroom with a trainer explaining the fundamentals of a concept. It is real, easy to understand and people are going to like it.
The video scribe method ensures that people see your videos from a different perspective: from the perspective of being students and learning about a concept from a real trainer. And that is going to make them want to buy your products or services. It is not only true of B2C clients, but also B2B clients.
Now, let us take a look at how you can make a great video using the video scribe method.
• Have a script ready
This is probably the most difficult part of making a video of this type. Yet, it is easier to write a script for the video scribe method than for others. There is no need to worry about minor aspects of animation or video production. Even a stationary camera would do. Thus, writing a good script is very important. Include all that you think will help the viewer to gain something. The more educative and informative your videos are, the more marketable and share-worthy they will be.
• Assign the role of the presenter
You do not have to hire a professional actor or a model. Anybody that looks presentable on the camera and can speak well can be chosen to do the part. All they need to do is, learn the script and enact the "training sessions". If the presenter is well versed with the concepts being discussed in the video, there is no need for enactment. It shall be a real training video with the help of a whiteboard and markers. And yes, do ask the presenter to smile and look friendly, while presenting. If the presenter does not make the video fun and interesting, it will probably not be viewed. Thus, there is always an element of entertainment to these kinds of videos.
• Start shooting!
Easier said than done. Yet, if you follow the script, you will not which parts to edit and which parts to omit. If certain parts do not come out well, they can be re-shot and a simple movie-making application will help you to weave all the parts of the video together. All that you need to do is to ensure that there is enough light and that the presenter looks presentable. The camera need not be an expensive one. As long as it can shoot decent vides, it should be enough to create a video using the video scribe method.
Video scribe method is not an alternative to explainer videos and other forms of videos. Instead, you must look at it as an addition to your collection of video content which need to be shared across platforms, as part of your content marketing strategy.
Subscribe to our Newsletter