back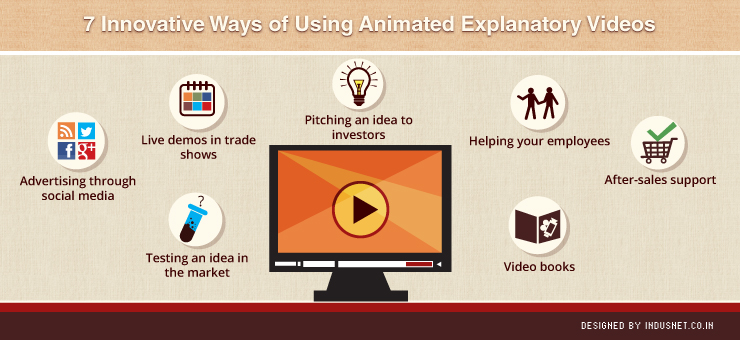 Explainer Video
Marketing
7 Innovative Ways of Using Animated Explanatory Videos
A video, and not a picture, says more than a thousand words. Explainer videos are turning the tide for many marketers as they help them to take a giant leap in achieving not only their marketing goals but also their employee engagement and customer service goals. Predominantly used for introducing a new product or company, animated explainer videos create curiosity; infuse knowledge and acquaintance in a short while.
A short and crispy explainer video usually 1-3 min long for your customers or employees saves you a lot of time in answering their queries and problem solving. Explainer videos can be enabled to prompt customers to take action at the end of the video. For instance, they can be asked to subscribe your newsletter, visit your website and a lot more. Apart from that, it offers an attractive way of promoting your product and services to prospective customers.
Let us see how your explainer videos can be best put to use:
Testing an idea in the market
There could be many a reason for new product failures but they say that wise men always prefer testing over resting. Market testing is an important activity to get a sense of the market especially for the marketers who are willing to take risk through innovation. You've got a brilliant concept for a new product. But you fear whether it has acceptance among the masses.
An explainer video will help you to take this idea to the market through your blog, social media platform and website. It further helps you to track customer responses and take their valuable feedback. It will tell you if your concept is ready to roll in the market or does it need to be dropped. There are many cases where the companies wanted to surprise their customers through new products.
But unfortunately it did not somehow clicked with them resulting in considerable losses in invention, production and marketing. Idea testing through explainer videos will save you enough time and money in R&D investment. Furthermore, you may get opinions from your customers to amend and reform your concept.
Advertisement through social media
Advertisement can be used for promoting your company, brand, a new or an existing product. While TV and print media is used to increase brand recall value, social media platforms are probably the best bet for the marketers to increase liking for their brand and encourage customer engagement.
Innovative and engaging video content on Facebook, Twitter etc often grabs eye balls and is liked and shared by your fans and followers. Make sure that all your social media profiles are integrated. This increases your presence across the social media networks. People are free to comment and give opinions on your advertisement on the platform of their choice.
Moreover, social media is a casual platform for netizens to relax so avoid uploading boring video description of your products. Pervade emotions like joy, surprise, excitement, thrill or thoughtfulness, knowledge, innovation to get a widespread popularity for your brand.
Live demos in trade shows
If you happen to participate in a trade show, you often find that it becomes difficult to catch hold of customers, leave aside interaction with them. Customers tend to walk across your stall if they don't find anything interesting from a distance. And we don't expect customers to stop at every stall in the show. Here comes the role of explainer videos.
Get those couple of inspiring videos that talk about your product and company. Play them all through the day. You'll find customers stopping to see the video and gain information. And if they really like something about your product or the company per se then they are most likely to approach you for further queries.
You've succeeded in your effort of making explainer videos as it does half the job for you. The rest lies with your face-to-face communication skills to acquire leads. And even if you miss out the customers who saw your video but didn't turn up for interaction, you've been able to entertain them and advertise yourself.
Pitching an idea to investors
Accept the fact that explainer videos are studded with presentation abilities if made correctly. This is what you need when you are pitching an idea to worthy investors. If you want the investors to take you seriously, then spend time in making a great video. An investor will not spend time in reading your report or see your power point presentation until and unless he finds something haunting to invest in.
Create a persuasive video that leaves your investors enthralled. Don't go into too much detail but it should be able to highlight your idea clearly and the potential it beholds. Furthermore, an explainer video adds credibility to your company and leaves a lasting impression on them. Even if they are not ready to invest in your concept right now, they will not mind giving you a call back at a later stage. Another scenario could be that they pitch your concept to fellow investors by showing them the explainer video.
In a large organization, HR department plays a pivotal role during induction of new employees in the company. It is but natural that new employees have a lot of anxiety and curiosity to understand the company well so that they can adapt in their respective roles aptly. Due to this, HR department has to devote a lot of time to this unproductive task.
To avoid the same, many companies are using explainer videos for answering different queries of their employees. For instance, a marketing professional employed in your company stays miles away from the production facility of your company. And for some reason, he is unable to visit the factory and is unaware of the production processes.
At this point, a short video giving the gist of your production processes will instill confidence in the employee and he will be able to perform his job in a much better way. Similarly, you can make explainer videos for the procedure to apply for leave application, improve telephone communication skills, presentation skills of your employees and elucidate the functioning of your company.
Using explainer videos for after-sales support play an equally important role as they do for advertising your product. A customer dissatisfied with your service support will never repurchase your product. A bad service consequently hurts your brand image. As a small-business owner, you can't afford to do this mistake while you are still struggling to build one.
Create explainer videos on the basis of frequently asked questions by your customers and also which you deem necessary. For companies whose products require technical knowledge for problem diagnosis, explainer videos turn out to be absolutely handy.
It is also useful when it is practically impossible for the service engineer to land at the customer's place on call for demonstration. During a telephonic conversation with the customer, the customer care executive can guide the customer to visit a particular video link to resolve their issues. It offers instant support to the customers besides eliminating confusion to use your product.
Though video books are fairly new entrants in the marketing arena, it is one of the best emerging methods to educate the customer. And it is soon going to be the leading medium for content marketing. A video book is like an e-book that offers a unique reading experience to the readers especially on a tablet.
It is essentially a combination of text, pictures, animation, infographics, videos and other media files. Even text can be animated along with supported background audio commentary. Marketers are exploring full potential of this untapped medium and devising innovative ways to educate their customers in an impressive manner.
Moreover, video books are easily downloadable so that they can be seen without internet connection as well. Marketers create video books especially when they have pinpointed target customers.
Going forward
After going through the seven innovative ways to use your explainer videos, one gets a feeling that the scope of using them is unlimited. We have seen that they are just as good for customers as for your employees and prospects. Similarly, you can devise other means of using these videos to suit your business requirement. But do remember not to create lengthy and boring ones as it will go against your purpose.
To explore the other innovative ways of using animated explanatory videos, consult Oomphbox.
Subscribe to our Newsletter