back

BFSI
Big Data
Data Analytics
Expanding Horizons: Enhancing Customer Acquisition with External Data in BFS
Customer acquisition is a vital aspect for any BFS entity. There are instances where tapping external data for the same has proved to be a bigger value proposition for these companies. Here's taking a closer look at the same.
Multiple companies already use external data for analysis. They are using big data analytics and other technological tools to glean actionable insights from the same.
External data is the vital piece of the puzzle that can help companies derive helpful insights for scaling up revenues and efficiency alike.
This is because internally-generated data may come with gaps. Companies are thus shifting to nonconventional and external data sources for analysis.
These sources may include almost anything for BFS companies including demographic and historical data, weather data, satellite imagery and more.
Analysis of external data by BFS companies can help them gauge economic, environmental, and political movements. They can predict future risks and opportunities.
Shifting consumer behavior and competitor actions can be better analysed through gathering external data.
BFS players are also increasingly leveraging publicly-available information, social data, and mobile data among other sources.
To this end, BFS and insurance companies are gathering data across both online and offline channels. These may cover points of interaction and other external consumer data available online. At the same time, they may also tap geopolitical data for understanding greater market movements and how best they can seize new opportunities in the near future.
Companies should identify, evaluate, procure, and prepare external data in a timely and consistent manner. This procedure will have to be implemented with proper analytics and integration in place.
Cross-functional groups may be set up as interfaces to wider data ecosystems. These groups may tap consistencies across multiple segments like business analysis, product management, data science, procurement and legal.
Companies can have curators for swift identification and assessment of external data sources in sync with business requirements. They can also review data sets for accuracy and quality. al
Simple and smart data services need to be embraced by BFS companies along with adaptive data services.
Dedicated teams can be set up for sourcing external data, looking for growth, cost, and operational enhancements that may be enabled by the same.
Companies can also build relationships with data aggregators and marketplaces for sourcing external data sets without spending excessive time.
There should be a framework for data assessment, including quality indicators like profiling metrics, fill rates, bias, and coverage.
BFS entities should also prepare their data systems to be compliant with newer streams of external data.
As is evident, external data is increasingly proving to be a game-changer for banking and financial services entities. It is helping them get a better profile and view of the customer. This is naturally enhancing customer acquisition efforts greatly, helping personalise products/services along with interactions. It is naturally leading to higher customer loyalty and retention.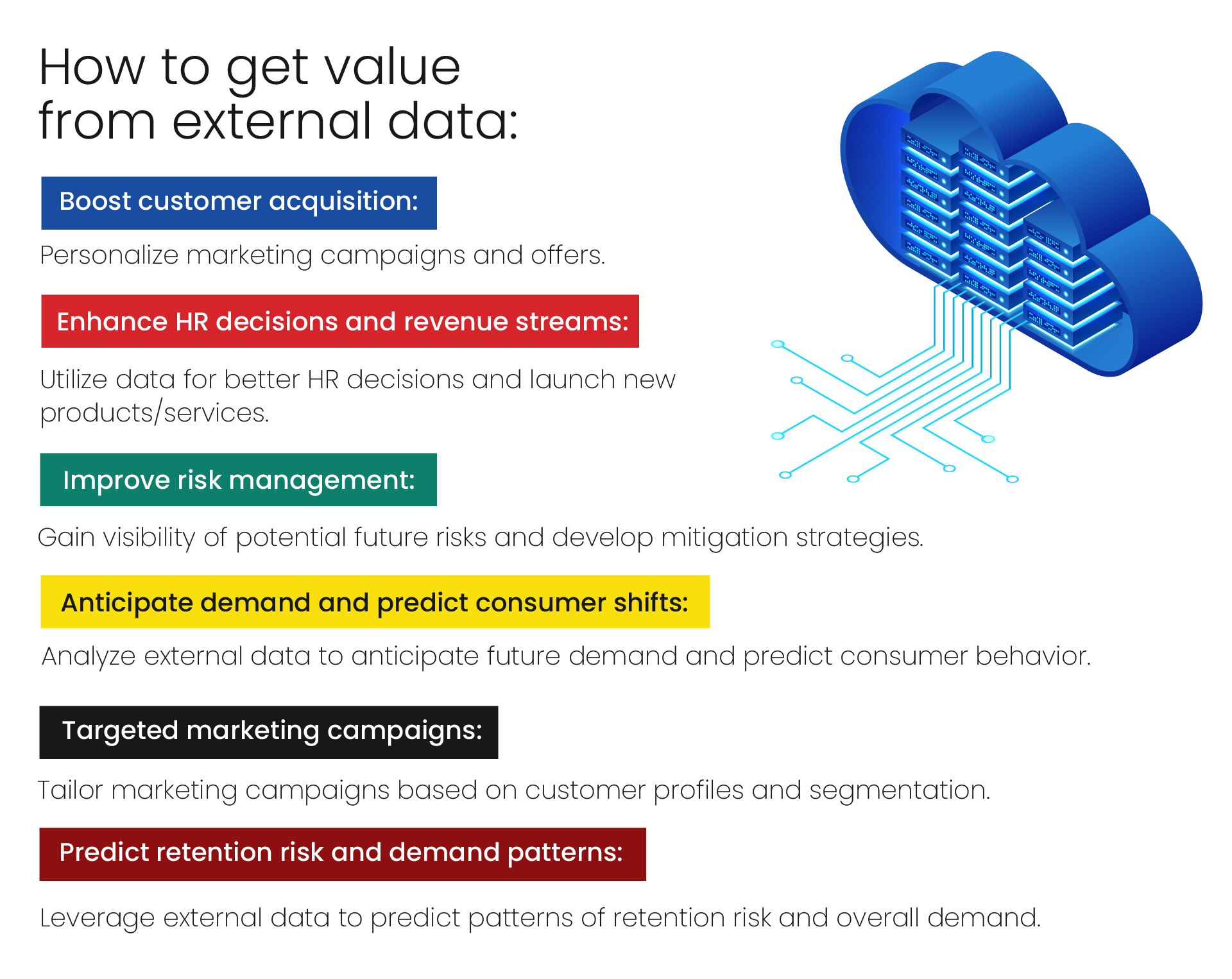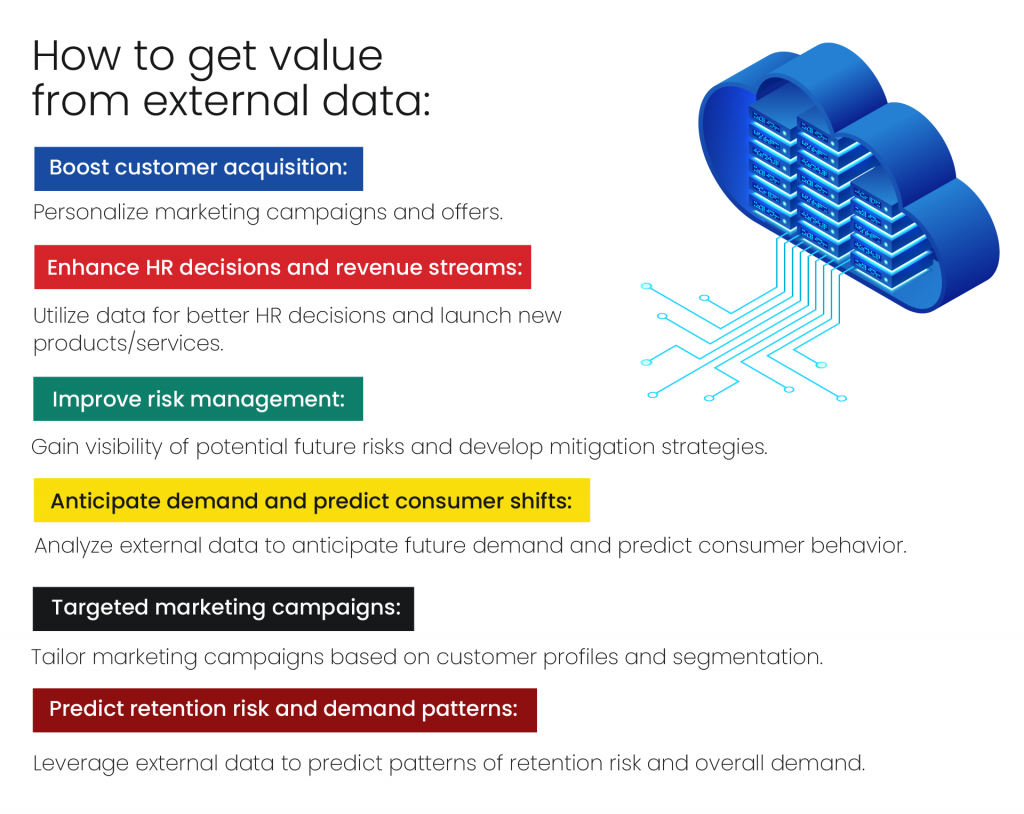 The Benefits of Using External Data for Customer Acquisition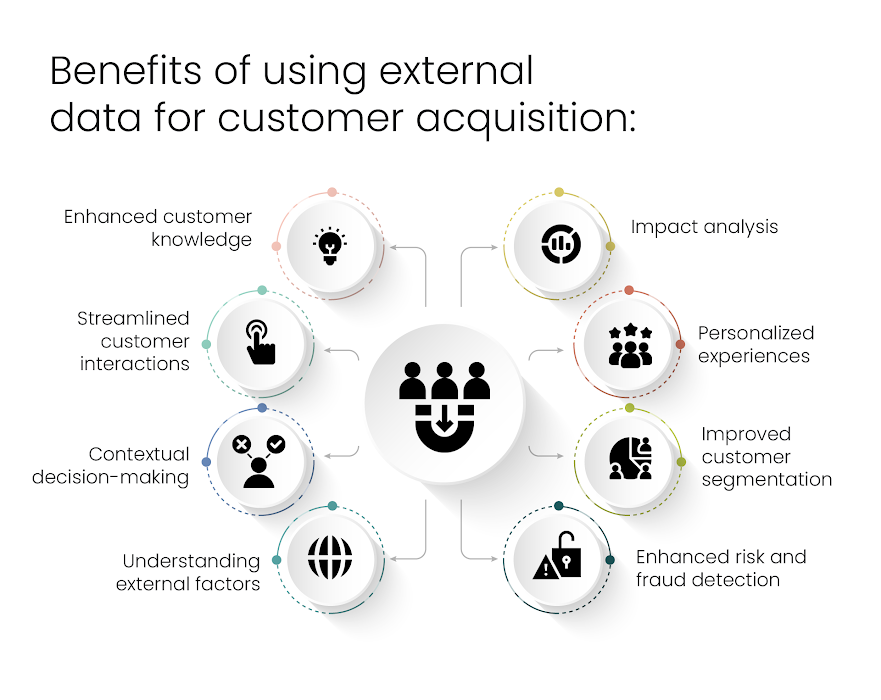 Data from external sources fosters better knowledge of customers.
Companies can avoid too many questions on feedback or enquiry forms which is helpful since customers have lower attention spans today.
They can use external sources to know more about customers without appearing intrusive by asking them multifarious questions.
External data adds necessary context to decision-making from a real-world perspective. Businesses will need to know what is happening in terms of external factors. These include purchasing trends and also widespread events or disasters, for instance.
External data can also help companies understand the impact of any external scenarios on their products/services, demand, and operations.
It can also enable better machine learning and predictive analytics models for BFS entities.
Consumer sentiments can be gauged better through survey and social media data while also guiding product-related decision-making.
Through combining external and internal data, customers can obtain personalised experiences. Cross-selling gets a shot in the arm based on insights about which offers/discounts customers are more likely to respond to. This may enhance conversions and customer acquisition as a result.
External data also helps enhance customer experiences significantly. Companies can create better profiles and segments for customers, which enables improved personalisation.
BFS players can create more accurate and effective models for scoring leads. They can also predict every lead's likelihood of purchasing and concentrate their efforts on those likely to choose its products/services.
External data accentuates the capabilities of building more accurate models for risk and fraud detection and management.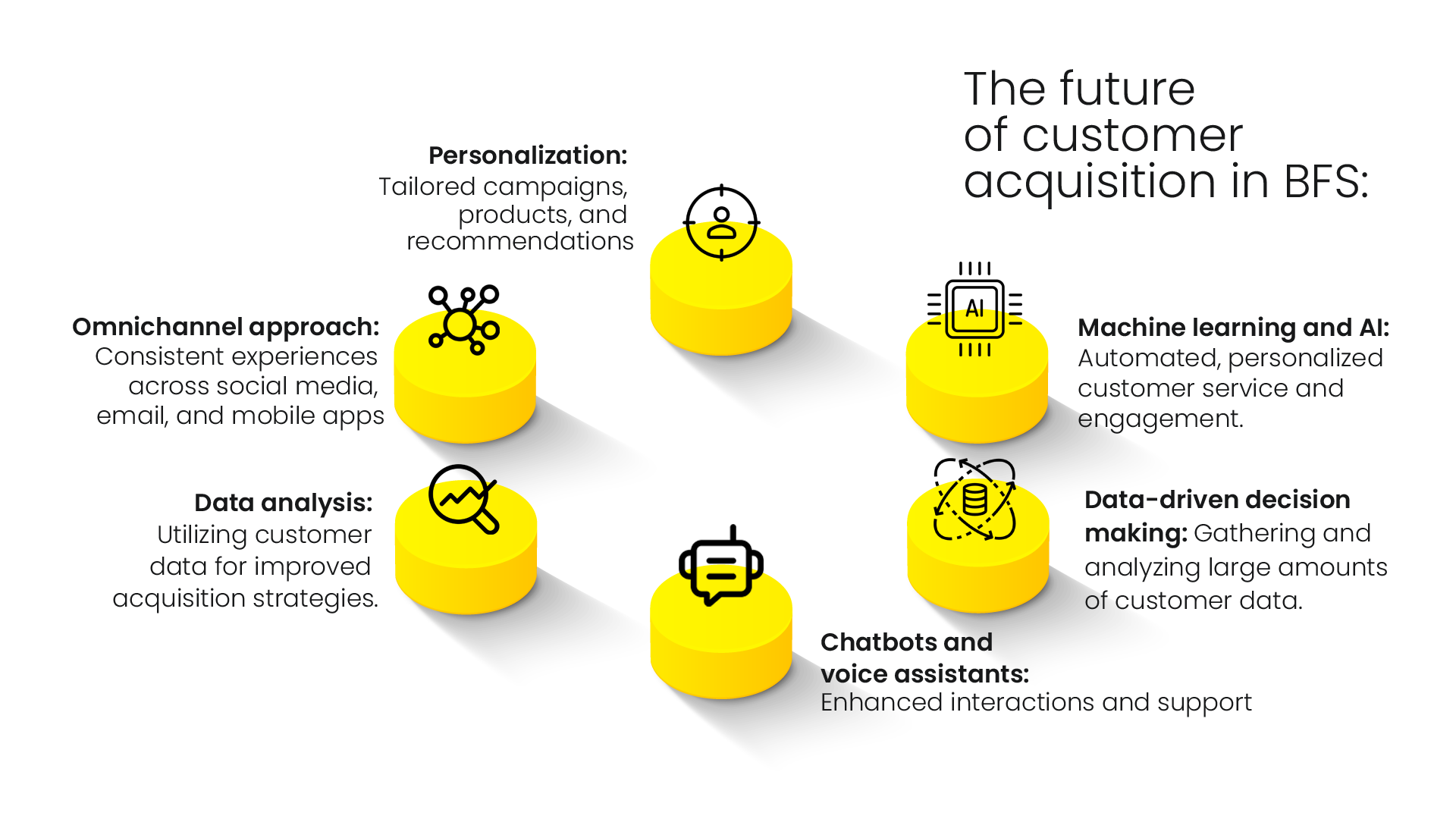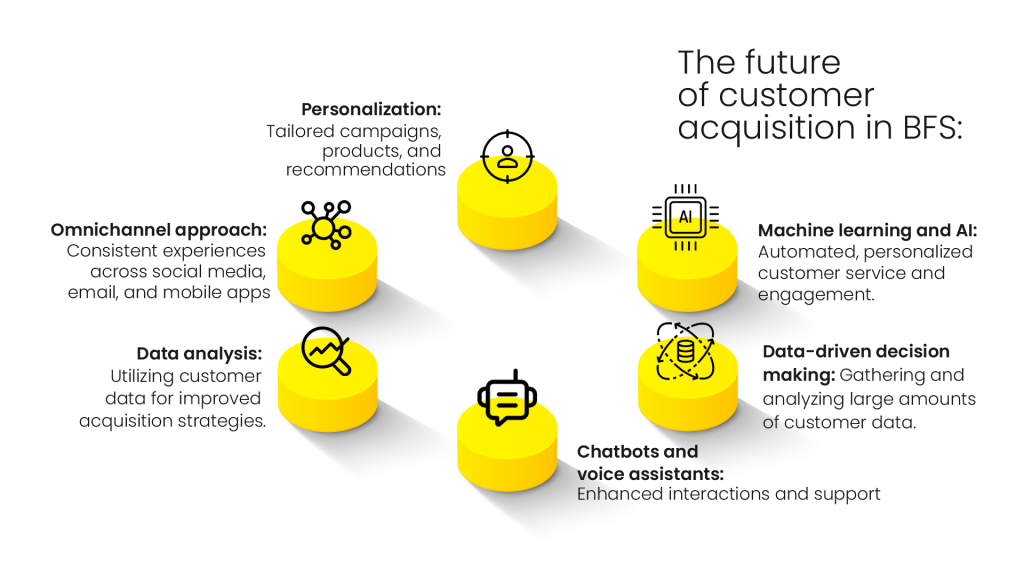 Customer acquisition will increasingly be driven by the need to gather sufficient data about customers and then personalise their journeys. This will be the guiding principle for banking and financial services companies in the future.
FAQs
1.What types of external data are commonly used to enhance customer acquisition in the BFS sector?
Some external data types include geopolitical and economic data, historical data, weather data, satellite imagery, demographic data and so on.
2.What are some specific examples of how external data has been successfully utilised to enhance customer acquisition in BFS?
External data can help companies understand customers better in relation to external events and factors. It helps predict market and consumer behavioral patterns and other dynamics.
3.What privacy and data protection measures are in place when using external data for customer acquisition in the BFS industry?
Companies should follow strict data privacy protocols including informed consumer consent while gathering data, encryption, multi-factor authentication, transparent privacy and usage policies, and so on.
4.What are the challenges or considerations when integrating external data into customer acquisition strategies in BFS?
Some challenges include data quality and delivery issues along with privacy and security risks. The absence of actionability may be another challenge, in addition to resourcing-related constraints.
Subscribe to our Newsletter