back
Offshore outsourcing
Outsourcing
Strategy
Why should you consider having an Offshore Software Development Partner?
Earlier, one of the major reasons for outsourcing software development to offshore development partners was to reduce operational costs. Now, as the demands for IT resources have increased and the service providers are now more concerned about quality, software development outsourcing has become an acceptable norm. Not only does this minimize the burden from your internal staff but it also lets you enjoy much greater control over the resources you are spending. Moreover, you also acquire a valued strategic business partner in the long run.
What exactly is software development outsourcing?
It is a practice where you collaborate with an offshore development partner to benefit from their expertise. You can hire them as a part of any project (both long-term and short-term) or simply assign any software development process.
Apart from outsourcing services, these partners have experts to deliver innovation without introducing any increased risk. These strategic partners let you access the resources and tools to improve and expand your business.
Advantages of outsourcing to an offshore development partner
High-Quality Work
You will get access to highly qualified professionals who follow the highest standards in software development. If you want to build a team of professionals with the same level of efficiency, you may either have to hire expensive resources or train young professionals for years.
You Don't Need to Develop Infrastructure
Probably, this is the best advantage of hiring offshore outsourcing services. Having an in-house team doesn't only mean hiring experts. You need to build the required infrastructure and buy all the necessary tools. These are all an integral part of the development process and are expensive!
On the other hand, an offshore development partner will have all the required tools and infrastructure. So, the software development partner can start the work quickly.
Also, the partner is likely to take less time to complete your project. Eventually, your total project cost will further go down.
You can focus on your business goals
Are you into the non-IT business? If so, dealing with IT-related things may increase your operative cost. Moreover, if your team is not skilled enough, your options get limited.
An offshore development partner can take care of your IT and software development related issues. Thereby, you can focus on your core business and plan to expand it further.
Bring down your time-to-Market
Customer demands are evolving with time. You have to come up with innovations quickly and be the first in introducing them to the market. This is a critical factor in determining your success.
With an offshore development partner, you will have control over the speed of software development. You can quickly scale the overseas team to work faster. Thereby, it reduces the time-to-market of your product and ensures its success.
Better Product Quality
The development partner will have the infrastructure for building and testing robust software. So, you will always get a stable product that gives a better user experience. This will generate value for your company and protect your investments as well.
Reduce Cost
Cost reduction is one of the main concerns taken into account when companies decide to outsource work. You don't have to invest in building the infrastructure, buying equipment, and of course, paying salaries to full-time employees.
You will have to pay the software development partner for only the project you will assign to them.
Things to remember before selecting an Offshore development partner
Here are a few factors that you need to consider before choosing an offshore partner for software development.
Time Zone Differences
The difference in time zone can be challenging while working with offshore companies. But it's not impossible either! You have to plan it accordingly. For instance, to minimize confusion, communicate using only an established channel (like a single email id) or keep weekly meetings. To bring more transparency, use project management tools. In this way, time zones won't be an issue.
The Culture
Consider the culture of the outsourcing team or company you will be working with. You will have to work together for an extended period. So, having a similar work culture and ethics is crucial. Also, see how they are dedicated to communicating the progress with you and keeping you in the loop so that you are aware of everything.
Changes in Team/Developer
It's important to know who will be leading the team and who will be working on the project. Do they really have the experience needed to meet your objectives? An experienced team often makes this transition process easy and can employ creative solutions to get the work done.
Outsourcing Software Development Process: Why Choose India?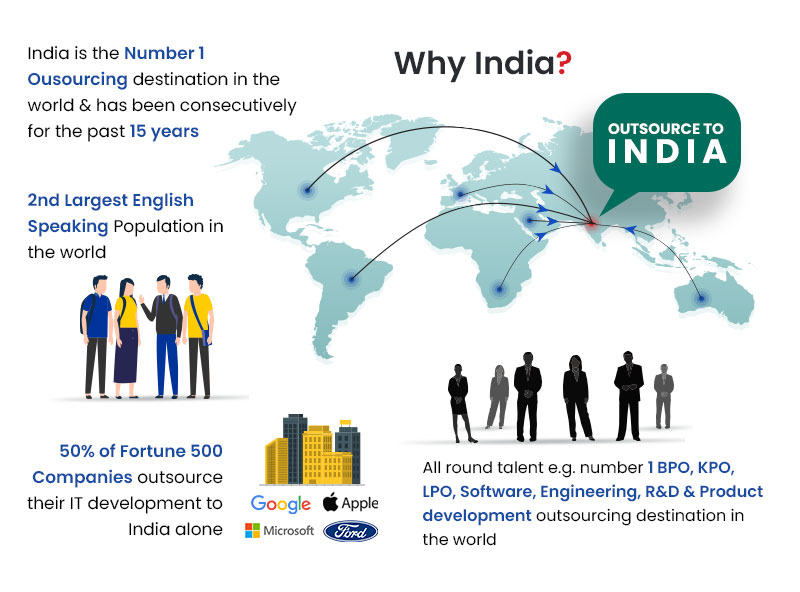 When it comes to outsourcing, India is an undisputed leader in this category. No other country can match the number of highly skilled experts in India. According to a recent Statista report, India tops the list of countries in offshore business services worldwide in 2021.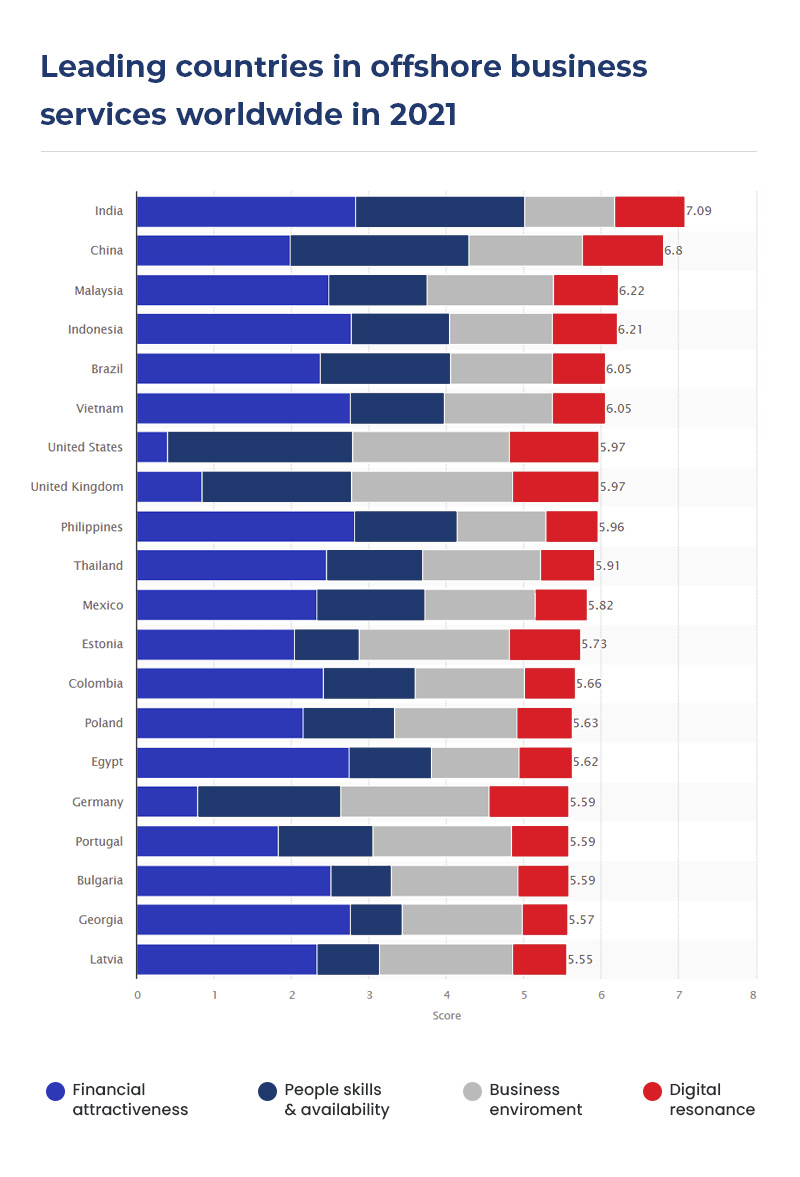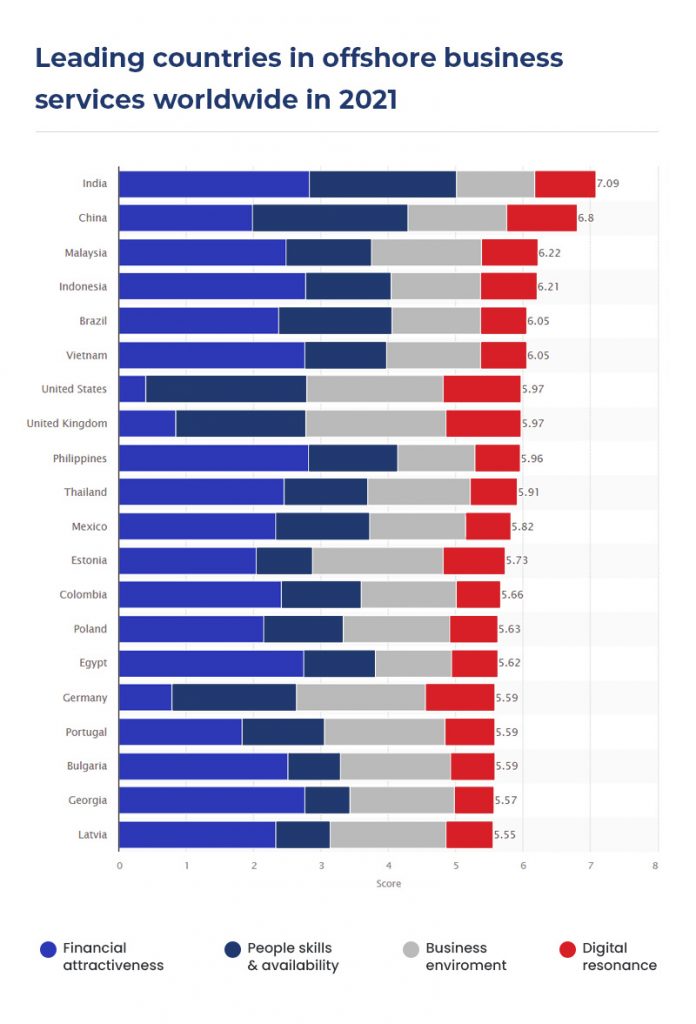 The IT sector in India boasts rapidly developing software and technical capabilities including disruptive technologies such as data analytics, cloud computing which is critical to the growth of new avenues across all verticals. According to Economic Survey 2022, IT exports drive 18.4% growth in India's services exports between April to December.
Here are the best possible reasons that make India the one-stop destination for outsourcing, like:
A large pool of English-speaking skilled manpower
Cost-effective workforce
World-class infrastructure
Digital-First, Innovation-Ready Environment
Technology efficiency
Conclusion:
Outsourcing to an offshore development partner has always been a key to success and a key factor in growing a business. You can leverage their experience and expertise to overcome tough challenges. Contact us right away for your needs and support solutions if you truly want to make your company stand out to your consumers!
Subscribe to our Newsletter