back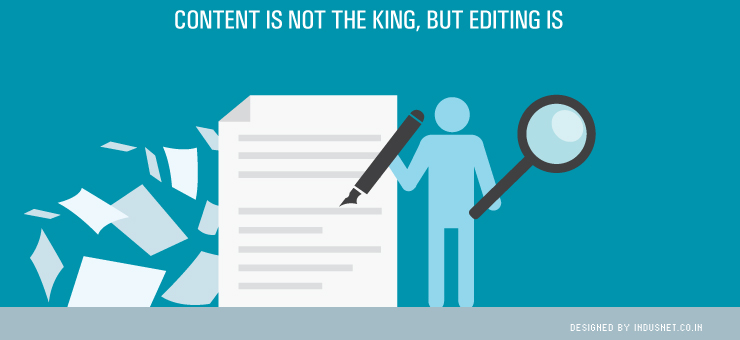 Content Marketing
Digital Marketing
Content Is not the King, but Editing is
The phrase "content is king" is often repeated much to the discontent of many professional writers and editors, pun intended. An often repeated phrase, it has almost become farcical now to mention it. Well-written content isn't enough. What we really need is professional editing, which is the most important aspect of content creative. A blog or an article or an e-book that is not well edited simply is a bane more than a boon.
It is very common to see shoddily written articles that are published in the quest to appear in search results or to generate leads. If the content is rife with syntactical, semantic and contextual errors, it is going to do you no help. With that in mind, it is very important to hire professional editors who can ensure that your quality of content never goes down.
If we need to rephrase the phrase, we could probably say "professional edited content is king". There are many reasons why editing is important even if your budget is not huge enough. In this article, let us take a look at how professional editing is the king and why you need to hire more editors than you probably do at the moment.
1. Editing saves embarrassments
First and foremost, editing helps you to make sure that you didn't mean to say what wasn't meant to be written. Certain mistakes can prove to be particularly embarrassing. If you are writing for a niche audience or an audience that is located in a particular geographical area, you might want to make sure your content is culture-appropriate as well; and this requires an editor. An editor makes sure that not only is your content free from grammatical mistakes but also context-specific. This helps you to save yourself from embarrassments, which can prove to be very costly in today's world.
2. Editing makes you look professional
A well-edited document ensures that you do not come across as a novice. Content that isn't professionally edited often looks sappy and sometimes very salesy. Very salesy content can put people off and they certainly will not bother to find out what you are trying to sell precisely because you look (or read) like a salesman. A well-edited document makes sure that your content is engaging, professional and very engaging. This is one of the main reasons why editing is very important even if it is expensive.
3. Editing helps you drive traffic
It is a well-known fact that search engines rate content based on the level of syntax and semantics. If your content is rife with punctuation, spelling and grammatical errors, search engine algorithms often place you at a lower level. What's more, you might even be mistaken for an unreliable website. Google famously announced that when it means quality content, it also means grammatically correct and well-edited content. This is one of the main reasons why you need to make sure that your content is well-edited. It helps you to get that precious traffic which is so very important.
4. Editing helps lead generation
When people visit your website, they often look for something that is impressive. It needs to make them intrigued and interested in the products & services you promote. If your content is not impressive enough, they might falsely believe that your services and products are not top-notch either. This is one of the main reasons why you need to make sure that your content is professionally written as well as professionally edited. It helps you to generate leads and prospects who might later purchase what you are trying to sell.
What are the alternatives?
If you are unable to hire a professional editor for a number of reasons, you could opt to get it edited by peers. While the quality will not be the same as getting it edited by an experienced editor, you can opt to hire someone who is good at writing skills and language to read what has been written. It is certainly not better than editing at all; and if you do not know anyone, at least read through the document yourself before publishing it online. At the end of the day, there is nothing like a well-edited document to drive traffic and leads.
Subscribe to our Newsletter