back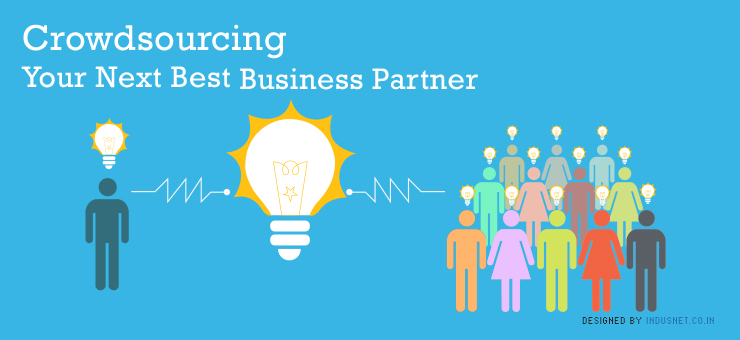 Digital Marketing
Marketing
Crowdsourcing – Your Next Best Business Partner
The future will not slow down and so won't the information. The amount of information available to people are expanding radically. Every individual voices their judgement about products and services. So, obtaining mass ideas and opinions is not a difficult job for the businesses in today's world…and this is what they called 'crowdsourcing'. The power and wisdom of crowds can be harnessed to produce solutions beyond the capabilities of individuals.
Crowdsourcing – A Powerful Marketing Tool
When I was working day and night to get the best infographics for my client, my problem was solved within a day when the job was assigned to a crowd of best designers. When you have collective ideas handy, you can always pick and choose the best ones. I realized the quality of the chosen ideas matched my requirements as expected. I no longer had to use focus groups, surveys and expensive research programs to collate ideas & form strategy.
No wonder, my marketing landscape is seeing a drastic change in terms of innovation, efficiency, speed and relevancy. My business is no longer restricted to a particular audience, skillset or culture. I can source creativity from the experts across the world. However, you need to strategically carry the crowdsourcing market.
Stuck for Ideas? Pull in the Best Experts from Different Parts of the World; That's the Fun of It…
Crowdsourcing minimizes labor expenses and maximizes productivity. When an organization can leverage resources and creativity of its audience in promoting its service, it is its biggest asset. Researching on new products, designing campaigns or solving complex business roadblocks, collective ideas can do wonders for everything. Crowdsourcing tool artfully manages the work of your creative team but from a distance. The team can dig deep into the issues and use the analyzed information to make improvements. Engage the best talents to acquire expert advice for your projects.
No Violation of Regulations
A well-designed crowdsourcing plan will never compromise on the ground of violation of information, data protection and company's reputation.
The Big Brands and Their Stories…
It is not just Google and Microsoft but several other traditional firms like General Electric or Coco-Cola are using crowdsourcing techniques.
Recently, Google announced a new proposal that aims at using collective ideas to improve translation. Google's Translate Community is now open to all, especially, for those who speak more than one language to provide their own translations and validate the existing translation. In addition, Google has also promised to offer the ability to match and compare translations. Gradually, the company is giving users more visibility when it is a matter of their valued contribution. Google has also launched a new feature in Google Translate that will allow everyone to contribute their own translation, in case of any mistakes.
Similarly, of late, Coca-Cola Company in China has asked for creative videos on crowdsourcing platform to show what coke tastes like. The company has categorically mentioned about creative point of views about the taste and not ads for coke. The whole idea is to check the coke taste experience of the consumers across the world. They want to see the creative expressions of people, especially, when they will try to explain the taste of coke to someone who has never tried it before. Besides the content, the company is expecting a thorough impressionistic market research to improve the brand.
However, you need to know the tricks behind crowdsourcing your marketing movement.
There is No Free Lunch…
There is no dearth of investors seeking to finance a new product idea or company. The crowdsourcing platforms are doing remarkably good at drawing investments to get their job done. According to World Bank, by 2025, the global crowdfunding market would reach to $90 – $96 billion. Investors are more likely to assist entrepreneurs and NGOs as they see the potential of these platforms to reach the untapped markets.
I did submit a request on an online crowdfunding platform stating what I needed, how much I needed and when I needed it by. This is a clever way of saying that only the best ideas will receive money.
If you want high production value, offer a good return.
Crowdsourcing is the best practice to accelerate return on investments and enables real time conversation between consumers & brands.
Subscribe to our Newsletter