back

Digital
Pharma
Digital Pathways to Patient Engagement
Digital pathways are specialised systems for patients and healthcare providers, enabling them to manage the whole care process. It boosts patient engagement, streamlining overall communication, lowering overall paperwork and repetitive calls along with enabling automated administrative workflows.
This results in smoother experiences for both parties with the help of health technology and dedicated digital solutions.
Personalised healthcare becomes a reality with digital pathways, while coordinating patient care throughout multiple disciplines, settings, or teams, and enabling data capture in real-time for tracking outcomes.
These pathways also help foster an environment of patient education, collaborative working, and better engagement to boost adherence rates and eventual outcomes.
How Digital Pathways Can Improve Patient Engagement
Digital pathways can go a long way towards improving patient engagement. Here are a few pointers that can be noted in this regard:
Personalised healthcare is naturally improved with pathways enabling providers to track medication or treatment adherence levels. They can engage directly with patients on an ongoing basis via messages or reminders directly sent on the platform.
This encourages higher patient engagement and may lead to better outcomes like higher rates of medication compliance among those who suffer from chronic ailments. It may lead to higher attendance at follow-ups or appointments whenever required.
Digital pathways rely on health technology to automate communication and administrative workflows. This helps providers and organisations reach patients at the right time with the right guidance and monitoring.
These pathways also help in the dissemination of easy-to-understand medical content and terminologies. Proper messaging ensures patients can follow all instructions and respond to check-ins by professionals.
From reminders to notifications, everything is tailored to ensure a better experience for patients. Data is analysed at various stages of the process for insights into patient behavior, touch points, preferences, and more.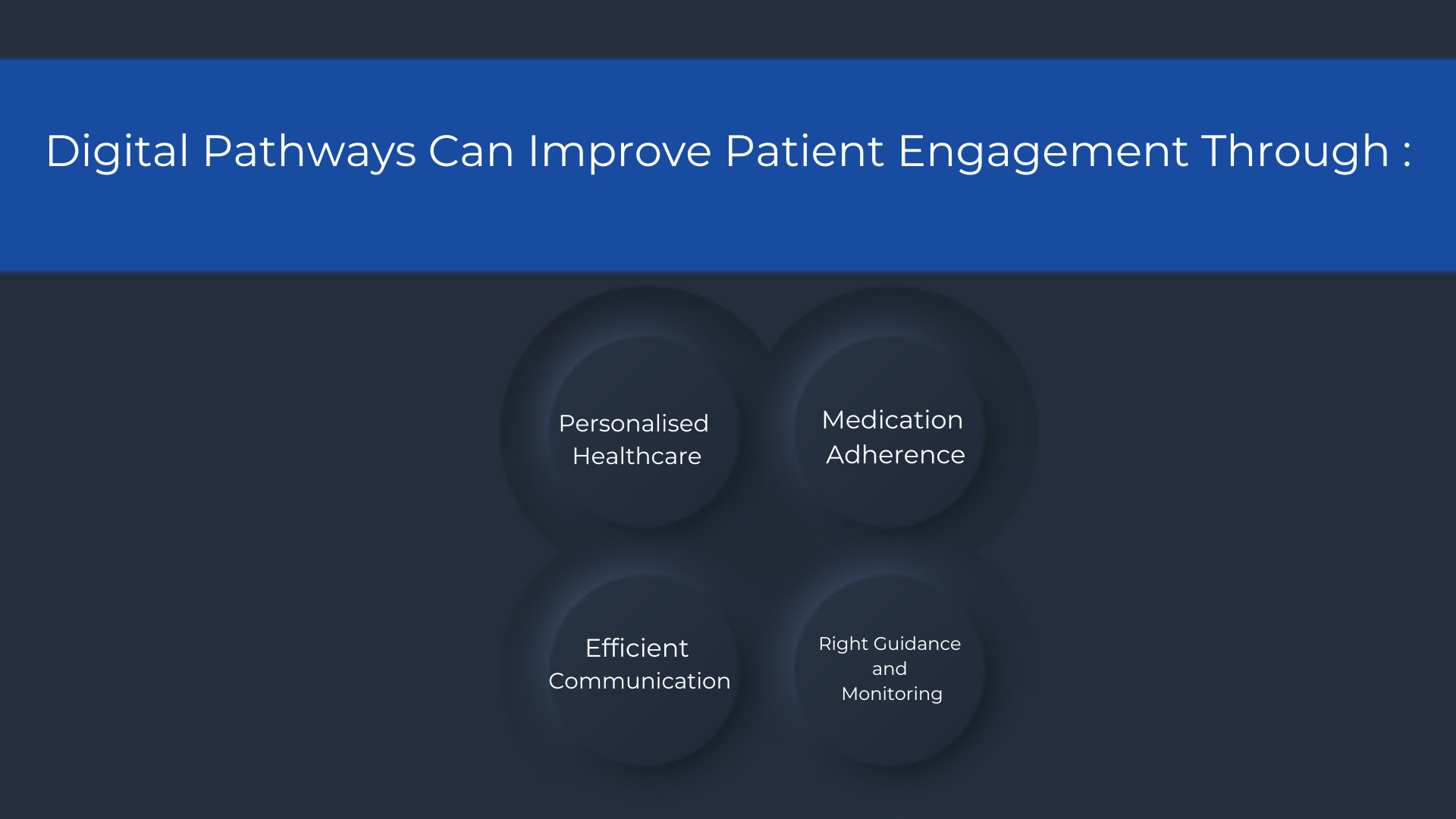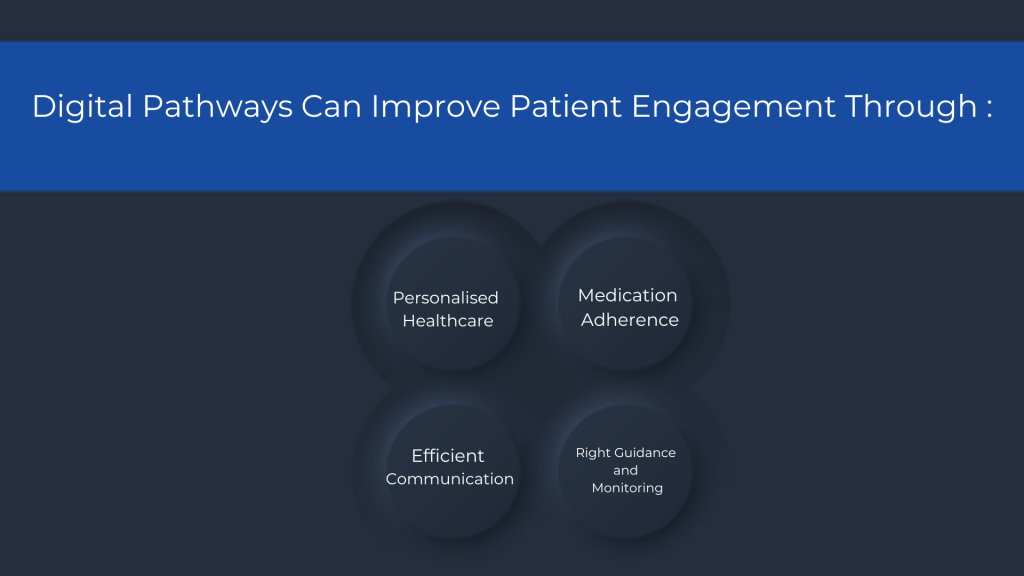 Along with increased patient engagement, there are multiple other benefits of digital pathways as are listed below.
The Benefits of Using Digital Pathways for Patient Care
There are several advantages of using digital pathways for better patient care and engagement. Here are some of them:
The digital experience, for patients, can deepen relationships with healthcare providers. The timeliness and easy access lowers complications and stress levels.
Information is directly collected from patients and made available in real-time. This enables shared decision-making for healthcare providers along with more personalised healthcare systems.
Digital interactions are also more detailed and frequent as compared to traditional ones between healthcare providers and patients.
There are no barriers geographically or otherwise, to receiving advice, check-ins, follow-ups, and quality care. Healthcare monitoring and delivery outside conventional settings enables money, time, and energy savings.
Healthcare systems also benefit from digital pathways through easier tracking and management for a large number of patients. They can do this without investing in more personnel.
Automated administrative and communication workflows also free up staff members to focus on more vital tasks and care delivery.
Digital solutions and health technology modules have enhanced care quality through timely alerts and notifications along with reminders.
This is done immediately in case of patients experiencing any deterioration or adverse scenarios. Early detection and notifications give healthcare providers an opportunity to take swift action to prevent any hospitalisation.
Accurate recommendations and predictions are also generated through these systems via machine learning and big data analysis.
Digital systems also reduce care costs through more efficiency, better tracking, higher adherence, lowering unnecessary re-admission, and lowering the length of hospital stays.
Digital pathways can capture data in real-time while generating more insights into service delivery by providers. They can offer extensive insights into patient pathways and various risk factors associated with the same.
Pathways enable easier identification and addressing of common risks after discharge and tracking over time. This boosts discharge procedures and lowers the rates of re-admission.
The benefits of digital pathways are numerous for both patients and healthcare providers. The best part is the fact that healthcare shifts to a more patient-centric and personalised model, which is the need of the hour today.
The Future of Digital Pathways in Patient Care
The future of digital pathways in patient care and engagement looks immensely bright and positive. More healthcare providers will adopt these digital solutions towards enabling patient-centric services. Here are some other pointers worth noting in this regard.
Healthcare providers will choose digital patient engagement solutions for speeding up processes at multiple touch points.
They will look to offer consistent and accessible digital experiences for patients throughout their entire journey from consultation and admission to recovery and post-care tracking.
Patient data will be continually analysed for insights and predictions. This will enable quicker identification and assessment of risks.
Patients and healthcare providers will have 360-degree health data views and the latter can coordinate care throughout multiple teams more easily.
Easy integration with EHRs and other platforms will be the key trend in the future along with automated administrative workflows.
Health technology solutions will increasingly enable a deeper understanding of the health of each patient while enabling more streamlined and proactive care delivery.
The future will be more patient-driven as far as healthcare solutions are concerned. This is where digital pathways will come into play as cost-saving, efficient, and effective options for both healthcare providers and patients.
FAQs
1.What types of digital tools and platforms are commonly used to facilitate patient engagement?
There are several digital platforms and tools used for enabling patient engagement. These include digital check-ins, online scheduling of appointments, provider searches, digital billing, virtual waiting rooms, self-service tools, and telehealth. Other tools include patient portals, mobile apps, smart devices, care automation platforms, and remote patient monitoring tools.
2. How can personalised health technology solutions foster stronger patient-provider relationships?
Personalised health technology solutions can build deeper relationships between patients and healthcare providers. Patients can get personalised health monitoring, guidance, and care delivery. They can be actively involved in decision-making while getting all necessary support, reminders, follow-ups, and check-ins. This will enhance patient satisfaction greatly and lead to better relationships with providers.
3. What are some real-world examples of successful digital strategies that have led to improved patient engagement outcomes?
Some real-world examples of successful digital initiatives for better patient engagement include telehealth and remote patient monitoring. Some others include personalised patient portals and mobile apps along with software-based self-service tools.
4. How do interactive digital platforms empower patients to actively manage their own health and wellness?
Interactive digital platforms contribute towards patient empowerment by giving them the data and tools to actively manage their own wellness and health. Patients can get recommendations and guidance along with preventive strategies. They can access their updated health data and get remote tracking and follow-ups along with reminders and notifications if needed. They can use self-service tools to engage with healthcare providers in a more convenient manner as well. They can also access educational resources on these platforms.
Subscribe to our Newsletter