back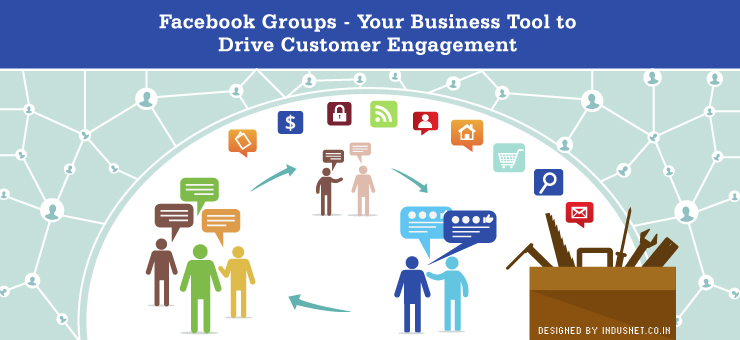 Digital Marketing
Internet Marketing
Social Networking
Facebook Groups – Your Business Tool to Drive Customer Engagement
Every business has their secret weapon to bring in new customers. Today's topic of discussion centers around one such secret if you have none for your business. Do you think promoting your brand through your business Facebook page will suffice? Well! There's potentially a lot more to it than that. Let's explore the most underutilized aspect of Facebook. The strategy is about creating Facebook Groups to lay the foundation of the best customer service.
Facebook Groups – Your Weapon to Increase Your Visibility and Networking
Facebook Groups is all about providing an easy way to segment customers, creating communities around specific products, providing a network forum for customers, improving customer service and most importantly, driving new sales. Facebook Groups allow conversations and exchange of ideas. However, do not misunderstand Facebook Groups with Facebook Page. Pages are managed by an organization while Groups can be formed by anyone.
Checklists Before You Join a Group
You can join up to 6,000 Facebook Groups
If you're unsure about where to find groups, start with Facebook Graph Search
Focus on only 10-20 active groups
Measure your group against a few criteria including active group members, low spam, members of a specific Facebook Group, impressive description etc.
Check the 'About Section' of any new group to learn about their business goals
You may also restrict group membership based on qualification
Avoid groups who focus only on sales and promotions & do not contribute to any valuable conversations
Utilizing Facebook Groups for Marketing
Build Your Community
The basics of Facebook marketing start with building a community. A group should be about its members and how they contribute to your business. However, networking is equally important for your group members. They should make connections and discuss about your offerings. I found it easier to communicate with people through my Facebook Group than it is via email. I feel that having the group creates a more personal connection between my brand and my clients. It gives me an added level of support.
Create a Competitive Market Place
The real reason behind Facebook Groups being so powerful is its capability to market your products and services overnight. Post your products and make your fans go crazy to buy them. However, do not spam with unnecessary clutters.
Discuss current events and offerings
Facebook is the right platform to discuss about the latest happenings of businesses. And Groups are great places to keep up with current events and updates in your industry. If you're conducting any business event, welcome your group to participate and ask for suggestions if required. Let them brainstorm ideas, share resources, answer questions and create strong relationships with one another. After all, satisfied customers promote brands on Facebook more than any other social network.
No other medium is as good as Facebook Groups in highlighting your offerings and making your customers fall in love with your brand. Offer them varieties of products and the best deals to encourage conversations around each of these individual offerings. As people tend to be more personally connected to conversations in Facebook Groups, group members are more likely to see your updates.
Value your customers
Reward your customers within the group and make them feel special. Post their pictures on Facebook and let your community know about your 'Happy customers'. Choral your loyal customers and keep them motivated to talk about your brand. Use the group to follow up with your clients and solve their queries. Another smart approach is to encourage your group members to help you reach your goals.
Utilizing Facebook Groups for Customer Engagement
Construct a Customer Support Hub
Use closed Facebook Group to deliver support to customers in need of any help. Eventually, it also becomes a central place to receive feedback on what is and what isn't working for your business. The whole idea is to generate an open dialogue between you and your customers by giving them a specific location to ask questions. Group members who have already made a purchase are more likely to engage with your brand, if they're happy with your customer service. The closed group forum allows your customers to get direct access to you.
Form Networking Hubs for Existing Customers
Use secret members-only groups to create a personalized and classified feedback loop. This is a great customer engagement and retention tool. This group is an ideal spot to provide extra value to your special clients. If your brand has a more exclusive audience, a private group is a perfect fit in to your business.
Lay a hub to build customer awareness and interest in your brand
Start an open group to focus on business niche. Use your open group to establish yourself as an expert and to network with others in the industry. Provide content in a more personal and community-focused way and allow your group to talk about your brand. Incentives are the best way to attract customers and build their interests in your brand.
Bonus for Facebook Groups
Facebook's 'SAVE' function works for Facebook Groups content. This is an added advantage for members who have the luxury of reading and responding to something when they have more time. This reinforces your brand.
This is not the end; Facebook definitely needs a pat on its back. To make business prosper, Facebook has also introduced a new app for the Facebook Groups. The app allows easy sharing, chatting and keeping up with Facebook Groups. The app also simplifies the process of discovering new groups, joining the new groups and viewing all notifications.
Subscribe to our Newsletter