back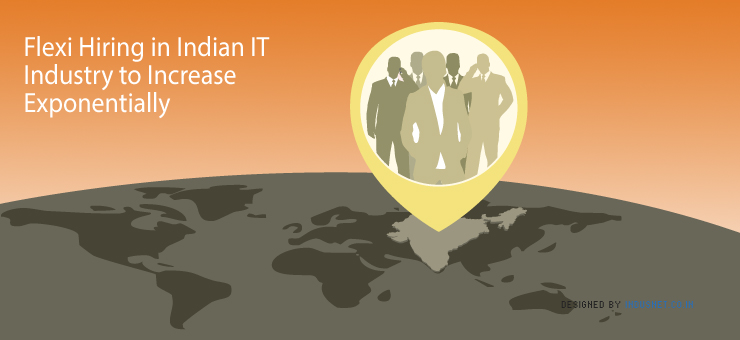 Offshore outsourcing
Strategy
Flexi Hiring in Indian IT Industry to Increase Exponentially
Before we get to the bottom of an astounding estimate that flexi-hiring in India is going to increase by 20% by 2020, there are a few facts and figures you need to take notice of. 10% of overall workforce in India could be working as a flexi staff by 2025 and another 1.3 million people employed in Indian flexi staffing will form 3% of organized sector employment. The actual number of flexi workers in India is projected to touch 9 million by 2025. Another important fact to note is that about 79% of flexi staff in India falls in 21-30 year age group which indicates flexi hiring for entry-level positions is the preferred choice for employers.
Why choose India?
Despite the global slowdown, there is a steep rise in flexi hiring among IT companies in India. There is also a rise in just-in-time hiring due to volatile market conditions. Moreover, shifting focus towards core activities facilitates flexi hiring for non-core activities. India is one of the top Asian countries in flexi hiring, the country will help you cut down your rising human capital expenses.
With limited budgets and a decline in the hire of new recruits, many HR officials are resorting to hiring temps to get the work done. The flexible workforce in India is extremely talented, hard-working with innate problem-solving capabilities with the best IT and ITES training institutes across the country. There is also a large database of skilled professionals with expertise in all kinds of programming languages, coding techniques, web and mobile application development
Some of the features of an Indian flexi-workforce:
• Hiring a flexi staff from India comes with numerous benefits including saving office space, hardware and software investment, infrastructure investment, end-to-end technical support, freedom from employment tax, labour laws and insurance of workers.
• Despite the difference in the time zone, they are readily available for work in accordance with the American time zone.
• Strong cultural orientation training provided to IT/ITES professionals to serve the client at par with the locally hired professional
• Flexi staff recruitment agencies in India provide you with seamless support in getting the best talent to serve your needs at an affordable cost. It also minimizes the employer's risk as the day-to-day administration and supervision are taken care of by the recruiting agency.
Benefits of a flexible workforce
• Beat margin pressures –
With the cut-throat margins in the IT market, flexi hiring helps you deal with swinging market conditions and beat your competitors' pricing and quotations.
• Potential to turn into a permanent employee –
Though a temporary workforce is employed on a short-term contractual basis, but they can always turn into your "tried and tested" permanent employees in the long run by gaining sufficient experience. Thus, saving you a considerable training cost.
• Specialist temps –
Temps are not only hired for taking care of entry-level jobs, even a specialist temp can be hired for a short-term basis depending upon the need of the project. Many companies hire specialist trainers to train their permanent workforce from time to time. Besides this, specialist temps assist in project planning, database set up and implementation and so on.
• Regulate your staff requirement –
Staff optimization is another major advantage as you need to hire temps as and when required. Therefore, payroll expenses are minimized and there is no labour redundancy.
• Deal with temporary workload intelligently and sustain customer delight –
In the IT industry, we find that the workload increases spontaneously when the number of orders increases or when complicated and tougher projects arise. To deliver timely service to all your clients, you can hire temps to meet the deadlines and keep your customers happy.
• Reduce time and cost of selection – Flexi hiring eliminates complex and expensive procedures of hiring. It also enables faster mobilization of the workforce and you are liable to pay only for the working days.
Thanks to easy communication with real-time data exchange through cloud-based platforms accessible via laptops, tablets and smartphones, there is a major spurt in offshore hiring. Also, continuous overtime and pressure often result in low productivity and poor service quality in the long run thus affecting your human capital. By hiring temps, you will be able to lower the burden on your permanent employees and make use of modern technology.
Subscribe to our Newsletter