back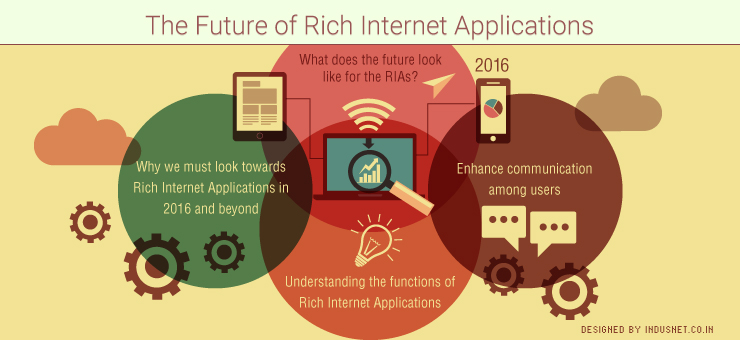 Cloud
The Future of Rich Internet Applications
Much has been discussed about rich internet applications (RIA) in the past. These are web-based apps that mimic traditional desktop applications but are much more advanced in nature. They help businesses to reach their mobile base in a short period of time at a very affordable cost.
Not only does it cost less to design these rich internet applications but they are also cheaper than traditional desktop applications to maintain. Everything that you can imagine, such as animation, A/V application and even Flash are supported on these apps.
Rich Internet Applications make use of Adobe Flash, Microsoft Silverlight and Java FX in usual circumstances. Thanks to an increasing bandwidth even on mobile devices and because of the proliferation of 4G devices, RIAs will grow in importance and stature. What we need to remember is, simple and cheap do not mean less than desirable.
HTML pages are no longer the only way to design effective and fast-loading apps. RIAs have made it possible to develop cost-effective and efficient applications that are versatile in nature. They ensure an intuitive interface and a user-friendly mechanism that encourages people to use them more often. All this helps to build a better platform for your company.
Why we must look towards Rich Internet Applications in 2016 and beyond
In 2016 and beyond, we can see a number of reasons why RIAs (Rich Internet Applications) will grow in size and stature. They are based on the Rich Client Deployment Model which means apps are deployed on a browser rather than on a client-server model. This ensures quick loading and increased efficiency. RIAs are responsive and graphical at the same time.
This means, mobile users can uniquely enjoy using these apps without having to read through lengthy textual web pages or slow-loading legacy apps. RIAs do not require major installations. Patches can be released at regular intervals and that too they can be automated. This ensures that security is heightened and vulnerabilities are fixed as and when they arise. All in all, they provide for better encryption models than legacy tools. Native web applications are not as accessible as RIAs. This means, customers have a greater chance of discovering your content and filtering what they need on an RIA than on a legacy application.
Understanding the functions of Rich Internet Applications
RIAs are web-oriented apps that intermediate between users and app servers. Client engine doubles up as a browser extension and enhances responsiveness and interactivity.In this section, let us take a look at some of the most important features of an RIA.
An RIA is basically responsive and interactive. It is skewed towards client's CPU which ensures that there is a quick and efficient response on the user's screen. The best feature is that when a page is loaded, only that section is loaded and not the entire page. This ensures that unnecessary downloads are avoided and only what is seen on the screen is loaded. This is of particular importance if we are talking about mobile devices.
The user interface on the other hand is very rich and you can always use very premium quality audio and video files. In fact, you will not be able to make out any difference between traditional and rich internet applications. As it is targeted towards a mobile audience, anyone who is connected to the Internet can easily access Rich Internet Applications. This ensures that it is more democratic than the previous technologies that were geared towards desktop users.
Enhance communication among users
Rich Internet Applications also enhance real time communication between users. Whether you want to enable audio or video conferences, improve collaborations between users or install instant messaging, it is all possible when we are using Rich Internet Applications. Certainly, all this leads to a greater sense of productivity. RIAs offer single application view, which means, multi-screen interface's distractions are minimized.
Customers will be more loyal to your brand because RIAs enhance the ecommerce experience and improve the process of tracking order, reorders and cancellations. In fact, a lot of people consider RIAs a boon to ecommerce businesses. Other than helping existing ecommerce businesses, it also helps you to acquire new customers, thanks to enhanced interaction.
Of course, it is important to mention that all this takes place at a minimal cost to the developer. When you develop rich internet applications, you can rest assured that operation costs are low and sustainable. After all, most companies find it difficult to manage their development expenditure and that should never be a problem with RIAs.
What does the future look like for the RIAs?
While RIAs are certainly a step in the right direction for the year 2016 and beyond, there are still a number of challenges that developers have to encounter when dealing with them. For instance, there is a lack of consensus over what can be standardized with respect to Rich Internet Applications. While some people use AJAX and Flash, many others question their utility in 2016.
AJAX are not well suited for cross-platform adaptability and they may also pose security concerns. They are also not as accessible on every device, especially if it is an AJAX-heavy application. The market for Rich Internet Applications is growing but it has not grown to the level that one might consider it a revolution. This is because of the challenges this particular style of developing poses.
However, RIAs help in enabling SaaS model, which is going to grow in its size and stature. Whether it is collaborative project management or UI capabilities for mashups, RIAs have a future that we cannot simply ignore. The reason why companies have begun to experiment with RIAs is precisely because of the freedoms that they promise.
Moreover, they reduce a cost burden that is seemingly weighing down most companies when they look for traditional app development. It is difficult to say whether 2016 will really herald RIAs as the next big thing but there will certainly be takers who will prefer RIAs over traditional apps. It remains to be seen how RIAs will continue to evolve and meet demands that are varied in nature.
Subscribe to our Newsletter