back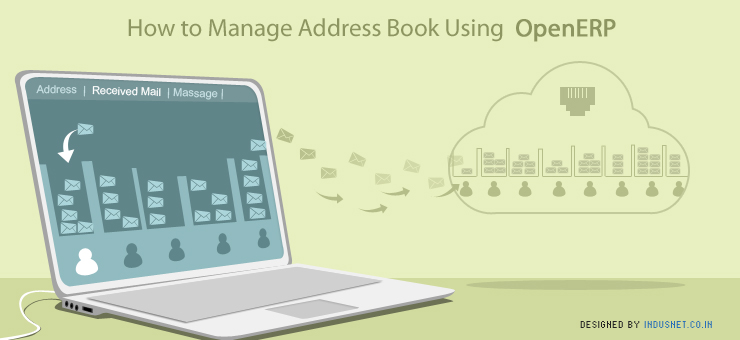 Design
Web Development
How to Manage Address Book Using OpenERP
There are many people who use open source software programs not only because they tend to be free at basic levels without any support, but also because of ethical reasons. With that in mind, OpenERP is one of the most popular enterprise resource planning software that is open source integrated. It was founded in 2005 by Fabienm Pinchaers and is a unique ecosystem that consists of several professionals who strive to make it one of the best ERP systems around. Today, let us take a look at how OpenERP can help you manage your ever increasing address book, and manage your contacts without getting carried away by too many programs that claim to do a lot of things.
How OpenERP categorizes Your Contacts
The key difference between OpenERP and other CRM and ERP tools is that it differentiates contacts between partners and contacts. A partner is a person or entity with whom you conduct business. It could be an employee, prospect or a customer. In other tools, a partner is usually referred to as an 'account'. A contact is someone who works for a partner, and the contact is also the person you will need to contact if you need something to do be done from the side of the partner.
Integration of Email and Boosting Retrieval of Information Related to Contacts
The best feature of OpenERP is that it integrates email into your ERP in a big way. For instance, if you use an email gateway to receive and send emails, you probably will be using Outlook or something like Thunderbird. What you will need to do is that you have to register an email address for each contact so that the gateway catches all the incoming emails to the correct partner. This helps you to know what kind of communication has taken place between you and a partner (account) when you open the database. This is very crucial in understand certain aspects of communication, which may otherwise not be available in usual email threads. It removes a lot of ambiguities, which can affect your company in a negative manner.
Categorizing and Classifying Partners
When it comes to running a business successfully, you should be able to categorize all the accounts or partners that you have. All partners are usually not equal and some need certain requirements while others may need something else. Depending on what your partner requires, you can categorize them in OpenERP. Your address book will no longer have to be a haphazard collection of names, numbers, email addresses, and residential addresses.
Instead, OpenERP allows you to categorize information based on which category a partner belongs to. In order to take a look at available partner categories, you need to go to the sales tab, click on 'Configuration', hit on the 'Address Book' panel and finally choose the 'Partner Categories' that is mentioned there. Of course, you can customize the categories the way you want to. This facility makes OpenERP superior to other ERP systems as it helps companies to manage contacts even when they run into hundreds of thousands. You can divide your partners according to their status. For instance, they could be your customer, prospect, supplier, distributor and so on.
Base Contact Module Offers More Flexibility and Customization
What makes OpenERP one of the best contact management software programs is that it offers the easiest way to customize the way you want to enter contact details. OpenERP also provides an alternative called 'base_contact module'. The module allows users to manage contacts with even more flexibility than regular ERP systems. The software understands in a 'smart' way, who your partners are, if your partners are also your contacts, and if your contacts can sometimes be partners. All these complex relationships can easily be handled in OpenERP.
When it comes to managing the address book, we should remember that it is very important to classify, categorize and input important information. It is equally important to store your data in the cloud so that information can be retrieved when necessary. We believe OpenERP can solve many existing problems related to contact management and that it is one of the best address management tools that an organization can use. If you would like to learn more about contact management and optimizing your address book with your existing ERP or would like to know more about other ERPs suitable for your business, do contact us.
Subscribe to our Newsletter