back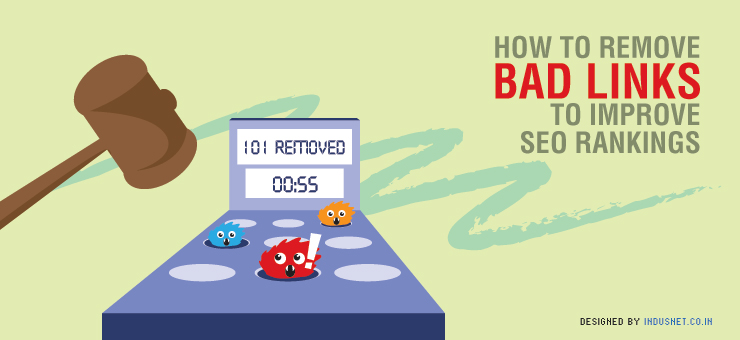 Digital Marketing
Marketing
How to Remove Bad Links to Improve SEO Rankings
Bad or spammy links can cause a lot of problems to your website. These links if in large numbers, can sabotage your ranking in the SERPs. Being overthrown from the top rankings in the SERPs can mean that you are deprived of your much needed traffic to your website. This is the thing that every website owner craves for. In the worst case scenario, you may also be penalized by the search engine monetarily, thus losing favor in the eyes of the company providing you with these services.
What can be the cause for this problem?
The main cause for this problem of being plagued with malicious links is hiring a bad SEO and relying on a layman's advice. Your friend may advise you to incorporate a strategy that is in your best interests, but it is always good for you to rely on an expert's opinion. This way you can stay safe and be assured of SEO strategies that are planned with a keen foresight and a well laid out strategy. This does not give room for haphazard planning that can later cause you such problems of grave nature. Links other than the outbound ones can be threatening to your website.
What type of links are the most dreadful?
The inbound links to your website are the main culprits that dampen the prospects of your business being successful. You cannot remove them as you don't have control over other people's websites. This is obviously impossible as you cannot furnish the login credentials to access its controls too. This is a cause for grave concern as there is nothing that you can do to reestablish your rankings you hither to enjoyed before these spammy links unleashed their fury on your website. It is better to start the removal process with diagnosing.
Narrow down to the problem
Try to pin down the exact issue plaguing your website resulting in the form of a less-than-satisfactory SEO experience. It is more common to confuse a link-based penalty with a devaluation, technical issue, Panda penalty, etc. as all these issues too cause your website to ill-perform resulting in poor rankings in SERPs. Hence it is very important to diagnose the problem in your website. Here are a few other potential culprits that can prove to be a bane to your SEO.
•Severe down-time or latency issues
•Robots.txt, Meta Robots, etc. blocking your site
•Setting up of bad canonicals or redirects
•Massive duplicate content on your site
•Your site being prey to hackers and malware
After diagnosing these issues, if your site seems to be prey to many bad links numbering in 100s, it is time to find ingenious ways to tackle these malicious links.
Ways to remove malicious links from your site
There are a good number of ways to tackle these malicious links issue that crops up to serve as an impediment to the success of your website and business as a whole. Let's take a look at those:
1. Time heals most of the things
Most of these bad links are the result of you being used as a stepping stone to success by many a website. As Google has seen the obvious in that you are not to blame, it can resolve this issue provided you are to bear with them for some time.
2. Cut the links
If you can't cut the links, write an appealing email to Google so that they can sanitize your website of being privy to such bad links. This reconsideration request that you file through Google Webmaster Tools must be convincing enough to them that you have made an honest and sincere effort to tackle this problem.
Sure enough, they will have a look at your appeal but it is advised that you draft a letter that is convincing enough. These reconsideration requests can be burgeoning to the employee at Google as they can be receiving them from the world over, hence be specific.
3. Get a new domain
Shift to a new domain and use a site-to-site redirect. Use 301-redirect if the bad links are old and spammy.
Conclusion
Bad links can prove worrisome to your business and there are a range of other factors too. Hence it is advised to arrive to a solution with proper diagnosis and tackle the issue. These 3 factors can prove to be a boon to your business but ultimately the onus is upon you to make a decision.
Subscribe to our Newsletter