back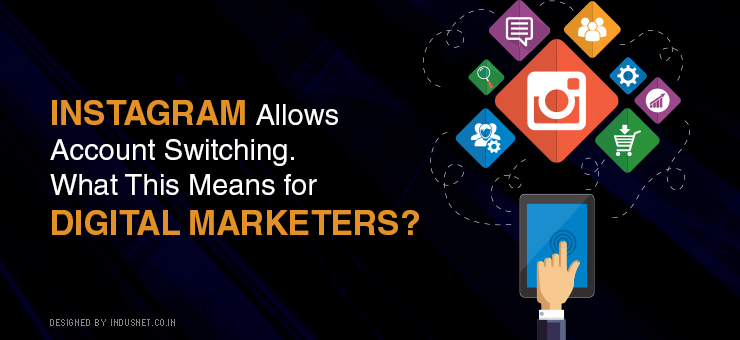 Digital Marketing
Internet Marketing
Instagram Allows Account Switching. What This Means for Digital Marketers?
Instagram is aggressively used by digital marketers and businesses to achieve their marketing goals. The application, launched in 2010, garnered instant success that Facebook bought it in less than two years of its launch.
It is Instagram's structure that lends it simplicity; the simplicity of displaying only one photo or video on the screen at a time. There are photo filters and minimalistic use of buttons that adds to its simplicity.
This ability helps Instagram to avoid cluttering of visual content and provides digital marketer an opportunity only imagined in the past. It is easy to spread your message and get follower's attention here.
An effective e-commerce platform
Instagram is the most effective platform for e-commerce to generate orders. However, even if a business does not have a physical product to sell, the sheer strength of this social media network lies in its ability to connect with users.
Moreover, Instagram's sponsored posts and advertising features are doing extraordinary work for marketers. Instagram's sponsored posts naturally blend with existing images without causing any annoyance to the user.
[php snippet=1]
According to a study conducted by Forrester Research, Instagram has a fan engagement rate 58 times higher than Facebook and 120 times higher than Twitter. The astounding statistics don't need explanation and clearly, signify the importance of Instagram.
The new functionality: Switch between different Instagram accounts
Marketers create different Instagram accounts to manage different sectors of their business. And to access each account, they had to logout and login through a different account. This limitation led to the waste of time and hassle because marketers were not able to focus on every account seamlessly.
Today, Instagram has enabled easy account switching without having to logout from an account. This feature will further bolster Instagram's image in comparison to its counterparts.
Instagram's monthly active users have shot up from 200 million in 2014 to 400 million today. Marketers have long waited for this functionality so that they can easily switch between their business and personal accounts.
Users can switch between different accounts while keeping an eye on every account.  A user can add up to five Instagram accounts. This functionality is currently available on iOS and Android platforms through its latest app version 7.15
Setting up and managing multiple accounts is a fairly simple process. Your profile settings allow you to add accounts. A tap on username at the top of your profile enables you to switch between accounts. The feature is carefully designed so that you are absolutely sure about posting to the right account. It ensures that you don't post personal images mistakenly to your business account.
How does switching between multiple accounts help digital marketers?
Earlier, many marketers used to mix a lot of personal content on their business account. It used to tone down their business image which was not good from the marketing point of view.  It led to the muzzling of brand's message.
Though they had a choice to operate another account, it was not convenient to operate two different accounts through one device.  There are some third-party tools that allow for easy switching of Instagram accounts, however, they have not been very effective and Instagram is soon going to restrict them.
Explore different user-bases
Instant switching will enable them to reach different user-bases through different accounts.
Brands will get a push through a new wave of vigor and vitality. It will enhance brand's exposure.
Post more content and always stay active 
Marketers can now post more content on their business account without having to log out from their personal account and always stay alive and more active among their followers.
Follow a unique strategy for every account
It will help them to draw a line between two different accounts and reform their social strategy.
How to manage multiple Instagram accounts?
Social media marketing strategy forms the basis for success on social media.  Having multiple Instagram accounts does not guarantee success unless and until you put that extra effort to frame social media strategy for every account.
A social media marketer must identify the target audience for different accounts.
It is equally crucial to set social media goals and attribute KPIs to understand whether creating multiple accounts adds to sales revenue and generate sufficient ROI. 
Use multiple accounts to create interactive content on Instagram
An interesting way in which Instagram is being used by brands is through hosting interactive games.  Marketers can link a series of Instagram accounts and direct users to click through to each.
Adult Swim, a major cable network company, linked 80 Instagram accounts to create a story.  The game is linked by tags in each image which links users to other accounts. The fans could choose tags of their choice and were rewarded at the end of the game. This promotional campaign was a creative way to build awareness about their new series Rick and Morty.
Though this campaign may not work for everyone, it definitely highlights the possibilities of using multiple accounts on Instagram in an innovative manner.  Easier account switching will make it convenient for marketers to create interactive and immersive content by creating different experiences for on-platform users.
Use multiple accounts for A/B testing on Instagram
Marketers who have already been using multiple accounts on Instagram to test an idea will find it easier to do so through this new feature. Digital marketers may employ different ideas and tactics to understand their target audience. For this, they don't have to temper with their existing marketing strategy.
Digital marketers can explore many new ideas with account switching
A digital marketer operates multiple social media accounts depending upon his business requirements. Different platforms that form part of social media strategy may include Facebook page, Twitter, Pinterest, Instagram, Google+ etc. Every platform offers a unique set of advantages and limitations.
When a marketer decides to operate multiple Instagram accounts, it is adding to the list of active social media accounts.  So, marketers should be determined to put in the extra effort before they go ahead and open an additional Instagram account.  Nonetheless, having an additional Instagram account is full of benefits and more payoffs.  Most of the top brands today are using Instagram to reach millions of photo-inspired customers.
Subscribe to our Newsletter