back

Emerging technologies
FinTech
Technology
It's A Voice-Led Future: What FinTech Marketers Need To Know
Business Insider says 75% of iPhone users have used Siri and 63% Android users are well acquainted with a voice assistant (like Bixby for Samsung) on their smartphones. If we go deep and look at the US as a market we find that 18 million consumers have gone ahead and tried to do critical actions like banking transactions, all by voice.
These developments do establish the fact that voice-based assistants are not just for carrying out to mundane tasks like booking a calendar or reminders or carrying on Google searches.
Last year, when Google during its event showed its possibility of voice assistants we all loved it and felt the ease which these developments can offer. The future is already here but are we marketers even ready?
Voice payments adoption in the USA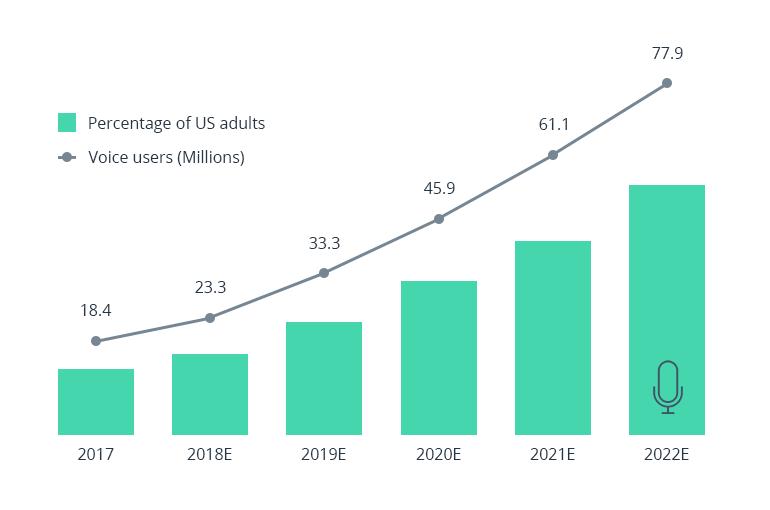 Source: Business Insider – The Voice Payments Report 2017
The growing voice-first landscape
A number of any FinTech leaders from banks and other financial institutions have already started to vouch for a virtual voice for their next customer experience shift.
"This technology will make it easier for people to bank with us and could bring particular benefits to those who have a disability, as voice banking eliminates the need for customers to use a screen or keyboard" – Kristen Bennie, NatWest's head of Open Experiences
Another interesting angle to the developments is the simultaneous growth of industry disruptors who are developing their own solutions to leverage voice payment technology. Here are some instances referred from intellias:
KAI, a conversational AI platform from Kasisto, is used by JP Morgan, Mastercard, Wells Fargo, and others.
Cognitive Banking Brain fromPersonetics serves over 50 million bank customers in the USA and across Europe and Asia.
In 2017, the Royal Bank of Canada, Barclays, and Santander introduced voice recognition payments via Siri.
Ally Bank has been interacting with its customers via Ally Assist SM since 2015, continually improving it to recognize speech better and provide accurate answers.
Why banks must invest in voice?
The answer is simple! It is the most sought out and natural means of communication which can lead to personalized interactions resulting in business growth. Another important part is that voice makes banking more inclusive especially for the visually impaired, offering them a sense of independence in day to day banking. In order to become truly customer-centric, banks need to stay abreast of this cutting edge innovation and define their conversational strategies now.
"Truly listening is hearing the needs of the customer, understanding those needs of the customer, understanding those needs and making sure the company recognizes the opportunities they present." – Frank Eliason, Global Director of Client Experience Team at Citi
What's more is those voice interactions can provide valuable insights into customer needs and behaviours, allowing banks and FinTech companies to offer personalized services with a unique brand touch. Today, voice payments are limited to minor eCommerce transactions, but machine learning algorithms for voice technology are improving daily. Soon, customers will feel comfortable enough to make more expensive and complicated purchases by voice.
The potential that voice banking posses
Voice banking is taking the financial industry by storm and FinTechs are competing to offer more advanced, robust, and secure solutions. Progress in this area is predicted to move in several directions in the next couple of years:
Improved security
Security is a concern when it comes to voice payments. Keeping information private while going through authentication procedures is a challenge for voice banking. But combining various biometric markers such as fingerprints, irises, and voice might be a solution.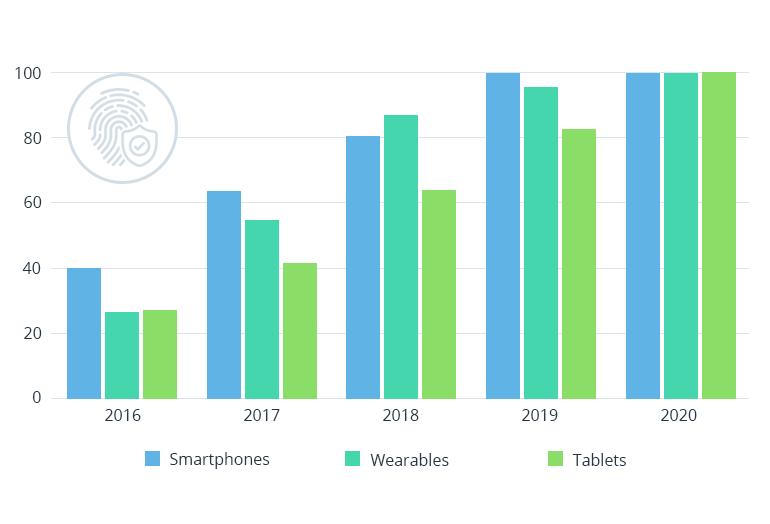 Source: The Future of Mobile Biometrics
A study conducted by Visa in 2017 claims that more consumers are expressing confidence in using biometrics as a secure form of authentication: 84% in 2017 compared to 59% the year before.
Nuance Communications, a provider of voice recognition technology, states that even professional imitators can't fool their system.
Integration of visual interfaces
CES 2018 saw Google showcasing dozens of devices powered by its Google Assistant, ranging from speakers with touch displays to smartwatches. This allows users to start interacting with the virtual assistant by voice and continue their communication on-screen. The tech giant also introduced the voice-controlled Google Assistant in all cars that have Android Auto.
Contextual understanding and customized voice detection
Neuro-linguistic programming (NLP) and voice recognition techniques saw major advancements because of which conversations with virtual assistants will moderately become less "mechanical" and closer to natural human communication. The next stages of voice technology development include understanding the context of questions, recognizing accents, and differentiating between voices.
Introducing the digital concierge experience
With digital voice assistants becoming more cosmopolitan with time, they'll go further than simply letting people make payments using voice technology. You'll also be able to communicate with financial institutions, handling more complicated tasks like issuing invoices, paying taxes, getting loans, and renewing insurance. All these actions will be voice-enabled from your smartphone, smartwatch, connected car, and home system – anywhere and anytime.
"Gen-IV is where we're likely heading – chatbots powered by state-of-the-art voice recognition technology so that the assistant can recognize me beyond doubt based on my speech mannerism and voice patterns, and conduct all types of transactions."
Dhananjaya Tambe, CIO, State Bank of India
Subscribe to our Newsletter