back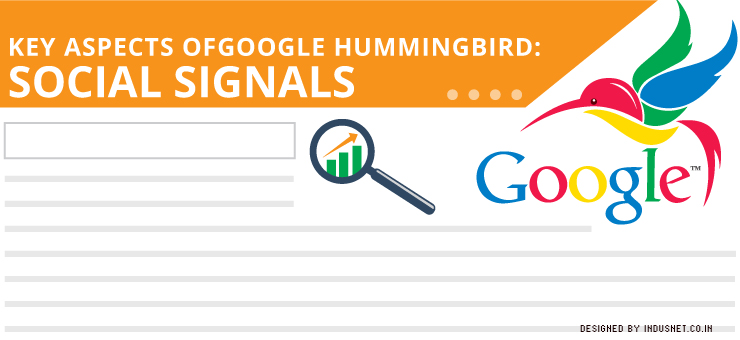 Digital Marketing
Marketing
Key Aspects of Google Hummingbird: Social Signals
Google recently turned 15 years old and on that very occasion, it released its latest search algorithm, the Hummingbird. Google Hummingbird has been written about quite often and SEO professionals have almost exhausted all the resources available to them. What we all know at the moment is that Hummingbird gives more emphasis to keyword phrases and sentences instead of plain keywords.
It is also a more human and friendly way to communicate with users and almost always results in direct answers. Though Google started to utilize Hummingbird on 30th of August, it was officially announced on 26th of September. There are several things that set the Hummingbird apart from previous algorithm updates. Let us take a look at why this is important and how it is going to affect social media strategies of various companies.
Improved semantic search
Google Hummingbird places a lot of importance to semantic search than its previous versions. While previous versions have stressed on the importance of keywords, the current update places more importance on context and meaning of a string of words. For instance, it is no more important to worry about the exact spelling of a word.
When a certain word combination occurs in a sentence, the algorithm understands the meaning in a certain context, helping users to get accurate search results. In simple terms, the search engine is getting smarter and tries to mimic human thinking and habits when it comes to looking for information. SEO professionals will no longer need to be extremely picky about unique keywords as long as broader keyword phrases and sentences are in place.
Mobile SEO
We cannot stress this enough. More people have begun to use smartphones and tablets. Thus, more people have begun to browse and access Internet on their mobile devices. This leads to a state where your website or your clients' websites are accessed mainly through mobile devices.
Thus, mobile SEO becomes tantamount to success. People searching for information are more likely to use mobile devices in order to surf and look for information. Thus, mobile SEO will become increasingly important. People are not going to type search queries in a way that they do on computers. Having a thorough knowledge of mobile SEO maybe more than just important. Just make sure that you have read enough about mobile SEO best practices.
Structured data mark-up
Structured data is going to be ever more important. Google needs to understand what information should be displayed in search results. Thus, when you provide information to Google in the form of metadata, be as specific and clear as possible. The Hummingbird update makes it easier for you to get specific even if you are not writing what you should be.
However, using micro-data is always preferable. Nevertheless, you could also use microformats and RDFa. You must also make sure that your structured data is marked up. Google supports snippets such as products, people, reviews, organizations and businesses, events, music and recipes.
There is also a different markup for video content which helps your videos to be displayed when searching for videos. Google makes it quite easy to create all the data it needs to display your products and services as accurately as possible. You just need to follow the rules.
Social Media is getting more important
We already know the importance of social media across the Internet and beyond. People usually find businesses through social media these days. Now, Google Hummingbird places more importance to content that is shared widely by people on social media. This naturally means that the more people are sharing your content across social media, the more often your content will appear in search results. This holds good for Twitter, Facebook and LinkedIn.
Not surprisingly, Google also judges social signals with its own social network, Google+. Most people still do not use it and it is clearly not popular with the average Joe. However, because it is owned by Google and because Google tends to be biased towards its own social network, it makes sense to keep your Google+ active. It is thus an essential step to ensure that your company, products and services are identified and connected with certain concepts that exist in your content so that you appear in search results more frequently. It is not advisable to ignore Google+ entirely.
Back links and other links
Google has often stated lately that links are not important. It also clearly works against your favour if you try to purchase links and try any of the unscrupulous methods that many SEO professionals attempt to do. Instead, concentrate on building great content that is valuable, shareable and of significance. This is important because websites that are ranked well than your own might link to your website. That philosophy still works. The more genuine links you receive from websites that are authoritative, the better chances you have of being displayed in search results often.
Also, link your content to good and authoritative websites such as Wikipedia, certain online encyclopedias, scientific and research journals and etc. This ensures that Google places your web page higher than someone else's whose web page is not following these methods. It helps Google to understand that your website is credible, authoritative and valuable.
Keywords are not dead
It has been written extensively that keywords are no longer important as Google places focus on questions, conversations and sentence queries. All these are quite true. However, the importance of keywords is not erased and you must at last use keywords for your own benefit of creating relevant content. When you decide upon a few keywords, you will not stray from the intended topic and will try to stick around the skeleton. That way, keywords are still important in terms of creating content.
Engage in keyword optimization but do not engage in stuffing your content with keywords because that is not only bad practice but will make you look very suspicious even for your readers. The best idea is to spend some time looking at relevant keywords to your business and then decide upon something for which you can write content easily. Hummingbird already uses sentences, phrases and questions. Thus, try to build your sentences with that in mind.
Voice search
Google has begun to understand the importance and convenience of using mobile phones and tablets for searching of information. Google also knows that people are increasingly using their voice to search for information they want. This means Google will now have to understand various dialects of English, various accents and yet provide similar search results.
For a content creator, this does not mean a lot. However, it might be advisable to bear in mind that people are not as formal as we would like them to be. The content we write is obviously going to be written in a formal and corporate manner. However, people searching through voice might use slang, colloquial language and dialects to search for information. With that in mind, try to build content that does not stray too far away from spoken language. Use formal language that is clear, simple and concise.
Growing importance of social signals
We previously mentioned that social signals are important However, we must stress again that you must build content with social networking sites in mind. Whether text or audio or video, it should be entertaining enough to be shared again. People like to share what they like to read or watch. Thus, it is imperative that you create something that is readable, entertaining and shareable.
With that in mind, ensure that you are creating content that is not only useful but also entertaining enough to be shared across social media. Content that goes viral will eventually bring you back fruits even in the long term. Brainstorming with your colleagues or employees can also help you to create content that is shareable and entertaining.
At the end of the day, there isn't much to worry about Hummingbird unless you are following outdated SEO practices. As long as you remain unique, informative and entertaining, you should be able to attract the kind of audience that you want to. Hummingbird will ensure that your content appears in search results if your content is great. All that you need to do is concentrate more on semantic and voice search, social signals and keeping your website sans technical glitches. These measures should ensure that you appear in search results often and that Hummingbird isn't unkind to you.
Subscribe to our Newsletter