back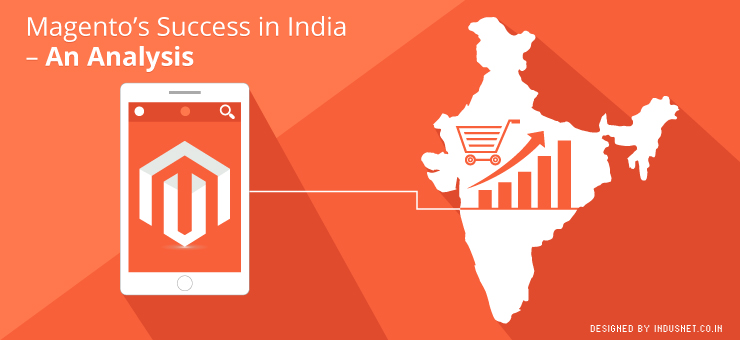 E-commerce
Magento's Success in India – An Analysis
An ASSOCHAM-Deloitte study states that  e-commerce in India is set to reach $16 billion mark by the end of 2015 on the backdrop of growing internet penetration and rise in the number of online shoppers. The online travel industry accounts for more than 60% of ecommerce share in India. Smartphones today represent 35% of the total mobile phone market in India. Internet penetration has already surpassed 300 million users in 2014.
Apps are revenue drivers
Exploitation of mobile applications is rising as apps are major revenue drivers especially for large companies. Indian market has witnessed a spurt in the entry of global players. Development of secured payment gateways and innovation in mobile technology are other contributing factors towards ecommerce growth in India. Products being offered at very low price in comparison to traditional retail stores are a major game changer for price-conscious Indian population. Convenience, of course, is the underlying benefit of ecommerce.
Majority of the start-ups springing up today are focused on digital platform and are trying to sell their products and services through their ecommerce stores. However, ecommerce in India is evolving fast beyond cheap products by offering convenience, high quality products, rich user experience, personalization of products, and excellent customer service.
Ecommerce startups are changing the face of Indian merchandising and marketing business. Every ecommerce store needs a platform for operating a website. Choosing the right ecommerce platform is crucial to ecommerce store's success. Magento, an open-source content management platform has witnessed huge success in India. Many leading ecommerce giants and startup companies are choosing Magento to build their e-stores. It gives a lot of customization and control to the e-store owner.
Why is Magento so popular among ecommerce companies?
There is no doubt that Magento has achieved a remarkable success in India and across the globe. Being an open-source platform, a huge developer community is always working towards improving the experience of its users.
Magento is free to install and download. While the enterprise edition is paid owing to additional amount of security features offered against security threats.
It allows you to download extensions from Magento Connect marketplace after the coding begins. This increases flexibility of improvising source code in line with the clients' demands.
The perfect suitability of Magento to ecommerce sites is attributed to its various features like customer segmentation, shipping facilities, vendor and CMS management, tracking facilities for cross-selling/up-selling and ease of product bundling.
Magento offers you the freedom of hosting on any system. It allows the website owner to choose a hosting platform that suits their needs.
Magneto is highly scalable. A large number of products can be easily added to the existing line of products without putting extra pressure on your pocket. It can be tailored to the needs of online retailers. You don't have to be a big e-retail giant to run it as Magento provides you the ability of scaling up or down as per your requirement.
Besides all the above benefits, Magento has a great affinity for speed. A Magento website loads at a faster pace as it quickly retrieves data through its powerful caching ability.
How startups are using Magento to their benefit?
Magento has served as an excellent platform for e-commerce site owners in India. Web developers have shown a keen interest in providing their customers with a safe, easy-to-use and a rich website. They have successfully implemented SEO strategies and ecommerce applications to explore its full potential.
Many ecommerce startup companies have achieved remarkable success in a short span of time like FlipKart, Snapdeal, Yepme etc. The ecommerce environment is fully charged up in India and there is a huge demand for online shopping, cropping up from all cities including tier-2 and tier-3 cities.
Case studies
1. Neevtech designed a Magento-based online gifting store
A Pune-based startup, Giftease Technologies, got their e-store designed on Magento Enterprise edition. Their mission is to make giving gifts a delightful experience for customers. Giftease not only wanted to design the store but have extended server management. Many e-commerce stores in India are unsuccessful because of poor internet connectivity, payment gateway issues, long page load times that triggers abandonment of the website causing poor conversion rate.
The solution
The e-store integrated with PayU and CCAvenue payment gateways, SMS gateway for order fulfillment through COD option has a custom-built feature to identify shipping carrier based on the location of the customer. Neevtech enabled the company to generate multiple invoices with a single click saving their time and effort. Apart from that, abandoned and failed transactions are followed up with customers automatically over emails. Customers are empowered to search gifts based on occasions, recipients, age-group, price-range etc.
Magento enabled Giftease to have a greater control over operations and seamlessly manage the whole website including banners, messages, emails, and shop-by features. The e-store was further set up on AWS cloud to simplify the process of deployment and server management. Giftease was also enabled to generate customized reports on the performance of the e-store.
2.  Magento implementation for an online grocery store
KTree Computer Solutions successfully implemented an e-store for online grocery store called foodshoppy.com. The store caters to more than 500 orders a day. Company back office carries out all the operations like purchase, customer support, customer order tracking and payments. The company has a number of warehouses to deliver orders and also do packaging of orders. Being a startup, the company desperately required a rugged ecommerce store to sell their grocery products online and update product prices instantly.
The solution
KTree made log-in a simpler process. Category search was made easier for customers new to online shopping. Returning customers were encountered with a simplified catalogue. Customers were given a rich shopping experience in the shopping area. Customers were also given the choice of choosing custom delivery slot. Checkout process was made easier to reduce the confusion. All these changes led to exemplary results for the company. The number of daily visitors and conversion rate went up exponentially. Users had a rich experience on the website and the number of returning customers increased while the cart abandonment reduced significantly.
 3.  Compuindia: Dell's express shipping affiliate e-store
Compuindia is operated by GNG Electronics Pvt Ltd, one of the primary affiliates of Dell India. Dell, India's one of the leading PC brands has a major share in online selling. Compuindia's aim was to provide the widest range of Dell products at competitive rates with fast delivery.  Building a strong website that could withstand heavy traffic and concurrent shoppers was their most important objective. The company also wanted to have a platform with rich scalable options, strong backend functionality for multiple backend users to avail quick delivery. Compuindia made sure that they have a capable technology partner with design expertise; domain knowledge; complex development and most importantly successful Magento implementations. Post implementation, the company wanted to have a strong service team for application maintenance, IT support and server management. Compuindia entered into technology partnership with Embitel to develop Compuindia on Magento community platform and to provide post implementation services.
The solution
The company was successfully able to do portal development for Dell on Magento Community Edition. It provided IT infrastructure management, server setup and configuration. A dedicated support post implementation is assured by continuous monitoring of changes and enhancing performance of the e-store. Consequently, Compuindia was able to create a high performance and premier shopping portal for Dell. The turnaround time for getting live was bare minimum. Compuindia has turned out to be the one stop shop for all e-commerce related services to Dell.  Dell has finally achieved platform expertise by providing rich experience to its customers.
Ecommerce companies riding high on Magento
There is a growing competition in the online selling market. Magento is the most appropriate platform that covers all their business needs. There are a number of Magento services sought after by companies like Magento migration, Magento website development, Custom Magento development, Responsive Magento website, Magento module development, Magento theme development, support and maintenance, custom e-commerce solutions and likewise. It is equally a great platform for administrators as addition, deletion, alteration and managing the e-commerce website is fairly easy.
Magento has two distinct platforms, Magento Community edition and Magento Enterprise edition. Magento Enterprise Edition is specifically designed with SEO in mind and is capable of generating SEO-friendly URLs, Google site map, customized meta- keywords and descriptions making it easier to search for products online.
Subscribe to our Newsletter