back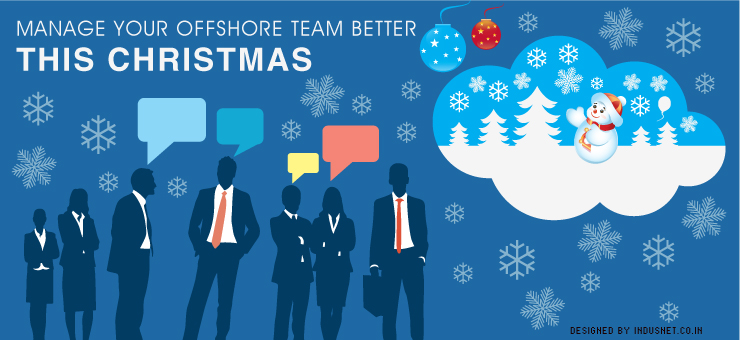 Offshore outsourcing
Manage Your Offshore Team Better This Christmas
I must admit, Christmas is nervous time for me.
Not only new business development is slow but there is very little movement within existing client base as well. This is not just me but the same is true for our clients as well.  Serving SME is hypothetically the same as being like a baby within a mother's womb. We get to feel the effect of any change in environment (both external or internal) almost immediately and there is very little we can do about it. If their sales are improving, we need to scale up very fast and if it's getting low, then we need to ramp-down as well, sometimes at a notice of even less than a week!
Things are even more precarious because we are in the business of providing outsourcing solutions to SME. Thus, we try to tread cautiously. First, there are chances of scaling down in client's offshore operations as they are busy in sales (in case of retailers)  and hence, do not want to focus much on ongoing development or feature improvement (in case of ISVs). Second, the billing cycle tends to get delayed which gives the scale of our operations and it means quite a lot. Third, although there will be holidays in US from around 12/22 to 01/02 , in India the holiday will be only on 12/25. This means lot of potential idle time which for our client might mean "paying for nothing".
The only way we can manage ourselves better is by helping our clients manage themselves better and here are the suggestions we are sending out to them:
Plan in advance
You need to plan in advance for work that is going to be done between 22nd December and 2nd January. If you have a project running or a new project starting during this phase, then please ensure that all input resources (ex. specifications, server access, clarifications) are available with your team. From your perspective, during these days, the work will be done almost on an autopilot with little interaction from you. So, you need to take extra care to ensure that there are no communication gaps.
Identify current issues and stop them from escalating further
If any current assignment is stuck or if there is any issue, then make sure that you attempt to resolve them ASAP. This is, especially, true if you have a non-responsive client or your client is supposed to get back to you with a feedback on latest updates. Give yourself a deadline of resolving these issues by 21st December because if they remain open after that then will extend much into the middle of January.
Mandate regular updates during holidays
Ask your team to send you an update by e-mail at the end of each day. This will help you in doing a post-mortem of what happened during these days.
Leave a method to get in touch with you
Make sure that we have a method to get in touch with you, in case there is an emergency. Thus, leaving your mobile number is a good idea!
Trust but verify
Try to take out 10 minutes at the end of each day to check back on the progress of the work. If you are travelling, then it makes sense to call your Lead Developer/Project Manager/Account Manager at least once a week to get a "feel" of things. If you want to review progress with your team, then communicate the date of conference in advance.
Let your team handle the support
Remember, here in India, we are closed only on 25th December. So, you don't have to come back from holidays and deal with a deluge of support requests. You can work with your account manager to setup a way of how the support of your product will be handled in this phase. Perhaps, someone from your existing dedicated team can take that up or we can make some other arrangement.
Subscribe to our Newsletter