back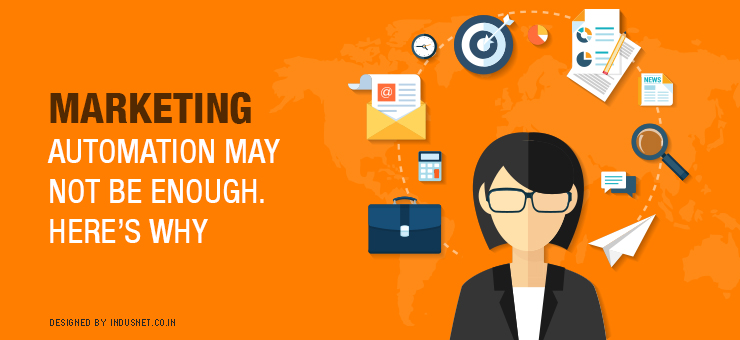 HRD
Marketing Automation May Not Be Enough. Here's why
Many CMOs have had hands-on experience with marketing automation software to leverage their marketing efforts.  Automation software is capable of generating better sales lead, improve sales volume and use analytics to steer marketing decisions.  It also manages content and SEO. And all this is done through automation of contact database. It enables you to conduct targeted email marketing, content marketing, targeted landing on web pages and manage PPC campaigns. Higher the precision delivered by marketing automation software, higher is the conversion.
However, is it really adequate to depend on upon marketing automation software for all your marketing needs?  Can it be placed on human analytical skills as far as marketing is concerned? Unfortunately, it has still a long way to go to gain traction among marketing managers. Right now, it is just one of the many marketing tools to enhance your marketing efforts. There are many limitations attributed to it that impede its success.  Moreover, marketing automation software is useful to implement marketing strategy; however, if there is no marketing strategy in place, this fancy software is unable to do any value addition to your business.
The following article will address the challenges faced by marketing automation software that inhibits it from becoming a fundamental part of marketing strategy.
[php snippet=1]
Implementation is a burden for marketing professionals
Marketing automation software is full-fledged enterprise software like ERP, CRM etc. A software implementation is a lengthy process with a high cost of ownership. Marketing managers need to spend a lot of time and resources to get output from the software. Technical skills and requirements required to operate the software are more than an average marketing professional feels comfortable with.
Cultural divide between marketing and sales hinders technology growth
Marketing managers tend to focus more on generating awareness about the brand through publicity, content marketing, SEO and other marketing tactics. For them, marketing automation software is something that holds the potential to minimize their load to manage contacts and effectively implement marketing campaigns.
On the contrary, sales professionals are always under pressure to achieve sales target. Their performance is completely based on their sales achievements. Misalignment of goals and tasks cannot promise co-operation over new technology like automation software.  The two departments still like to function in their own particular manner.
Failure to explore its potential
Marketing software is high potential software that creates customer segmentation, delivers quality and relevant content for customers. However, many managers fail to exploit this potential and merely use it as a bulk email distribution platform. The usability pattern fails to incorporate product type, buyer's place in the purchase process and becomes just another marketing tool. This gross neglect of software potential diminishes the purpose of this enterprise level software.
Marketing automation software may have innumerous functionalities. Software vendors often tend to misguide clients and oversell by sharing multiple capabilities of the software.
However, marketing software should only be bought with specific agenda on the mind. Too many features don't do any good. It rather confuses and deviates your marketing goals.
For instance, landing page feature may be available through specialized marketing tool like Unbounce. Therefore, it is better to use a different tool for that function to get better conversion ratios.  As a result, if you forcefully use automation software for a task it does not expertise in, there is no point of using it. Always consider external vendors in such a case.
Dearth of quality content
Marketing automation software needs a constant supply of quality content to advance leads through the buying process. However, most marketers hardly devote time in producing content. And even if they commit to doing it or hire writers, it is a full-time job. They need to focus on content creation and content curation to get output from automation software.  They need to work in tandem with writers to guide them about the type of content to be created depending upon market needs.
This approach is necessary to forward your content marketing goals. Though many marketers aim to implement content marketing, it becomes difficult for them especially small business firms to sustain their effort in the long run. Therefore, investment in automation software becomes insignificant.
It is marketer's job to measure the impact of marketing activities on sales revenue. They need to identify tactics that perform better than the others. It is for the marketer to forecast and measure how their below-the-line activities impact sales revenue. To begin with, marketing managers should be in line with sales pipeline.
Marketing automation software is enabled to bring visibility to the revenue model. However, you need to fix metrics that connect sales parameters to marketing functions. If there is no revenue model, marketing automation software will add to your woes and appear more of a nuisance.
There are many types of software and tools available to generate standard reports about marketing data. However, generation of simple reports does not require enterprise-level marketing automation software. Marketers who tend to use automation software only to generate basic reports are not exploiting its potential.
Automation software is capable of generating many significant reports like gaining insight into campaign ROI, Return on Marketing Investment etc. Marketers need creative thinking ability and analytical skills to generate and interpret varied reports automation software is capable of.
Marketing automation software is technical software. It needs professional training of managers and other executives and staff who use it.
Software implementation does not promise to generate revenue. Users must understand how to set up automated processes. Only a professional trainer on marketing automation would be able to teach them. The marketing manager must have enough time and resources to arrange for staff training; else continuous errors may result in lost revenue opportunities.
Use of marketing automation software is conditional
Marketing automation holds a lot of potential, but, if the above challenges and conditions are not taken into account, it may be unfit to implement and you won't generate expected ROI.
Apart from that, automation software alone is not enough to take care of all your marketing needs. It needs to integrate with existing systems in your organization to get comprehensive benefits. For instance, integration of marketing automation with CRM can generate great results by furnishing relevant information. Synchronized information between two systems can be highly beneficial for your marketing strategy.
Subscribe to our Newsletter