back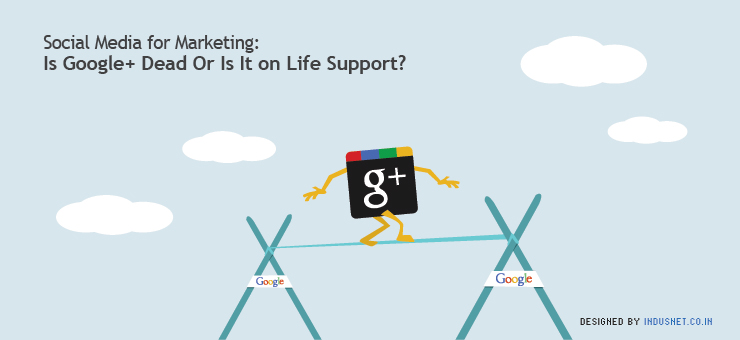 Digital Marketing
Marketing
Social Media for Marketing: Is Google+ Dead Or Is It on Life Support?
It is time to accept that there are only a few big players in the world of social networking and they include LinkedIn, Twitter and Facebook. To an extent, we can include Tumblr, Pinterest and Reddit. However, the way everyone used to gush about Google+ back in 2011 made us feel that it was going to be the next big thing. That never happened and Google+ seems to be even more elusive than ever before.
Google+: The Statistics against Twitter
Marketers continue to click on that Google+ button when sharing content and make sure that a copy of content is shared on Google+ too, along with other mandatory services. For how long this strategy is necessary and why it is necessary are debatable. Google+ receives a monthly traffic of 20 million, whereas Twitter receives a monthly traffic of 40 million. On the surface, this number appears really good and we may be tempted to believe that Google+ is at least half as important as Twitter is. The reality is very different though. Average time on site per month for Twitter is 114 minutes where as for Google+ it is only 3.3 minutes. This shocking dissimilarity tells us how important or unimportant Google+ is.
Is Google+ Supported and Sustained Only by Technophiles and Marketers?
Most people use Google+ because they think it should be used and because they think content must be shared over there too. Whatever content is shared on Google+ is also shared on Twitter, LinkedIn, and Facebook. Honestly, marketers only duplicate content on Google+ because it is so easy to do so. According to Matt Anderson, Google+ is artificially sustained by marketers who keep sharing links only because they think it is important. The message does not reach anyone important and all that activity that marketers invest in Google+ is really going down the drain.
The Advantages of Google+ Lie in SEO
We must also consider a few advantages of Google+. Google+ is after all, a social media venture by the most important Internet company in the world, Google. This alone makes us stand up and take notice of Google+ no matter how useless it is. Anything that is shared on Google+ also becomes easily searchable on Google's search engine and has a positive correlation with good SEO practices. On one hand, there is no real audience that we can interact with on Google+ other than other savvy technophiles and marketers.
However, content that is shared on Google+ seems to be indexed by Google easily and there may also be a positive relationship between high search engine ranking and Google+ engagement. This alone makes Google+ important for marketers to stick with, at least for the moment. As marketers and business owners, we cannot afford to ignore even a straw if it somehow offers tangible benefits. Google+ does offer benefits. It may not be a social network in the real sense but sharing content on Google+ has an effect on the way your website is ranked in Google. Thus, for the moment, it may be a good idea to continue sharing content on Google+ and make sure that it is not completely ignored.
The Future of Google+ and What Marketers Must Do
A day may come when Google will finally pull the plug from Google+ all by itself. Until; that day arrives, we shall have to continue to do what we are already doing, and that includes sharing content on Google+. To answer the question if Google+ is still alive, or if it is dead, we should assume that it is on life support. It has been on life support ever since it was born and it will continue to be on life support until Google has the money to do so.
We do not ignore living people even if they are on life support, do we? Likewise, we cannot and we must not ignore Google+ until is finally dead, which it is not at the moment. Looking forward, marketers will need to concentrate more on the 3 big social networking sites, Twitter, LinkedIn and Facebook. Nevertheless, Google+ will continue to be an important SEO strategy as long as the site continues to exist.
Subscribe to our Newsletter