back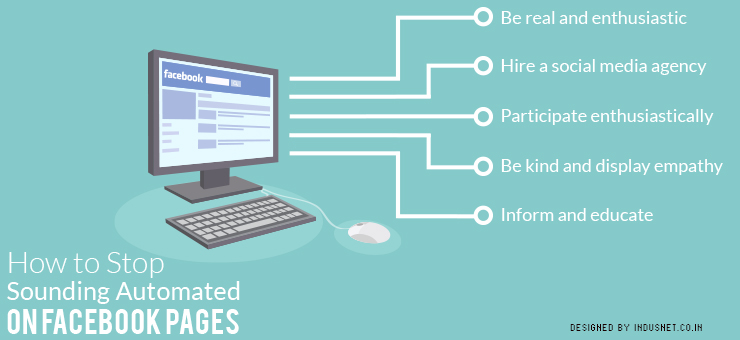 Digital Marketing
Social Networking
How to Stop Sounding Automated on Facebook Pages
There are a number of reasons why people have been using automation programs to update their social networks. The more we expect from social profiles, the more active they need to be. When customers expect too much, it becomes difficult to keep up with the demands. Thus, companies began to use tools like Buffer App and Hootsuite, which help you to automate your status updates.
Even when you are in a conference, you can set up Hootsuite to keep posting on your behalf so that there is always a steady stream of updates available for your audience. But really, does it work this way? Won't people know that you are automating your status updates if they arrive at regular intervals and you are not responding to comments left by your audience?
What happens if there are comments, which require immediate attention and Hootsuite or Buffer App posts an inane status update because you didn't see the crisis coming while you were away at a conference? All these and more difficult questions have begun to arise and people now know that it is not a very good idea to completely depend on tools that automate your Facebook page updates.
On that note, in this article, let us take a look at the available options and how you can stop automating and stop sounding automated when it comes to Facebook page updates.
Do you really need to automate?
There are a number of reasons why people automate their Facebook updates. They may not have the time or resources to constantly update Facebook pages as and when required. They might fear that they will forget updating when there was something to share. Many people automate their Facebook pages because it is easier to track and manage what was shared. It is always better to do follow the rules of automation, if one were to do it at all.
Tools like Hootsuite and Buffer App do not just automate your updates but also help you to track & measure your social media campaigns. It becomes easier to know which update received more likes and clicks. This way, these two tools are not just automation software programs but they help you to arrive at metrics and measurement. With all these things considered, it might be possible that it is not quite necessary to automate your Facebook posts.
If your company is not large enough, you can probably use Facebook pages at your own convenience and update them as you like, built upon a strategy. If you fear you will not be able to do it all by yourself, there are social media agencies who will maintain and nurture a social community through lively conversations and information sharing. However, if you still want to go the automation way, there are a few things that you need to know.
Divide your content: It is important to segregate your social updates according to their level of importance. For instance, a tried and tested method is to automate informative links and always stay online to respond to queries & potential leads.
Understand that it is not possible to automate everything: Many people have a wrong belief that they can automate all their updates without ever having to login to their Facebook pages. This is a very common mistake that companies do. This can be worse than not updating the page at all.
For example, if your company has winded down operations and your social profile is still updating the Facebook page because Hootsuite was set up to keep updating statuses, it is going to be an embarrassing mistake. The ideal way to resolve this issue is to automate certain updates and manage everything else in real-time.
How not to sound automated?
Whether you choose to go the hybrid way by automating partly and responding to critical queries in real-time or you choose to hire full-time social media managers, it is important to not sound automated. It is quite possible to sound automated even when you are responding in real-time. Below, let us take a look at how we can avoid sounding automated.
1. Be real and enthusiastic
One of the first signs of automation is that content sounds robotic. If there is no sign of enthusiasm or motivation, people assume you are using automation tools to update your social profiles. Display enthusiasm and actively engage in conversations. Do not stick to scripts while updating your status messages. A little bit of enthusiasm will go a long way.
2. Hire a social media agency
If you are unable to do this all by yourself, you can hire the services of a social media agency. When you outsource your social media tasks, you will be able to focus on your core competencies. It is, therefore, a good idea to outsource your social media management tasks to an external agency. Professional social media agencies have an army of social media experts who understand what your business is and who your target audience is. According to these factors, they will update your social media profiles, which will help you to look natural and real.
3. Participate enthusiastically
When you post updates yourself, do not stop it at just leaving a message or sharing pictures and logging off. When people like your images or leave comments, engage them in conversations. These conversations help you to build long lasting relationships with your prospects. Most often, it is these prospects on social media who comment on your posts and images, who will end up using your services & products. Never underestimate the power of enthusiastic and engaging conversations.
4. Be kind and display empathy
If someone has a grouse, try to show empathy. Do not wear your defensive shoes and try to explain the problem. Instead, allow people to speak and then offer your empathy and kindness. You could probably thank them for bringing touchy topics to the surface and then prove to them that you are working on resolving whatever issues they might be facing. This kind of proactive approach will prove that you are not an automated account.
5. Inform and educate
Do not restrict your social media activities to promotions and campaigns. You need to also use your Facebook page to educate and inform your audience. You can probably provide information about topics, which are closely related to your services and products. This will help you to become an authority figure in your area, eventually attracting more followers and subscribers. This is another way of proving that you do not automatically post status updates just to appear busy.
Automation tools are not useless or bad
The crux of this article has been to teach its readers why it is important not to sound automated and how they can stop sounding so. However, automation tools themselves are not the enemy. You will need to use Hootsuite, Buffer App and a multitude of other tools to schedule posts & updates that are published on Facebook pages regularly. This will help you to focus more on interacting and building conversations. As stated earlier, a hybrid approach is usually the best way to go further. Choose both automation and real-time updating to achieve a balance and create an engaging platform.
Looking forward
With an increasing focus on social media marketing, we will see a large number of companies creating Facebook pages and eventually, trying to automate. It does not bode well either for marketing or branding purposes. It would make sense to choose a hybrid version, whereby, non-important messages are automated and critical updates are done real-time. Even better would be to hire a social media agency, which has the resources and expertise to engage clients' audiences in real-time. This will help to build a better brand and also use available resources to focus on core competencies.
Subscribe to our Newsletter