back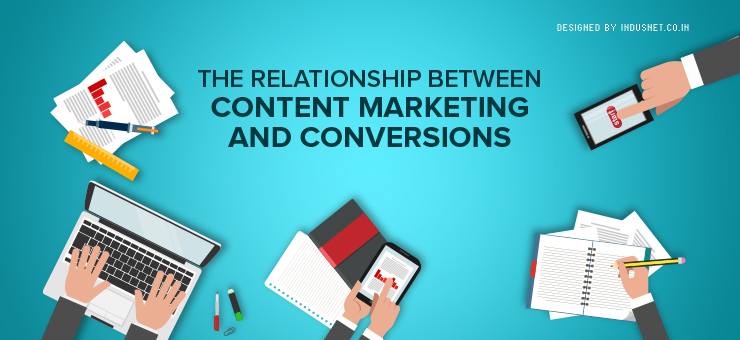 Content Marketing
Digital Marketing
The Relationship between Content Marketing and Conversions
An excessive amount of junk content is produced online and visitors often get overwhelmed by the sheer quantity of content. Content marketing is focused towards producing only relevant, quality and valuable content to enhance customer experience online. Content marketing is one of the most effective ways to influence visitors and take them ahead in the purchase cycle. It is an educated way of marketing that genuinely creates brand awareness, builds trust and helps consumers to find appropriate solutions for their problems.
Content marketing is a long-term strategy that needs consistent publishing of first-rate content. Marketers pursuing content marketing goals spend a lot of time and money in producing content for their visitors.
However, is it worth the pain to spend all those resources on content marketing? Marketers are always skeptical to predict ROI when they go ahead with a content marketing campaign. An important parameter to calculate ROI is lead conversion. What is the impact of content marketing on lead conversion? What effect does it have on the bottom line of the company? There are different factors that affect conversion. The purpose of this article is to understand the relationship between content marketing and conversion.
Content accelerates sales
Purchase cycle of your company may differ from others. Ideally, it begins from an unaware customer to a customer who buys from you. It is important to design content keeping in mind the prospects in the purchase cycle. Content needs differ at different levels of purchase cycle and it should be able to fulfill needs of prospects at every level of the sales funnel. This brings them one step closer to purchase.
[php snippet=1]
On-site content improves online presence
Good content attracts new visitors to your website every day
It frequently provides fresh content to search engines
Authoritative and authentic information builds trust among followers
Educative content is always appreciated by visitors who seek more information about your product. This gives them a reason to return to your website
Blogging
Blogging is an effective way of sharing content as it positively affects your ROI
It generates a consistent flow of traffic
It improves your search engine ranking
It converts your visitors into leads
Role of social media to push content
Marketers use user information on social media to precisely target content
Marketers can freely interact with followers on social media
It is a platform for visitors to openly express their opinion
User sentiment on social media helps marketers to create tailor-made content
Good content is always liked and shared on social media
There are a number of social media platforms available. Choose the platform that is used more by your target audience. You need to identify leads from a list of followers. Try to engage them even more through direct messaging and chatting. Go to any extent to resolve their queries. Henceforth, the probability of turning leads into customers multiplies.
Content curation
Content curation is a smart method of content marketing. Here, you need not create original content. Marketers need to find, organize, and add value to existing third party content.
Expand your content reach
You are promoting other people's content for your benefit. So, it is a win-win situation for both the parties. Other bloggers and marketers get more exposure because of you. Similarly, they would be interested in promoting your content. This gives you more visibility and ultimately more leads.
Summative content
Curated content gives you a chance to provide visitors with all sources of information they seek. This saves their time and they are likely to become your loyal visitors. Loyal visitors are more inclined towards conversion.
Curated content is unbiased
Since you collect information from different sources, there is vastness in your opinion. Content shared is not opinionated and visitors can form their own opinion. This creates room for healthy discussion. Thus, curated content is more engaging.
Long-form content
Long-form content is an elaborative approach towards content marketing. This approach is suitable for prospects higher in the purchase cycle. Long-form content may include research report, eBook, white paper, case study, tutorial content in the form of videos , infographic etc.
Long-form content is useful for visitors who are looking forward to learn much more than basic information. It is an interesting way to increase your email leads. Consumers are willing to share their email Id if they get something in return.
Marketers often use this approach on their blogs by offering users to download content in exchange of their email id.
Measure the impact of your content marketing campaign
Measuring the impact of your campaign is important to understand how it adds to your sales revenue.
Conversion goals should be clearly defined
There are a number of tools available to measure your goals. As a marketer, you can define a number of goals that you consider suitable for increasing conversion.
Such goals may include expanding:
Social media followers
Newsletter subscriptions
Website traffic
Brand mentions
Leads from task completion
How well do you measure and manage your content marketing campaign?
Content marketing needs a well-defined strategy for creating and distributing content. The content you create should be evergreen and have the potency to be used time and again when required. It is essential to create metrics attributed to your defined goals. This helps you to measure the result of certain content posted on a certain platform. Accordingly, you can boost your efforts and allocate more resources for a specific type of content on a specific platform.
On the contrary, it could be possible that your sales rose because of the organic upgrade in your search engine rankings due to some change in search engine algorithm and not due to the content marketing campaign. In such a scenario, you will realize that investing further in content production and distribution is insignificant.
Conversion through content marketing is a long-term process
It is essential to understand that the success of content marketing campaign can't be measured in real-time. It is a gradual process that initiates with traffic generation. Once you are able to get sufficient traffic to your website, the next step is to strengthen the extent of visitor engagement. A loyal visitor can be relied upon for conversion. With enough readerships in place, you focus on the final step of conversion rate optimization. Use of triggers and call-to-actions is then initiated to turn key prospects into customers.
Subscribe to our Newsletter