back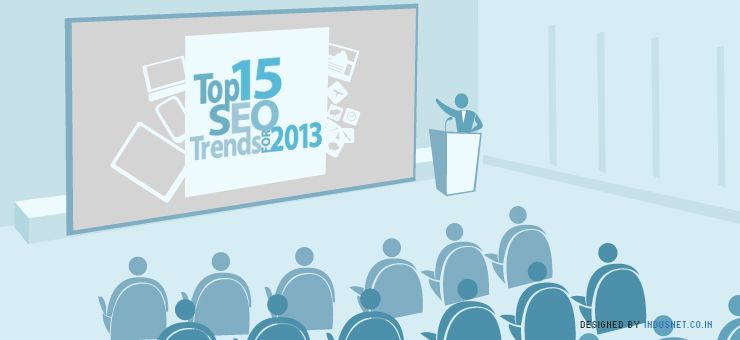 Internet Marketing
Marketing
Top 15 SEO Trends for 2013
Search engine Optimization always looms like a dark cloud when it comes to managing and administration of websites. While the topic really needs no introduction, lots of people wonder what the trends are going to be like in 2013. The answers are as ambiguous as the concept of Search Engine Optimization itself. However, we have listed some of the top trends that we think will dominate this year. Here are the top SEO trends for 2013.
Mobile Browsing Is Going to Get Bigger
Mobile devices include smartphones and tablets. It is becoming increasingly clear that people across the world, both in emerging and in developed countries, have begun to use mobile devices as their primary Internet devices. There are more than 125 million smartphone users in the US and 20 mobile searches per month, per device. If we look at the net search statistics, a whopping 30 billion mobile searches are conducted per year.
The World Is Mobile

This clearly tells us that the world has changed. People do not really go to a search engine like Google (though it continues to be important in our strategy), but instead use mobile applications, mobile browsers and social applications to discover content and businesses. In 2013, SEO professionals will need to concentrate on an increasingly mobile world that depends on smartphones and tablets to browse the Internet.

Create Mobile-friendly Sites, Responsive Design

Web designers and developers must make sure that they design websites that are optimized for mobile devices. This is exactly where responsive design comes to picture. A responsive design for a website ensures that a single website adjusts to the different screen sizes of mobile and desktop devices. Along with responsive design, a greater emphasis on HTML 5 needs to placed, in order to ensure that pages load quickly on mobile devices that often run on slower Internet connections.

Mobile Applications

Instead of a strategy that solely depends on web designing and web developing, SEO professionals must insist on smartphone and tablet applications for iOS, Android and Windows Phone 8 devices. Applications will certainly be an important source of web traffic. It is no wonder then that a majority of magazines and blogs receive traffic from applications such as FlipBoard, Zite, Feedly, Pulse, and Pocket.
Analyzing the Website
Before you do anything else with your existing website, spend a little while trying to analyze it. Check if it looks good, and then proceed towards analyzing if it has all the information your target audience must be searching or looking for. If it does, then try and judge if the information is presented in an attractive manner. It is a good idea to add images, videos, PowerPoint presentations, PDF files and other such files which lend to the versatility of the website. Most importantly, you can ask for a professional SEO Audit Service.
Metatags and Meta data

It is a well known fact that SERP reveals a list of results deepening on what a person searches for. The result can be divided into the Title, a summarized description, and the permanent URL. Most website admin areas allow you to enter these details when you publish content. You can use Google's Keyword Tool to make sure that you have content that is related to your niche, which is also being searched. Likewise, you will need to ensure that you enter meta-tags, meta-description and meta-keywords for your website. These meta-data tell web crawlers what your website is all about.

HTML 5

The world is certainly no longer depending on Flash-heavy websites that cannot be viewed on certain mobile devices like the ones manufactured by Apple. Also, Flash websites are not very good for SEO. The alternate choice is to use HTML 5, in case your website is already not built using it. HTML 5 pages are search engine friendly, and load quicker as well. Also, HTML 5 websites can be viewed without a hitch on iDevices.

Structured Data and Microformats

Much of information on the Internet is categorized, compartmentalized and structured. Without this structure, it is difficult for web crawlers to identify content that is most relevant to a search query. However, many content writers and web administrators overlook this important facet of web analysis and content writing that can immediately ameliorate SEO ranking. Structured data can be easily recognized, understood and displayed by search engines like Google. In the same breath, we may mention micro-formatting.
Microformats help essential information such as business address or product reviews and ratings to be coded in a special manner so that there is an emphasis on that information. Thus, web crawlers 'know' that what is coded in microformats is more important than the rest of the information on the page. The idea is to craft snippets of information coded in microformats so that search engines can immediately recognize which information is crucial to be displayed in SERPs.
Content Overhaul
So far, SEO has been restricted to devious methods that urged people to target keywords and web crawlers more than the people who actually read them. Thankfully for the rest of us, and also for honest SEO professionals, Google and other search engines have begun to penalize such websites that do not care much about quality content. If you want your website to rank high, you will need to ensure your content's quality and authoritativeness. If your content is not up to the mark, now is the time to devote time for a complete content overhaul.
Quality Content – Lengthy and In-depth Articles

Short articles are done to death. People look for worthy content that actually has some information in it. Ideally, your blogposts should at least have 400-500 words so that there is an argument, and a sensible conclusion. If you can weave in more than one argument and write a post that is around 700-800 words, you are good to go. You just need to ensure that these articles are well researched, in-depth and written by subject matter experts.

Personality Branding, Honesty and Transparency

Content cannot be written for web crawlers. Content needs to be humanized and one should bear in mind that ultimately, those who do business with us are living-breathing human beings. You will need to have your own personality that is projected onto your content. Such personality branding, honesty and transparency will make your website look more appealing and content gets shared across social sites more often, leading to a better SEO ranking.

Great Titles and Introduction Paragraphs

Your content's titles need to be short, within 65 characters and catchy. Avoid jargon and always have an action word in the title. Action verbs like 'discover', 'must do', 'find out' and others get more clicks. Also, make sure that your introductory paragraph clearly states what the article is about. In fact, have a hypothesis ready which can later be discussed and proved in the content.

Optimum Utilization of Multimedia

Most people do not use videos, audio files, PDF files and other such innovative media within their content. It is a well known fact that videos and images attract more traffic than just textual content. Ensure that you have great short videos that tell you what the detailed content reads in just 30-60 seconds.

Content Planning and Strategy

Do not write blog posts, essays, articles and white papers without giving a thought. IN fact, you need to have content planning and strategy development in place. Hire a good content specialist who knows much more about content than just writing. Ensure that the content specialist knows what your business is about, so that a content strategy can be drawn out.
Digital Marketing
Digital marketing includes content marketing, social media marketing, link building, placing ads and other such strategies that help to drive to your website.
Content Marketing

Content marketing depends on paid and unpaid marketing techniques. You could get a marketing agency to actually go ahead and advertise your content or use a social media manager to spread your content so that it goes viral. Your authority depends on how many times your content is shared, how often you update content on your website and also adding a resource library that consists of videos, images, case studies etc. Ask people to guest blog on your site, and also interview people and upload the video.

Social Media Marketing

2013 is going to heavily depend on social media, just like 2012 did. In fact, social sharing and social signals will drive traffic like never before. Thanks to an increasingly mobile web, people depend on Facebook, Twitter and Google+ for discovering content and websites. With that in mind, you will need to pay special attention to Facebook Pages, official Twitter accounts and sharing on Google+. Google Authorship is a new venture by Google that helps bloggers and content producers to achieve authority on Google with the help of recommendations.

Natural Links and Social Link Building

Link building can never be the same again. You cannot ask people to link you back from unrelated sites and pay them money, and expect to appear in search results. While link backs are important, they need to come from websites that are related to your business and also from authoritative websites. Using social links is a great way to build links. Twitter, Facebook and LinkedIn are great places to get those elusive link backs.

Local SEO

Going local is increasingly important in a world that is mobile. If you already didn't know, GPS enabled applications allow people to discover business near them, and most people use these applications to discover businesses, services and content. Do ensure that you get your SEO professionals to help you with localization of content and media.
These tips are enough to help you sail through 2013, when it comes to SEO. If you need more help regarding matters related to web optimization, search engine optimization, increasing conversion and digital marketing, you should speak to one of SEO and web professionals who will guide you personally.
Subscribe to our Newsletter