back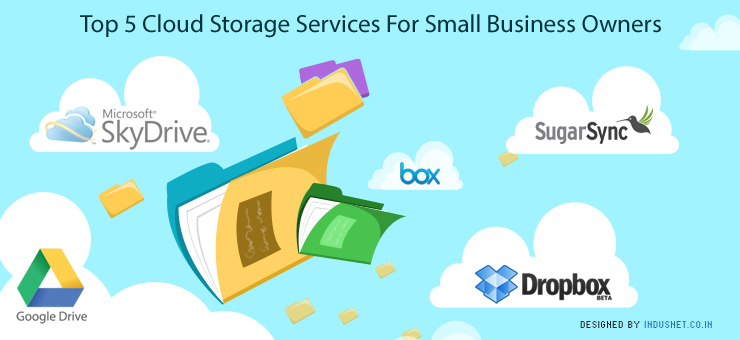 General
Top 5 Cloud Storage Services For Small Business Owners
Collaboration with your remotely located employees, work-from-home and mobile stafferswere never as easy as now. There are plenty of cloud storage services available in themarkets today which offer you file storage, sharing and syncing across various platforms.But before you choose an appropriate service make sure that you consider some important arameters such as the security measures taken by the service provider, customer reviews and satisfaction, value for money as per your business needs, data back-up capacity and frequency.
Following are the most popular cloud storage services useful for small business owners:
1. Dropbox for Business –
Dropbox is the most widely used storage service wherein you create a folder on your computer and drop the files you want to sync in it. It is extremely fast, secure and syncs easily across all computers and mobiles devices where it is installed. It has the capacity to manage 250 users with unlimited storage in its advanced account. Dropbox allows you to share and edit the files among your employees and gives you the option of letting them invite other employees.
As an added security measure for signing-in, you can opt for its 2-step verification process as provided by Gmail. Dropbox applies AES-256 encryption for securing at- rest corporate data and uses SSL technology for creating secure connection between data center and employee. Besides this, it helps in tracking and recovering previous version of files in case someone accidently deletes or overwrites an important file. It works swiftly with Windows, Mac, Linux, iOS, Android and Blackberry.
2. Box –
This cloud service provider is known for its out-of-box features. Apart from offering the basic features, it allows the chief operator of the account to grant selected access to its employees to certain files meant to be private. It helps you with online file viewing and editing. Box even lets it users to share screenshots and screencasts, search for text content within the files and integrate with various third-party applications. It too configures very well with Windows, Mac, iOS, Android and Blackberry.
3. Google Drive –
The best thing about Google Drive is the reliability on its brand name and its secured servers spread across the globe. Furthermore, it supports more than thirty file types and facilitates you to create and edit the documents via web browser which is useful even if you don't have the relevant program installed to open a certain file. And its amalgamation with other Google services like Gmail, Google+, etc gives it an added benefit by avoiding multiple sign ups and allowing for offline editing with Chrome web browser. Though it is available for Windows, Mac, iOS, Android phones, it is not yet available for Blackberry devices.
4. Microsoft Skydrive –
Skydrive is another popular cloud service with all the basic features as storage, sharing and syncing plus integration with Office Suite 2013 and Windows 8 added recently. And to access your files without Skydrive application installed on your device as in the case of Google Drive, you just need to login with your Windows Live Skydrive account. Office web apps are turning out very well for many users to edit word, excel and powerpoint files with their Skydrive account.
However, a distinguishing feature about it is "Fetch" which lets you pull the files from online Windows PC even if you didn't upload them to Skydrive folder. And in its latest version 17, it allows selective syncing which means you can sync only selected files in your Skydrive folder. Lastly, its 7 GB of free storage space has attracted many users towards it. Skydrive is best usable with Windows operating system though it can easily sync across Android, Mac and iOS, but it is not available for Blackberry devices.
5. SugarSync for Business –
SugarSync has gone a step ahead from its contemporaries by incorporating a distinctive set of features. It lets you encrypt certain files as read-only in order to limit the users to edit them. Even more, you can control the accessibility of your files and allocate storage limits for certain users.  Another interesting feature by SugarSync is an Outlook plugin which enables you to email links to larger files instead of attaching them. This turns out quite fruitful when you are often unable to send large files owing to attachment size limitation. It easily syncs with Windows, Mac, iOS, Android, Blackberry and even Symbian devices.
Subscribe to our Newsletter