back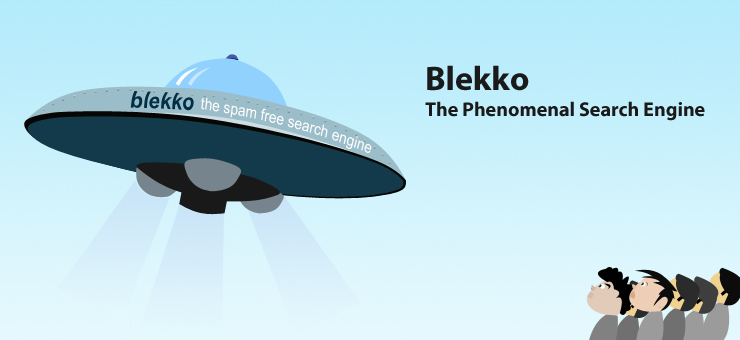 SEO
Strategy
Understanding Blekko: The Phenomenal Search Engine You Didn't Know
Most web users feel Google search results are not all that perfect, but that there is no choice other than the world's most famous search engine. Google's search results are based on algorithms that are not transparent but many results that end up at the top are somehow pushed by certain unethical SEO professionals who disregard web standards. As a solution to this terminal problem, Blekko is fast gaining accolades among web users.
What is Blekko?
Blekko is a web search engine that relies on social recommendations, human curation and transparency of SEO. Its stated goal is to provide better search results than Google does and makes use of 3 billion trusted sites that are handpicked by editors and professionals. Glekko summarily excludes material from content farms and uses 'slashtags' that provide enhanced search results. Co-founded by Rich Skrenta in 2007, Blekko has raised millions of dollars in venture capital from the biggest names among technocrats.
How Does Blekko Work?
Blekko works on a paradigm that is completely different from Google or its competitors. Blekko makes use of human curators, editors and professionals who pick and choose websites from the billions that exist in the cyberspace. These websites are chosen for their accuracy of content, originality and quality of information present. Blekko editors exclude many high ranking websites on Google that are obviously search engine optimized regardless of the quality of content. Slashtags are similar to Twitter hashtags and help in refining search queries.
Thousands of slashtags are already present within Blekko and users are free to create their own slashtags in order to curate results that they deem important. By allowing Blekko users to see the IP address of a website that is running, registered users can label a site for hosting spam content. Thus, by eliminating spam and content farms from search results Blekko aims to compete with Google. Luckily for Blekko, there is a lot of support from various organizations including Yandex, that Russian search engine which tries to compete with Google.
Web Search Bill of Rights
Blekko claims to have created the web search bill of rights which rightfully explains what their outlook really is. The idea is to keep search open and that search results would involve people. Moreover, the bill states that ranking data would not be kept secret from people and that web data would be available when required.
As there is no one-size-fits-all even in search engine optimization, they make sure that advanced search features are available. The tools would be open to all and searching goes hand in hand with community. The most important statement in the bill is that spam would not be included in search results and that the privacy of users would not be violated.
Slashtags and How They Change the Search Experience
Central to the experience of Blekko are slashtags. For instance, when you search for depression/health, you would receive search results from sites that are respected and trusted such as nih.gov, cdc.gov and webmd.com. Content farms and spam websites are completely erased from search results. One will never have to accidentally waste time reading an article on the inner mechanisms of depression, only to realize that it is marketing copy trying to sell spurious antidepressants. As one can create their own slashtags, the Internet becomes more personal, social and reliable. In fact, this is probably as reliable as a search engine could get.
Blekko has 3 kinds of slashtags:
Topical slashtags: These are slashtags that are created by Blekko and often curated by experts in that area. These slashtags are also built into the website and available for everyone to click and explore. Specific topics like recipes, health, media, technology are included in this list.
User slashtags:
These are the slashtags that users can create after registering with Blekko. After personalizing slashtags, one can go ahead and mark authoritative websites that one trusts under them.
Built-in slashtags:
These slashtags are built-in by Blekko team and perform specific functions such as /date, /news or /blogs.
Thanks to the social atmosphere that Blekko has built into the search engine, Editors-in-chief of slashtags can collaborate with co-editors who have limited control over what they do to your slashtag. It is being noticed that using slashtags on Blekko can significantly improve your SEO effort as well. Keywords that are important to you can be used to boost slashtags. On the other hand, Blekko uses a function called Slashtag Boosting, in which search quality is enhanced and improved.
Creating Your Own Slashtags
With all this talk about slashtags, it can get a little confusing for the novice. It must be noted that creating one's own slashtags are not difficult and even beginners can learn how to do it within no time. Though Blekko has hundreds of slashtags on all the major topics, you may sometimes feel there is a need to create a slashtag in your niche area. These slashtags can then be paired with websites that you trust. All that you would need to do is register for an account and click on 'Create a New Tag'.
The first step would be to name your slashtag and this has to be something that relates to your niche area or expertise.
Once you name your slashtag, it is possible that someone else has already begun to add links under that slashtag. If that is so, you have the option of adding your links and collection of websites to that slashtag, or go ahead and create a slashtag that is even more specific and targeted.
The next step is to add keywords about your slashtag.
Not only can you add your own list of websites, but you may also search for websites to add to your slashtag.
Another option is to upload an existing .txt or .opml file.
One must remember that Blekko is deeply social in nature and survives with the help of the slashtag community. Your next step in making your slashtag sustainable is to invite co-editors who can add links to your slashtags as well.
If you were worried about privacy, there are options to make your slashtag either public or private. It remains to be seen how people will utilize the option to set slashtags as private. One of the ways probably could be to have a private collection of bookmarks right on Blekko.
Interface and User Experience
Blekko is designed well and is deceptively similar to the way Google is built. With a search bar just like the one you find on Google, it comes with four important slashtags: /date, /likes, /news and /gossip. /date arranges your search results according to the time the content was published while /likes brings results based on social signals from Facebook. /news is similar to Google News but is only much too reliable. /gossip on the other hand brings the latest in the world of rumors.
Users can create an account, after which web curation can take place. Web results pull information from Wikipedia and list that at the top usually. Each link also provides information regarding SEO and the ability to extract more information or report a site under spam, when one click on 'more'. On the left corner of the page, one can find Web, Images, Video and Local, just like one can see in Google. Blekko also allows the user to set search filters and send more information to the Blekko community.
Blekko and SEO
Those who are into SEO will gain immensely by studying the way Blekko works. The site may not allow you to submit websites to crawl at the moment, but will help you realize from other websites where you need to work. Each link is provided with Search Engine Optimization statistics that includes duplication, onsite and offsite information, and much more.
It also helps the user with IP address lookup, cached pages, tagging of pages, finding duplicate content, comparing sites, crawl statistics, page count, location of robots.txt, cohosted sites, page latency and page length. All this information can be very valuable and as all of it comes from very trusted sources, SEO professionals can engage in ethical and constructive optimization. This will also help them to concentrate their efforts on content management and publishing content that are exceptional in quality.
Using Blekko
Blekko can be used on a browser, or its iOS and Android applications can be downloaded on mobile phones. It also offers a web toolbar that helps you to search and curate results. Blekko has received rave reviews and FlipBoard, the social magazine app collaborated with Blekko to bring the best resulst to its users, adding to Blekko's credibility. While it is still early to say that it would become phenomenal, Blekko has everything that should make it a phenomenal search engine for ordinary web users, content curators, and SEO professionals.
Subscribe to our Newsletter