back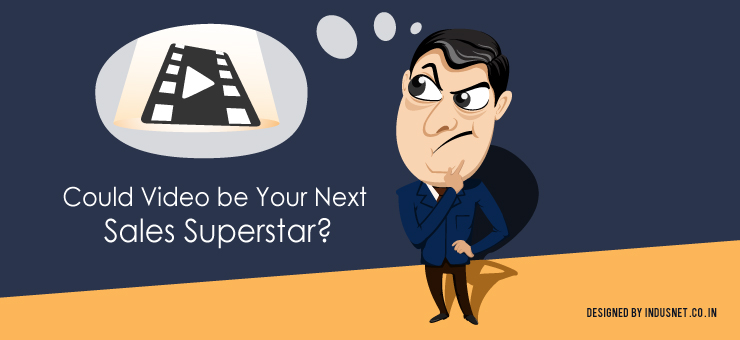 Explainer Video
Could Video be Your Next Sales Superstar?
Videos are often avoided by marketers and sales teams in favor of less time consuming mediums, such as banner ads, GIF images and sometimes, just textual content. While all of these have their designated places of importance within the sales cycle, one must remember that a video, especially a well shot video, has the unique advantage of garnering audience interest for a long time. However, the videos should be amenable to your audience and must not bore them or distract them from the main message, which is to get them to buy your products or services.
The importance of video as a platform in sales
In this article, let us take a look at how the video could be your next sales superstar. Though controversial, videos can help you go viral within no time if you know how to make a great video that sells. One of the best ways to make sure that video works in your favor when it comes to sales is to create explainer videos. Well planned and well created explainer videos go a long way in attracting the target audience and also holding their attention for a long time. We shall also take a look at how you can use explainer videos alone to make your video campaign successful.
What does an explainer video consist of?
An explainer video often uses animation to explain your product, software program or a service that you offer. It may directly explain what you are putting on offer or it may use metaphorical stories to help you understand the context in which such a product may be useful to you. Explainer videos usually make use of animation, voice-overs and short scripts in order to get the message across.
How does an explainer video attract your target audience?
As they use entertaining metaphorical stories, it makes the target audience to understand your marketing message better, instead of having to pore through reams of copy related text. An explainer video will ensure that you are not distracting your viewer with extraneous variables, which is often the case when you use textual or pure audio related material.
Even with conventional videos, there are chances of distracting the viewer with extraneous messages. All these factors point towards the importance of explainer videos in the realm of sales. Last but not the least, explainer videos can be shot within a very short period of time, making them amenable to content cycles.
Video literally outruns other sales platforms
Video as a platform may give everything else a run for its money. Explainer videos can be widely shared across social media, helping you to increase social signals. This means, more people will end up talking about your products and services.
This can only mean one thing: that your explainer video will now be shared across platforms such as Vimeo, YouTube, Twitter, Facebook and sometimes even on LinkedIn. This helps you to reach a larger target audience than usual and that is one of the reasons why we recommend explainer videos while trying to help our clients with their sales.
Another point that we may often miss is, that explainer videos, by their very nature, are very attractive for audiences. Your videos may achieve a cult-following and people may repeatedly watch the videos for the sake of entertainment it provides, in the form of metaphorical stories.
While doing so, your brand will be built and you will make sure that you have a new superstar in your sales kitty: animated explainer videos. They cost less to produce, are entertaining and are incredibly effective. It is only a matter of time before they become the next sales superstar.
Final thoughts
If you haven't already started to make explainer videos to sell your products or services, it is probably time that you started thinking about doing so. Explainer videos and video as a platform will certainly be the next big sales superstars. You cannot afford to miss the buss when everyone else is already doing it, and reaping the benefits well. In order to understand how an explainer video could help you better, you could contact Oomphbox, an animation specialist, for more information.
Subscribe to our Newsletter