back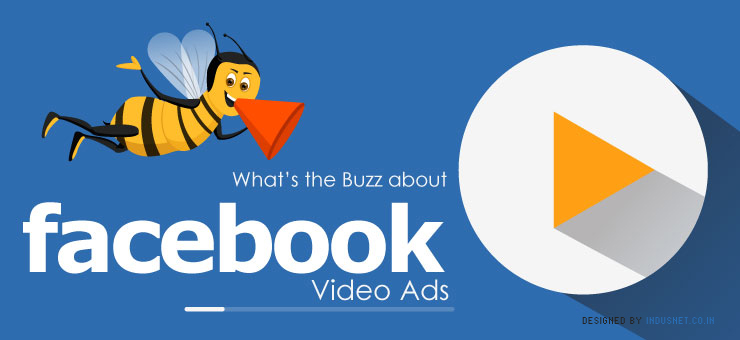 Digital Marketing
Internet Marketing
Marketing
What's the Buzz about Facebook Video Ads
Sometime around last year, Facebook announced that it was testing Premium Video Ads to help advertisers reach their preferred target audience. The company stated that it was designed for those advertisers who wanted to reach a large target audience with the help of "high-quality sight, sound and motion". Each of these videos would be 15 seconds long, it stated. It was designed to be non-intrusive.
Moreover, if people scrolled past the video, it would stop playing as that would indicate a lack of interest in those ads. One could also tap on the video ad so that it expands full-screen and sound would begin to be heard as well.
Over a period of few months, Facebook began to roll out these video ads in various places and garnered various reactions. Most digital marketing professionals believe that Facebook Video Ads are a great way to showcase a product or a service and not be intrusive.
A video ad that does not play sound unless being clicked upon is a revolutionary idea. Most of us know how unpleasant it is when video advertisements begin to play without our permission, causing us to reduce our volumes. Facebook certainly has recognized this problem as offered video ads that only play sans audio until a person chooses to click on the video himself or herself.
Growing importance of Facebook Video Ads
The Age recently reported that "the amount of video on Facebook's news feed has more than tripled". It also reported that many advertisers are yet to discover the option of Facebook Video Ads. As more advertisers realize its presence and the valuable platform that it provides for companies, more businesses will begin to use them to market their products and services. In this article, let us try to understand what Facebook Premium Ads are and how they are going to benefit your business.
How are Facebook Video Ads bought and measured?
You can purchase and measure Facebook's video ads just like how TV ads are bought and measured. If you have heard about TGRP (Targeted Gross Rating Points), it is applicable in the case of Facebook Ads as well. Facebook Video Ads are bought based on TGRP as well and the delivery is measured by Nielsen Online Campaign Ratings (OCR).
Facebook also had mentioned that it was working with a company named Ace Matrix to ensure that the video ads suit the content that people see in their news feeds. Facebook also announced that it acquired LiveRail, a startup that will help ad publishers to be more efficient. Every video ad is to be reviewed and assessed before it gets live on Facebook. Some of the criteria that will judge the Facebook Video Ads are emotional resonance, meaningfulness and watchability. The idea is to ensure that there is a certain level of quality when it comes to Facebook Video Ads.
Facebook does not want just any video ad to appear on people's newsfeeds. This will also help advertisers to work on better video ads so that they get the maximum return on investment. Initially, Facebook limited the video ads to high quality advertisers, a euphemism for some luxury brands and top tech companies. Slowly, the service is being offered to others as well.
Facebook Video Ads are becoming more acceptable
Facebook Video Ads are slowly but surely changing people's perspectives. People still have a negative view about video advertisements, mostly because of the intrusive way they play on some websites. By addressing this problem, Facebook has ensured that people are not intruded by sound from video ads, even if they play in the background. This presents advertisers and companies with huge opportunities to reach the right target audience.
With more people joining Facebook and with Facebook acquiring better technologies, it is going to get easier to target the right kind of audience with video ads that are entertaining, informative and attention-grabbing. With the right marketing strategy and creative thinking, Facebook Video Ads can be used to generate leads and increase sales in the long term. If you would like to learn how Facebook Video Ads can help you, do contact our digital marketing professionals.
Subscribe to our Newsletter