back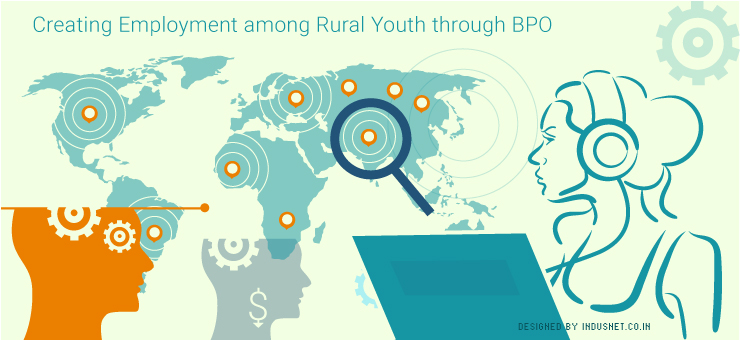 Outsourcing
Creating Employment among Rural Youth through BPO
India has a workforce of 47.41 crore, according to a survey conducted by National Sample Survey Office in 2011-12, out of which rural workers amount to 33.69 crore with 35.3 percent of workers employed as casual laborers. India has an average literacy rate of 74% with rural India recording a literacy rate of 68.9 % in 2011 (Census). With 35.6 crore people in the age-group of 10-24 year, India is the youngest country. The statistics clearly show that there is a huge pool of young rural workforce which is potentially employable.
Aspiring and educated youths in rural India are migrating to urban areas due to lack of local employment in rural areas. Apart from that, there are social pressures of earning that forces them to shift permanently to urban India. As a result, urban India is facing congestion due to migrant workers that mount load on limited urban infrastructure. The solution to these problems can be found by generating skilled employment opportunities in rural India .
BPO is expanding
BPO sector is one of the fastest growing sectors of India with a contribution of 8.1% to country's GDP.  The sector is witnessing both geographical and vertical expansion. Exports contribute around 67% share in revenue with maximum demand coming from US and Europe. India has a pool of skilled workforce in urban areas and $1.6 billion is annually spent on training the workforce. Central government's focus on Digital India and Make in India is thrusting the sector farther. (Source: NASSCOM)
BPO firms are spread across 50 or more cities across India. However, urban BPOs are facing the challenges of high attrition rate, rising cost of labor and escalating margin pressure. This shows there is a clear business opportunity for urban BPOs to expand in rural India. It does not mean that they should shut shops in urban India. By expanding in rural India, the workforce environment will be balanced giving equal opportunities to rural and urban workforce within their respective areas. Moreover, National Optical Fiber Network is being laid down to connect all the 2, 50,000 Gram Panchayats in India. The major challenge to set up BPOs in rural India is to create industry-ready rural workforce. And skilled workforce can be created through training and skill development initiatives.
Creating sustainable social enterprises
With the opening of BPO firms in rural areas, the large agricultural economy of rural India will venture into service sector providing employment opportunities to rural youth. For-profit BPO firms, thus created, will be sustainable in the long term due to a number of reasons.
Low infrastructure cost
The administration expenses are significantly lower in rural India. Office set up cost including space and equipments is much lower than urban India. Strategically chosen central village location will help the businesses to avail essential services like electricity, broadband, and other telecom services easily. Not only that, they will have an easy access to workforce.  Even if a remote cluster of villages is chosen for office set up due to availability of workforce there; essential services can be availed by installing solar panels (for electricity) and deploying a combination of optical fiber and last-mile wireless technology for accessing broadband internet cost-effectively.
Low delivery cost
Since the cost of production is low, businesses can deliver their services at a much lower cost as compared to their urban counterparts. Low cost of production is attributed to low operational expenses like office rent, utility bills, staff salary etc. Thus, rural BPOs have the capacity to pose a challenge to their urban counterparts
Low retention cost
Unlike their urban counterparts, rural population will be much more stable and settled. Since there is no migration required to work for a rural BPO, locals will feel empowered at their native place. Workers will be committed to the firm for a longer period. Thus, low attrition rate will contribute towards low retention cost.
Invest profits in rural development projects
If a certain portion of profit is invested in rural development projects every month, the individuals and communities will gradually become self-reliant both economically and socially. The aim of such rural development projects should be to build homes for homeless, provide better health care, hygiene and access to essential services like clean water and electricity. A continued effort will result in social transformation of rural India. Apart from that, it will induce more jobs into the system indirectly.
Services rural BPOs can provide
Rural BPOs will have tremendous opportunity to grow and can build domain-specific competencies especially in publishing, legal, finance and accounting, and web research verticals. Publishing can include services like eBook creation, digitization, data conversion, XML tagging etc. Legal services may include contract abstraction while financial services may include financial data review and processing, new customer account set up etc. On the other hand, web research/data management may include services like product classification / mapping, retail data extraction, backend support for MIS generation, back-office procurement services and so on. Rural BPOs can ensure high operational efficiencies through process ownership and decentralized structure.
Sustainable business model
Rural BPOs will operate as hub and spoke model wherein geographically dispersed small delivery centers will be individually managed. Geographically dispersed teams will be connected well through communication technology. Moreover, the technological infrastructure will be at par with the urban centers using appropriate technology
The most important aspect for successful operation of rural BPOs is availability of trained workforce. Local businesses must collaborate with local NGOs and agencies for training and hiring purposes. Development of training centers, infrastructure creation and support should be facilitated in collaboration to produce industry-ready rural workforce.
Challenges to be faced by rural BPOs
Education system in rural India lacks vocational training. Training organizations find it tough to penetrate remote areas and train youth. Lack of resources and infrastructure becomes a challenge for many business owners. However, easy availability of SME bank loan is helping rural business owners to have an easy access to funds. Apart from that, rural youth tends to train in irrelevant skills by going to cities due to lack of awareness and again left unemployable. This causes training fatigue in them and it becomes challenging to bring them under training space. While the idea of creating employment by opening rural BPOs looks exciting, there are some challenges which can be overcome through systematic and inclusive approach.
Raising the bar
The word "rural" should not be made synonymous with "low-quality." Projects generated for rural workforce should be highly competitive in comparison with the urban centers. The stereotypical mindset of low-end data entry outsourcing to rural areas should be busted.  The best way is to follow a vertical-focused strategy to acquire annuity-based work. Businesses must identify niche service segments and partner with domain-specific anchor customers. Doing a tie-up with large urban BPOs to do sub-contractual work is another interesting way to move forward. Gradually, broadening the services offered will move them up in the value-chain.
Building customer trust and confidence in rural centers
Customers should in no way feel threatened due to the quality of service delivery through rural BPO centers. Centers must keep a check on the quality of service delivery on regular basis and insist customers to frequently inspect the work-in-progress to ensure customer satisfaction. Work sample delivery also induces confidence in customers. A regular feedback and tracking system should be in place where customers can comment on the quality of work and track the progress of work done to meet delivery schedules respectively.
Training rural youth in complex jobs
Complex jobs should be split into smaller easy-to-learn tasks and strong training delivery teams should be created. Besides that, training program should be an on-going effort implemented in cost-effective manner and in-house training teams should be compensated through non-cash rewards. Efforts should be made to develop local leadership. By hiring a mix of local and urban talent, rural youth can be inspired to enhance critical business skills besides catering to complex jobs.
Flagship government scheme for training rural youths
Star scheme is an ambitious scheme rolled out by National Skill Development Corporation (NSDC) to enhance skills of rural youth. The content created by NASSCOM is relevant to BPO industry. Training programs requires a collaborative arrangement between urban BPOs, rural enterprises and training organizations to avail full benefits of the scheme. Training organizations like Head Held High, a Bangalore based entity, is doing a great job in training rural youths in Karnataka, Andhra Pradesh and Orissa and ensuring that they are well-placed after training.
Creating social impact through rural employment
Creating employment in rural areas is a big step towards inclusive development. It encourages women empowerment, improves youth image, assists in community development and creates indirect business impact. BPO is the most promising service sector to help realize that dream.
Subscribe to our Newsletter