back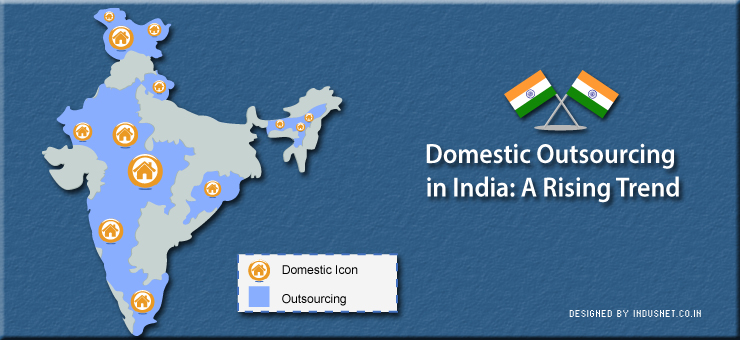 Offshore outsourcing
Strategy
Domestic Outsourcing in India: A Rising Trend
India is burgeoning economy that has only grown to become ever more important domestically and internationally. The country might have its economic woes but the fact that large number of people now fall into the middle income group is proof enough for the hypothesis that Indians have a larger buying capacity today than yesterday.
The outsourcing story as it happened in India
Much of India's growth happened after the economic liberalization took place in 1990. Soon enough, companies began to sprout and took up outsourcing tasks that helped India to become one of the leaders of IT outsourcing. Access to cheap labor, English language speaking skills and good technical education has helped India to metamorphose into an economic giant. While American and British companies have continued to outsource to India, a new phenomenon can now be observed.
Indian companies have begun to outsource domestically, whether it is IT, BPO or something else. As Indian companies have begun to become more successful, they are now able to outsource their own tasks to other Indians who can work to a lower cost and thereby, reduce overall costs. This has helped Indian IT companies to focus on their core areas, which is IT development. There are several reasons why domestic outsourcing is going to get even bigger in India. Here we shall list a few reasons:
Large cities in India are getting expensive
As Indian cities are getting overpopulated, they are also becoming ever more expensive. Cities like Bangalore, New Delhi and Bombay are some of the most expensive cities in the region. The cost of living has increased and employees need to be paid more. Hiring employees who live in the hinterland but have had a good education is proving to be a better idea than making people work at offices that are located in larger cities. Thus, domestic outsourcing is taking place this way.
Indian BPO industry
As more Indians continue to purchase, the trend of domestic BPOs have increased too. More companies are sprouting and their customers need contact centers to reach the companies. These companies outsource their customer service tasks to BPOs located within the country. Customer service is usually provided in English, Hindi and other Indian languages.
Increased awareness about IT
More and more companies have begun to understand the importance of IT and web development. Consequently, companies have begun to outsource IT related tasks to people located within India. This is also one of the reasons why websites are becoming increasingly popular in India. Indian companies have finally begun to understand the importance of having a website, many years after their counterparts in the U.S. and U.K. did.
Outsourcing is getting easier
More companies are now open to the idea of outsourcing their tasks to other Indian companies. While this was not the trend a few years ago, it certainly is today. Even legally, it is easier to send tasks to other companies in India than it used to be earlier. Bureaucratic issues have begun to be resolved and there is less red tape, which is one of the reasons why companies have begun to outsource domestically ever so often.
Increasing profits for IT companies
IT companies have consistently been profitable in spite of global recession a few years ago. All the profit has been utilized to expand business and create even more wealth. This wealth creation has helped Indian companies to widen their own core areas of focus, resulting in a situation where they can outsource simple and medium level tasks to other smaller companies within India.
India's outsourcing story is not one-sided but has come to be a way of life. Indian companies are open to outsourcing their own tasks to other companies and there are a number of companies that are willing to take up these tasks. One of the reasons why companies have begun to succeed is because they can outsource their tasks without having to worry about less important tasks. Thus, the growing areas for domestic outsourcing include IT, web designing, HR, customer service and a whole lot of other tasks. In the future, we expect Indian companies to become even more amenable to outsourcing than ever before.
Subscribe to our Newsletter