back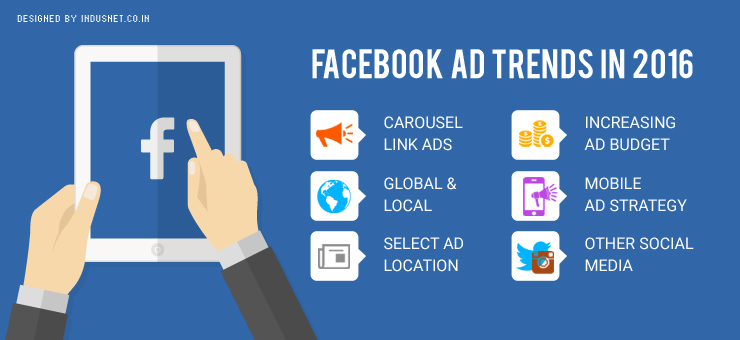 Internet Marketing
Facebook Ad Trends in 2016
Facebook has grown to be the most popular social networking site on the planet and it is also one of the biggest tech companies in the world. Recently, it even outpaced ExxonMobil to become the 4th most important company in the world and its stocks are soaring.
There is a reason behind Facebook's success. Its ad platform is helping Facebook to generate a lot of money while also boosting advertisers' revenue. People who are just started to use the Internet on their mobile phones still value Facebook as their number one resource, whether to fetch news or to find products.
In fact, Facebook has almost outpaced Google in terms of usage and importance. With these facts in mind, most companies now have a Facebook ad strategy in place. In 2016, this will only continue thanks to the increasing popularity of Facebook. In this article, let us take a look at some of the trends that will likely persist in 2016 and beyond.
Start using carousel link ads
Carousel ads are becoming a very popular way to advertise on Facebook. The carousel format allows advertisers to showcase three to five images, headlines and links, along with a call to action. You could replace the images with videos as well. This is particularly attractive for viewers who do not want to leave Facebook but want to learn everything about the advertisement while they are still on the social network. A story can be narrated easily in the carousel format or you can showcase your products and services to discerning users. Their performance also has been vastly superior to static ad units. In 2016, carousel ads are likely to grow in importance and stature.
Think of increasing your ad budget for 2016
Facebook has been gradually charging more in order to place advertisements. While this can be explained from a number of perspectives, you might also want to increase your total ad budget. It is important to do so because Facebook is one of the most important technology companies. If you are planning to reach a larger target audience, you simply might have to invest more in Facebook ads. The fact that Facebook allows direct communication with intended target audience makes it a better medium to advertise on. Certainly, it makes sense to increase ad budget so that you can optimize your Facebook ads.
Use Facebook to go global and local
Facebook is used across the world. It is available in local languages and even in countries where Facebook is not available; people use it using private networks. This wide appeal of the social network is a blessing in disguise for those who want to venture into newer locales. Facebook helps you with creating ads that are not only international but also local in that particular region of the world. In other words, you can make your international presence felt locally, wherever you want in around the world. This is one of the biggest advantages of using Facebook ads.
Focus on building a mobile ad strategy
There is no escaping the mobile juggernaut that has been set upon us. More people are accessing the Internet today using mobile devices. Whether cellphones or tablets, mobile internet seems to be the way to go forward. If you are planning to advertise on Facebook or elsewhere, it is important to have a mobile ad strategy that is in sync with times. Facebook allows mobile ads as well which are optimized to be viewed on mobile devices. This helps you to reach your audience on their mobile phones and tablets. Also called App Ads, they are likely to become very popular in 2016.
Focus on where your ads are placed
You can choose where your advertisements are shown. Opting to place your advertisements in the right sidebar is a great idea. The right sidebar unconsciously is where people look towards for information. Even in WordPress, people tend to click on information that is placed in the right sidebar. By focusing on where you place your ads within Facebook, you will be able to control how people are going to view your marketing communication. Placing really matters as people tend to look for certain kinds of information in certain areas of the screen.
Whether you are focusing on mobile or desktop ads, try to get creative copywriters. Copy is going to be very important and it will probably be the most important way to set yourself apart from the rest of them. 2016 will see a lot of people using Facebook ads which means, you will have to try other ways to gain their attention. One of the best ways to do this is by writing copy that is very attractive and attention grabbing. Care must be taken to keep it short and crisp.
Use other social media too
While Facebook strategy obviously requires you to focus on Facebook, it makes sense to integrate Twitter or Instagram ads within your ad campaign. A concerted and synchronized approach will help you reach larger audiences and a more diverse market. It should be noted that Twitter is used by a vastly different and professional audience, thus making its inclusion within your ad strategy, a matter of high importance.
Looking forward
Facebook will be one of the most important ad channels in 2016. People will likely opt for carousel ads as lthey are more interactive in nature and easier to narrate a story. If you are planning to focus on advertising on Facebook, do not forget to have a mobile strategy or to have a social media strategy in general. It makes sense to include Twitter into the ad campaign while also focusing on great creative copy. All this means, you will need to set aside a larger budget for your ad campaigns in 2016 in order to remain competitive and ahead of your competitors.
Subscribe to our Newsletter