back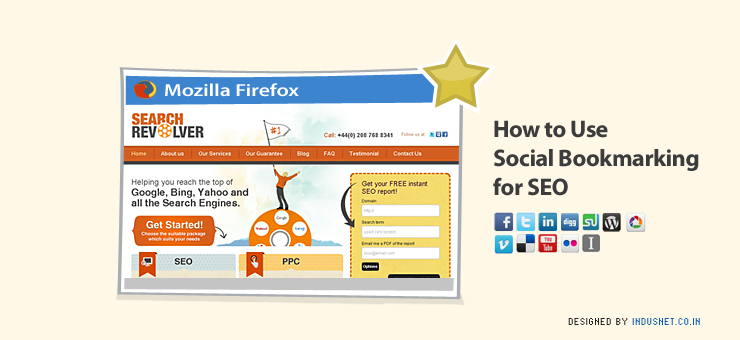 SEO
Social Networking
Strategy
How to Use Social Bookmarking for SEO
When you mark a webpage that you want to visit later, read later or simply share with your friends or acquaintances, it may be described as social bookmarking. There are several services that offer social bookmarking, beginning with Facebook, Twitter, LinkedIn to specialized services like Instapaper, Digg, StumbleUpon, Sphinn, Delicious, YouTube, Flickr and many more. In fact, there must be more than 200 services out there that help you bookmark socially. Socially bookmarked links go viral or at least they receive more traffic than links that are not shared socially.
Why Use Social Bookmarking Sites for SEO?
As SEO professionals, our utmost priority is to drive traffic to the website and to increase the ranking of the page. This can only happen when there is a surge in the traffic and when the target audience click on links and arrive at the designated page. By making sure that the link is being shared on social networking sites, we can ensure a steady or even exponential traffic to the page. SEO professionals thus have to ensure that apart from traditional search engine optimization, they must take Facebook, Twitter, LinkedIn, Google Plus, Pinterest and other social networking sites into account. Links that are shared from credible social media accounts add to the relevance and contextual importance of that link.
Here are some important tips and tricks while using social bookmarking for SEO.
Identifying Target Audience
It is important for SEO professionals to identify a target audience and connect to them via social bookmarking sites. Since social media is a two-way communication, participating in communication and discussion may help in promoting your own bookmarked links.
It may become necessary to shorten your URL before sharing, as it adds to the visual appeal and also makes sure that precious character-space is not wasted. A disadvantage is there is no way one can brand a tinyurl. However, spending money on customized URL shortening services may help.
Temporally Optimized Sharing
One must bookmark or share links only when followers are most likely to be online. There are several services like Buffer, SocialBro and HootSuite that help in addressing this issue.
You could use automated social bookmarking services but it may not be a very good idea. People recognize when social media accounts are automated and it doesn't take too long for people to unfollows or unfriend you. Rather than using automated tools, hiring an employee on a part time basis to do your social bookmarking may be a better idea.
Using Keywords and Keyword Phrases
As an SEO strategy, even while sharing or bookmarking links on social media sites, it is important to utilize keywords in a non-intrusive manner. By doing so, readers will know what your link is all about without having to guess. Moreover, links that are tailed with descriptions with keywords have a higher chance of being ranked well.
Choosing the Right Social Network
Depending on the context of your content, you could choose the right social bookmarking service. If t is something personal or something that taps the goodwill of your reader, you may choose Facebook. For business and professional related posts, LinkedIn or Twitter can be more useful. Images can be bookmarked on Flickr or Pinterest while videos can be bookmarked on YouTube.
Issues with Social Bookmarking for SEO
For successful social bookmarking, one needs to be hard working and patient. It simply does not make sense to bookmark your own sites across all the social bookmarking sites as no one would be interested to click on such links. On the other hand, it may become impossible to create a social bookmarking account that is genuinely active and has thousands of relevant and worthy links that are updated regularly. Many people have tried to bookmark the same link from a hundreds of different accounts. However, if they all come from the same IP address, it may never help you drive traffic to the link you have shared and instead may get you banned from the social bookmarking site altogether. Another method is to collaborate with many people and begin social bookmarking on a team basis. However, this is very time consuming and may ultimately not be successful either.
If you are a company or individual who would like to use social bookmarking sites for your benefit, you may approach SEO professionals who have the tools and software to bookmark sites and promote your links on social media.
Subscribe to our Newsletter