back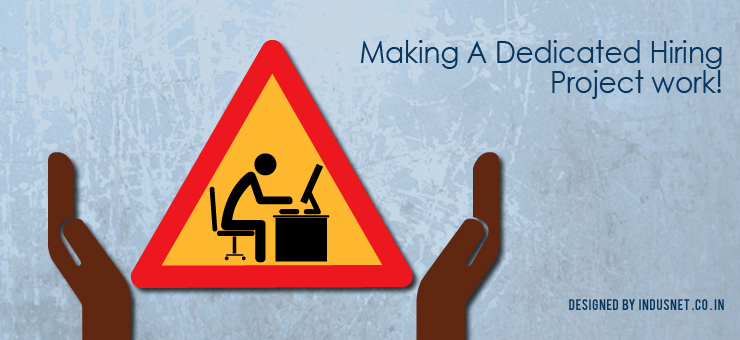 Management
Offshore outsourcing
Making A Dedicated Hiring Project work!
Even though distance, communication barriers, lack of local knowledge and geopolitical factors create significant risks, the economies of Offshore outsourcing are numerous and significant. However, to make these economies work for you, you should keep in mind the following few very important points:
Project Scope – Clarity and Understandability
Project Scope is the most important part of the project. The success or otherwise of your project largely depends on how clearly the developer has stepped into your shoes and understood the project scope, the purpose of his actions and the consequences thereof.
It is advisable that your initial efforts should mostly go in making sure that your words are being understood clearly and correctly. If you find any deflection, you should right away contact either the Project Manager or the Account Manager and get a meeting scheduled with the developer, where the relevant issues are discussed in an open and constructive manner. The importance of clear communication should never be discounted at this stage and everything should be put in black and white as far as possible.
Manage The Project
Developers are mainly concerned with developing and not with project management. Someone needs to manage the project and that's your job in a dedicated hiring project. You should not treat the project as the Developer's responsibility alone, but should also understand yours as well, which includes the following:
Make sure the Developer's interpreted your description the way you intended.
Make sure the Developer delivers what you asked for.
You need to set expectations and inspect the Developer's work to make sure it meets your needs and quality standards.
If something turns out to be much harder than expected, or does not work out exactly as planned, you might need to decide which of several paths the project should take, after consulting the developer with regards to their feasibility.
Again, Developers do not know the intimate details of your business, your users, etc. An old expression says you only have the right to expect what you inspect. You have to be involved in the project to make sure it delivers what you need.
Finally, it is your project! You have the final say about what the project is.
Share Your Vision With The Developer
After hiring a developer, most people answer the developer's questions about the project and assume that if he doesn't ask a question about a particular part of the project, everything must be OK.
What they did miss are all the assumptions:
Assumptions made when writing the project description
Assumptions the developer made when he read the description
One problem is that we tend to write from our own perspective, not even realizing the assumptions we make. But the fact remains that you know your business inside and out, but your content developer probably won't know anything about it.
So to avoid this issue, one should take the following precautions:
Be very clear and concise in your project description. Keep it brief and focused. Adding more words often just adds chances for different interpretations.
Ask the developer some probing questions about the most important parts of the project. You will very likely discover some assumptions that you or the developer are making.
Get some interesting or useful work output from the developer as early as possible.
Use Instant Messaging for Communicating at the initial stages
Instant Messaging makes remote workers feel as if they're in the office. It's faster and more intimate than email and allows you to track and transcribe exchanges. It's also best for immediate feedback, quick question-and-answer exchanges and other important discussions.
Again, only important matters be discussed over the messenger during the project period or before the beginning an important phase of the project. Have regular goal-oriented communication sessions scheduled with the developer and the project manager. However, it is always recommended that you send your suggestions, ideas and views through email, as you can be express yourself in a much better and free way and discuss the same over IMs.
On a personal level, you must try and gain certain information about the Developers. For example, send across an e-card to wish him on his birthday or on his marriage anniversary. It is similar to treating him like an employee in your own office. This will motivate him and make him feel like a part of your family, after all, he is working for you as your employee!
Proper Expectation Setting
This is the most common mistake people new to software projects make. Unreasonable expectations lead to despair and failure. Most of us just give away a few general ideas about what we want, then sit back and wait for the finished product. Result: unsatisfactory projects.
You need to put time and effort into managing the project to get exactly what you want. Hiring a developer is not "fire and forget" methodology. To succeed, you need to be involved in the process.
You must be prepared, determined, and flexible. You should first ask the developer to work on at least one small project you want to be done. This allows you to learn the ropes on a project you fully understand. It also frees your time for other more important or more profitable tasks!
Understanding The Cultural & Language Differences
Most of us believe that there's no need to be concerned with culture or language differences that exists during outsourcing. But we must understand that cultural differences can appear in any function. Acceptable user interfaces may have a different look and feel from one society to another. Colors and sentence structure may differ just enough to draw the user's attention.
When business processes are outsourced, cultural differences are even more pronounced. For example, the way the developers answer your queries, how they interpret the complaints of irate customers, and how they try to add humor to the conversation may all be driven or affected by local culture. For example, a message that is written by a well-intentioned customer to his client in India was like this: "Do this process this way, I bet you'll get better results." The developer replied "Sorry, but I don't gamble!"
Timely Audit & Review Strategy
In order to ensure that the project is completed on time and you get the maximum and timely benefit out of it, you should prepare, beforehand, a periodical audit or appraisal strategy and look for the areas which demand more attention, in terms of timely completion of the project, without facing any cost overruns. Again, this review also helps you to evaluate the performance of the developer and reach various important decisions, like when to deliver the software to your client and report to him with regards to the project performance.
It also helps to ensure that the objectives of the project are properly met. It should ideally be held once every fortnight or every month, depending upon the duration of the project.
Issue Escalation
In case you are facing regular trivial problems with the developer, it is never advisable to simply ignore them. You should report the same to your Project Coordinator in your weekly project feed back. This helps the management to understand the reasons of such problems and would allow them to work on the developers short comings, thus, making it a very important part of effective communication. This in turn will help to prevent any future disasters!
 
Subscribe to our Newsletter