back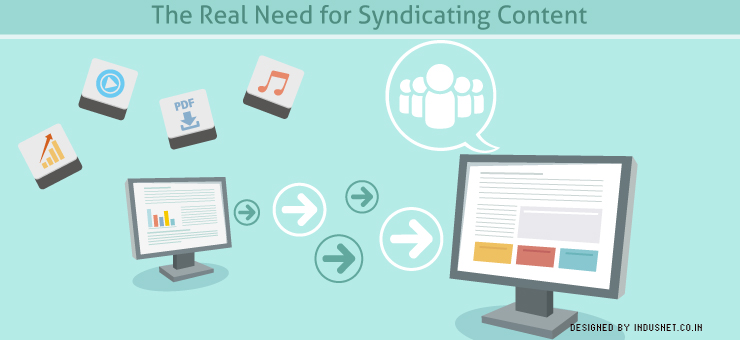 Content Marketing
Digital Marketing
Marketing
Usability
The Real Need for Syndicating Content
Content syndication is the act of publishing content, which is already published on your website, to other websites. The content so published on third party website with your due permission can be either full or a portion of original content. Syndication enhances reach of your content and improves visibility on search engines.
In contrast to syndication, guest post is when you write content to be published on a third party website but do not publish the same on any other website including your own. Many content marketers believe that syndication harms their content by lowering search engine ranking and raising questions about plagiarism. This article will bust that myth and highlight the real need for syndicating your content.
Why do you need to syndicate?
Syndication is an excellent way to give wings to your content. It lets your content get exposure through superior third-party websites. Your content can be viewed by well-established audience of other websites who share common interest with you. For a growing business, this is crucial, as you want your content to be viewed by as many people as possible. Higher the viewership of your content, the better it is for your brand. A site with higher viewership and superior reputation will in turn garner respect for your content.
This clearly indicates that your content is qualified enough to be published on a superior website. If your content is being liked by the audience, the demand for your content will increase. It will further increase traffic on your own website. Thus, as you might have noticed, without putting in extra labor, except of course building relationship with owners of other websites, you are able to create tremendous exposure for your content. You need to also be cautious while selecting a third party website. It need to score high on reputation, quality of content posted and most importantly relevance to your business.
How does it help a small business?
While content syndication has numerous benefits for marketers, it is interesting to see how it helps small business owners for whom frequent content creation becomes a challenge. There is nothing to lose in content syndication, contrary to the thoughts of many marketers.
Once you publish your content i.e. write up, photo or video on another website, audience of that website starts engaging with your content by sharing, liking and commenting on it. Because you can use the links that drive the visitor back to your website, content syndication gives you a much needed impetus. Sharing buttons to social media pages, blogs, website and links of your landing page or website, all help you to take the credit of your work.
The multiplication of content across the deserving websites will highlight your business ultimately. The reposted content always contains a postscript saying this content was originally published by so and so person or brand. Even if the postscript is overlooked, you still can use embedded links, sharing buttons and hyperlinks that direct the visitor back to pages owned by you.
A number of websites focus entirely on syndicated content. You can look for relevant websites in your industry. Uploading RSS feed on your website is another good way for alerting your followers that you've published a new piece of content. Any third party website interested in your content might choose to publish the content on their website. Many social media profile owners like to share interesting content with their audiences and they look for website like yours to use content on their website.
It is a win-win situation for both you and the publisher. You can also approach blogs in your industry to publish your content. While this is a free content syndication strategy, another way of going about it is paid syndication strategy. Paid syndication involves websites which go out in the market and syndicate content for you on the topmost websites in the industry.
The right time to go ahead with content syndication is when you have built enough audience for your own website. It is essential because by this time you are able to strike a chord with your target audience and create content actually liked by them. You can experiment with your content. Whether it is blog or social media profile, don't abandon it ever. Always do the necessary follow-up and answer to the queries generated. A loyal audience comes really handy as they share the content further. With necessary experience and credentials in content publishing & visitor engagement, it becomes easy for you to approach other websites.
As a small business owner, it is evident that you can't spend your entire time and energy in creating & managing content. After all, it is not your core business. It is always better to select a team of individuals who work towards developing content. Even if you have a remote content developer, it is better to keep a back up option. Appoint a manager to take charge of content syndication. All syndication efforts of your company need to be directed through him/her to avoid confusion for others.
How to be selective?
Syndication efforts need to be driven safely. You just can't go overboard and syndicate whatever you like or whatever you publish on your site to other sites. Such an attempt diminishes the purpose of content syndication itself. Choose to syndicate selective content that intrigues the visitors to explore the details. This leaves room for visitors to pay a visit to the original content publisher.
Apart from that, you always want your loyal website visitors to get the maximum information from your website. As a beginner, you need not prefer to withhold content, rather spread it as much as you can on "carefully selected websites." Once you build the reputation as an exemplary content publisher, you might choose to redesign your syndication strategy.
SEO consideration while content syndication
Content syndication bolsters your SEO strategy as your content gets more recognition and credibility through publishing on renowned websites. Without having to write more content, you can leverage upon the regular content being published on your own website.
Despite these visible benefits, there are few issues that might hinder content syndication. It is very much possible that your own website is relegated as compared to third party websites publishing your content. Though it is good for your content but it might not drive visitors back to your website. The news does not sound good. The best way to offset this to remove your RSS feed once you gain enough visibility. Furthermore, you can't enjoy the rapport of serving exclusive content for visitors as a visitor to your site might have already read the content elsewhere on internet.
Another issue pertaining to syndication is that you might lose credibility on search engine due to a huge influx of links. You can be penalized by Google for unchecked duplication of content. You need to effectively use canonical tags so that Google knows which version of the content is the original one.
Commercial content syndication and e-commerce
At a commercial level, syndication involves partnership between content producers and distribution outlets. First, licensing content is a way in which distributors pay a fee to content producers to be able to publish the content. Second, ad-supported content is where publishers share revenue derived from advertising on syndicated content with the content's producer. Third, free content publishing, quite often used by beginners in content syndication. Here, the content is distributed purely for reaching a vast number of target audiences and get monetary gains only by turning them into customers through subscriptions or selling your product or service.
Content syndication is also used for distributing product related content like product descriptions, images and product specifications. In such a case, many manufacturers allow e-retailers and channel partners to publish content on their website for selling purposes. This kind of syndication works to the benefit of manufacturer leading to the increase in sales.
Conclusion
Despite few issues, content syndication is an essential strategy for marketers trying to get more content exposure. It serves as an effective promotional strategy for link building. It is a source of new traffic for the transmitting site and a form of free advertisement for marketers.
After gaining enough reputation in the market, marketers can choose to tap extra revenue by entering into commercial syndication. Wait for the right time to launch. Before you choose to enter content syndication on third party websites, harness the power of all your social media platforms, blogs and websites to share relevant content with your audience.
Subscribe to our Newsletter