back

Telemedicine
From Telemedicine To Huge Investment In Customer Experience: Know Top 5 Insights From Digital Pharma Experts
Oh! What a year 2020 was! The outburst of the pandemic has not only altered our routine plans but has also altered the way businesses have operated. The evolving landscape of digitisation has opted for radical changes. Among many changes, the notable one caused by the global pandemic was when pharma companies started adopting digitization.
The change has started! Adoption of digitisation might be a notable change, but it isn't the only change we are going to see in the pharmaceutical sector. To not lag and to keep up the pace, we have focused on five top digital pharma influencers and what they are talking about.
"Telemedicine is at a Tipping Point, Not an Inflection Point"
John Nosta is globally recognized as a digital pharma influencer by many esteemed organizations, he is a technology theorist and also the founder and president of NOSTALAB, a digital healthcare think tank. His specialties include medical innovation, technology, and strategic
Nosta shared his contradictory view on 'Telemedicine' where he states "Telemedicine is at a Tipping Point, Not an Inflection Point". When pharma pundits are considering this era of telemedicine, he openly uncovered the flaw and raised the question on the sustainability of Telemedicine. The question is, can telemedicine ensure the continuation with not much added sustained effort to stay?
Instead of substituting office visits with zoom calls, the pharma industry must take this opportunity of "Available technologies combined with user education (that) can transform this experience to something that is enjoyable and provides a valuable clinical experience. This is a dramatic contrast to today's perspective that positions telemedicine as an 'event of convenience' versus a tool of medical excellence. "
The magnitude of #LongCovid
The severity caused by Covid has a long-term effect, thus giving rise to "Long Covid". Maneesh Juneja aka digital health futurist and a top digital pharma influencer has battled coronavirus talks about his experience on the journey of #LongCovid. In his words, " It's hard to describe how brutal the fatigue can be during #LongCovid, especially when family and friends say stuff like "Yeah, I also feel tired now and then too. This is not normal tiredness, this is like a wave of complete exhaustion that envelopes your body & brain"
Addressing the magnitude of Long Covid, several digital health solutions can adapt to keep the spirits high. Be it a digital health tracker to motivate you when feeling fatigued or with a simple app to make meditation accessible.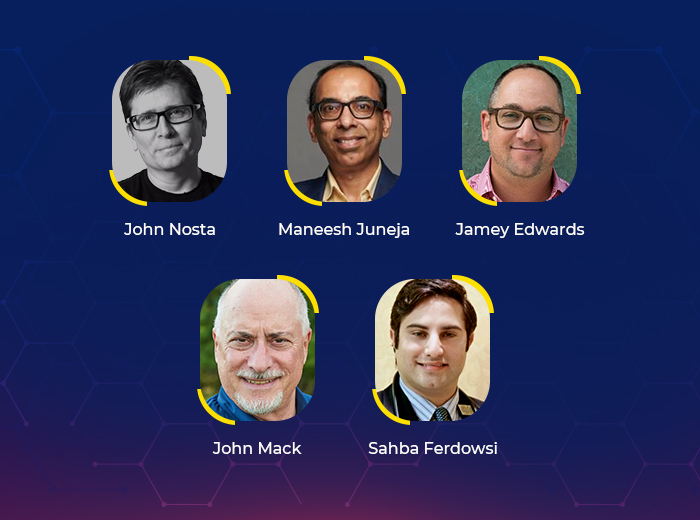 Resolving the nursing shortage
The pandemic has called out for medical emergencies, which further led to treatment shortages. Jamey Edwards, CEO, and founder of cloud break health mitigated the disparities through the healthcare system. In a wake-up call for digitization, Jamey resolved the shortages in "nursing, specialties, and access, with recent cases such as tele-stroke, telepsychiatry, tele-urology, and tele-quarantine". Jamey has looked beyond the challenges caused by the pandemic and created a healthcare ecosystem where the patients won't feel left out from their families, doctors are saving on PPE kits, and it has also minimized the risk of contagion.
Sharing his future view to social tech, Jamey says, "We're very excited to see continual digital transformation in the industry, which we are part of, and we're actively expanding our base of hospitals. We're now looking forward to being part of Uphealth, which will be one of the few profitable, publicly-traded digital health platforms serving the global healthcare market. We're excited to continue to build out that platform, and help local healthcare providers manage their digital health initiative"
Concierge Medicine on Rise
Doctor on-demand mobile service is on the rise. Sahba Ferdowsi along with his co-founder founded Medicast to provide the highest standard of medical care irrespective of their location. "Concierge Medicine" has seen a rise in the healthcare sector, where not only treatment is accessible but also delivered at a convenient location.
"Convenient access to quality health care is something every health care professional strives to achieve. By simply pulling up an app, patients can request a physician to visit their home, office or hotel." Concierge medicine is a trend that is catching up faster and reports reveal its growth rate of 10% to 15% each year.
Though telemedicine will play a major role in the upcoming years, Ferdowsi said in-person visits won't get substituted. It is important to have a novel way to use technology to empower HCPs for a better patient outcome.
Emerging technologies give a new face to pharma marketing
PharmaGuy refers to himself as a "constructive critic" of the pharma industry and pharma marketing. Look to PharmaGuy's feed for industry commentary, news, third-party resources, and free offers.
When looking for the most updated content on pharma marketing and trends in the pharma industry, PharmaGuy is the perfect digital health influencers to follow. In its recent blog, Pharma guy talked about ways to increase the enhancement of CX through emerging pharma technologies.
When comes to emerging technologies, there are AR/VR, AI/ML, chatbots, telehealth etc. which could be leveraged to create value for the customers. Service providers are continuously engaging in improving the technologies such as chatbots to be more personalized and sound less robotic.
PharmaGuy has highlighted the importance of humanizing apps. COVID-19 has influenced the pharma sector to focus more on the customer experience, and humanizing the app makes it less frustrating and more personalizing. Further PharmaGuy has focussed on the power of Big data and the insights derived from it to strategize digital marketing, moreover, the integration of data to form a digital space can be the game-changer in the pharma sector.
If you want to learn more about how to bring resilience to pharma companies post covid, read our exclusive guide book on pharma marketing and learn to leverage emerging technologies for tangible business outcomes.
Subscribe to our Newsletter