back

Digital Buzz
Indus Net Technologies (INT.) Is All Set To Thrive At GoodFirms With Its Analytics-Driven Approach To Deliver Robust Web Solutions
Offering simple and sustainable web solutions would soon bequeath Indus Net Technologies (INT) to lead amongst the flourishing web development service providers in India at GoodFirms.
About the Company:
Incepted in 1997 and headquartered in West Bengal, India, Indus Net Technologies (INT) is a one-stop product engineering corporation proffering a confluence of technology, analytics, and marketing. With more than 750 passionate professionals on board, it serves businesses like Ageas, SBI General, Indusind Bank, Dr. Reddy's, Cipla, Government of India, and a few others. Our consultative & collaborative approach is analytics-driven. Moreover, Indus Net helps companies navigate every facet of the digital landscape, identify growth possibilities, reveal competitive benefits, and define pleasant experiences with robust solutions.
With a stronger integration among various elements, the professionals ensure superior quality and timely delivery to the clients, enabling INT as the most trusted partner of fastest-growing Agencies, SMEs, and Startups across 20+ countries. The experts stay updated and come up with innovative solutions to solve clients' business everyday problems.
A culture of challenging the status quo at the company guarantees that the clients outsmart the industry. The group further anticipates future needs that allow them to enhance their capabilities and remain connected to the client's business requirements under changing business conditions. They create new ideas, share it & try to turn it into a reality that benefits the industry.
GoodFirms' Research Process:
GoodFirms evaluates different companies listed with it through its accurate assessment process based on three principal viewpoints viz Quality, Ability, and Reliability. With the help of the research conducted on the latest business trends, the service-seekers can get their perfect ally, meeting their business requirements.
The GoodFirms unit also judged Indus Net Technologies and found that with its exceptional services and solutions, the firm gets identified as the leading company in mobile app development and digital marketing. Further, the team also concluded that Indus Net Technologies (INT.) would soon thrive amongst the web development category in India, respectively, at GoodFirms.
The below-mentioned description from the evaluation shows Indus Net Technologies' (INT.) working ethics and its flourishing services.
Developing Agile, Scalable, and Cost-Effective Web Solutions:
The website is the foundation of clients' online business. Therefore, the in-house web developers' team closely works with clients as their advisors and ensures that they get it right in terms of the content management system, site architecture, branding, styling, design, content, and integration with marketing applications.
Besides this, the group at INT builds custom websites and web applications to help businesses grow smarter and faster, and serve better through automation, business process management, and integrated systems giving unique advantages for the business.
Moreover, INT's expert professionals understand clients' requirements and their business to build websites with underlying technologies and integration with enterprise applications and, above all – MarTech. They choose the most suited solution for clients' business and execute that with perfection to give their website a lively look.
The team holds expertise in some CMS, such as WordPress, Joomla, Drupal, MS SharePoint, Sitecore, Kentico, and Sitefinity. Thus, taking a holistic view and helping clients by giving them robust solutions would soon endow Indus Net Technologies as one of the best web development companies in India at GoodFirms.
The review obtained at GoodFirms is the evidence of the quality of the websites developed at Indus Net Technologies.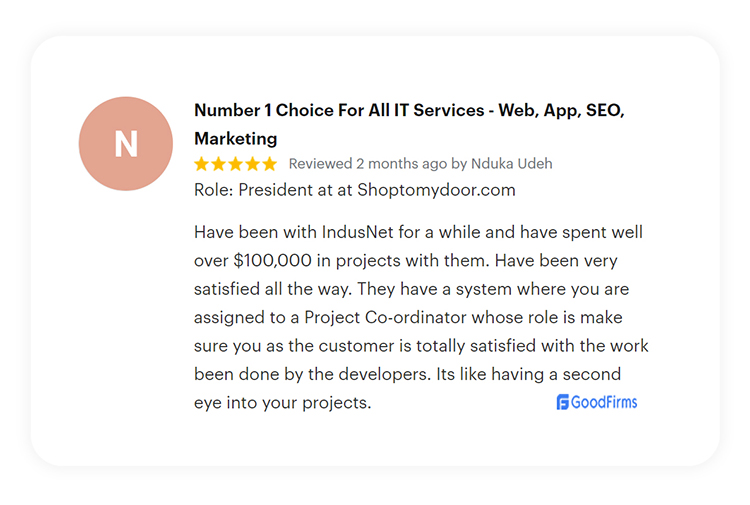 Delivering Digital Success with User-Friendly Mobile Solutions:
At Indus Net Technologies, the expert app developers build apps for all business stakeholders – i.e., prospects, customers, employees, partners, and vendors, to ensure that clients extend their business functionalities in real-time in a connected world. They build apps for native and hybrid apps.
Furthermore, the expert unit provides clients with different services such as iOS, Android, Windows, PhoneGap, Xamarin, Titanium, IBM Worklight, Ionic, and Kony. The sophisticated iPhone app designers and developers provide the clients with visually stunning iPhone apps by exceeding expectations and exponentially increase brand reach.
Apart from this, the in-house app developers offer many Android apps that work in both online and offline mode. Thus, crafting pixel perfect, clean, and functional mobile apps that delivers best-in-class results endows Indus Net Technologies as one of the leading mobile app development companies at GoodFirms.
The review and scorecard displayed below are reflecting the quality of apps developed at INT.
Review: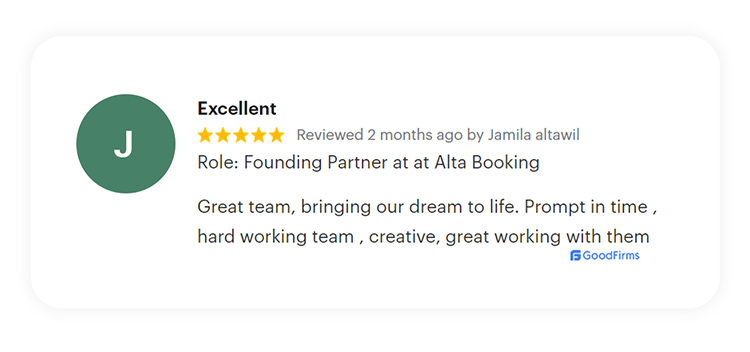 Scorecard:

Providing Superior Marketing Services:
Digital Marketing is continuously emerging and can be very confusing for business people. It is important to have a crisp, sorted-out, business-aligned strategy to get the highest return on investments. Ergo, the expert digital marketers put together the right approach, baseline, metrics, knowledge, techniques, and insights suitable to clients' business and industry.
Moreover, INT's marketing team provides clients with an end-to-end strategy using suitable tools in the right order and quantity to get the best outcome for their business. The group also works tirelessly to squeeze out the best ROI from paid search advertising for clients' business through a holistic approach.
Thus, ensuring speed, security, freshness, and brand styling for clients' digital assets in this fast-changing technology landscape through its digital marketing services endows INT as one of the best digital marketing agencies in Australia at GoodFirms.
About GoodFirms
Washington, D.C. based GoodFirms is an innovative B2B Research and Reviews Company that extensively combs the market to find web development, mobile app development, and digital marketing agencies amongst many other technology firms that offer the best services to their customers. GoodFirms' extensive research process ranks the companies, boosts their online reputation and helps service seekers pick the right technology partner that meets their business needs.
About the Author
Anna Stark is a staff writer with GoodFirms – a Washington D.C. based B2B Research Company that bridges the gap between service seekers and service providers. Anna's current role includes gauging companies' performances and their key attributes and putting them into words. She firmly believes in the magic of words. She is always looking for new strategies and ideas that companies have gladly embraced and exclusively shines a light on those to make their identities shine brighter on GoodFirms and the World Wide Web.
Subscribe to our Newsletter