back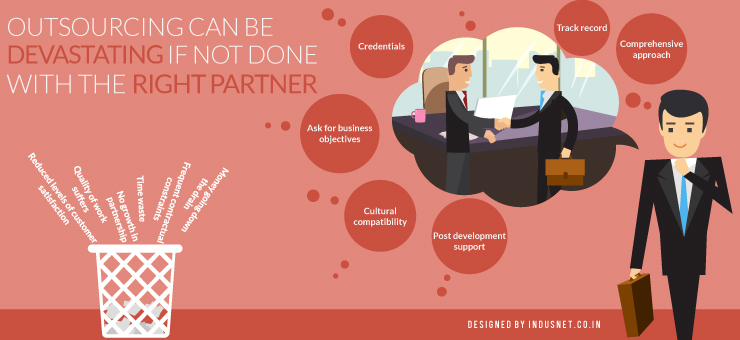 Outsourcing
Outsourcing Can Be Devastating If Not Done With the Right Partner
Outsourcing contracts tend to be taken casually by many businesses since client is not directly involved in delivering a service. A mere contract and a service level agreement do not ensure that you will get the best of the service. A wrong outsourcing service partner can be devastating for your business as it directly affects your customers.
For instance, Boeing committed a series of outsourcing mistakes due to which the company had to incur huge additional expenses. In their bid to save cost, their outsourcing model was full of flaws. Some of the mistakes include subcontracting of on-site vendor monitoring, poor co-ordination among vendors as assembled parts did not fit together, lack of expertise as some vendors didn't have the expertise to design certain sections of the aircraft etc. It is clearly evident from Boeing's outsourcing project debacle that choosing a right outsourcing model and a right partner is crucial for your business. Higher the stakes, higher is the risk involved.
What problems do you face if you enter a wrong partnership?
1. Reduced levels of customer satisfaction
Every business survives because of its customers. And if customers are unhappy, business would not last for long. By partnering with an incompatible service provider, you will frequently notice that your customers are disgruntled for some or the other reason. You will start losing customers and your sales team will be under pressure to acquire more customers. Loss of key accounts will be a big blow to your business. Since the customers are less likely to be loyal due to poor service, your customer acquisition cost will rise abruptly. There will be a steep increase in the number of inbound calls. Though the reasons for customer dissatisfaction can be many, presence of an unsuitable service provider will unusually hike their woes.
2. Quality of work suffers
The quality of service delivery depends on the priorities of a business. Some businesses believe in quantity while others believe in quality. If your service partner is servicing too many accounts, it is likely to affect the service quality delivered to your customers. A disinterested partner will not care to service the customers the way you want it. He will also not be able to maintain minimum service levels. Quality of service delivered also depends on many other factors like infrastructure and technology available with the service provider, service policy, track-record, labor policy, and expertise. As an outsourcer, you must analyze all the factors in detail before choosing the partner.
3. No growth in partnership
Partnership is not limited to signing a contract and working together. In true sense, partnership involves sharing a common vision and aiming for a long-term association. There can't be any growth in partnership at strategic level if the service provider lacks intent to add value to your service. Many companies fail to recognize opportunities in outsourcing and are stuck in the rut. These are not good signs for a growing and innovating company. A partner should be such that his initiatives help you climb up the value chain and who looks for betterment of stakeholders across the supply chain. A good partner will always introduce best practices and ideas to improve customer satisfaction.
4. Frequent contractual constraints
A contract is formed to deliver justice to both the parties. But association with a wrong partner can often lead to misuse of the contract. Irrespective of the terms and conditions quoted, clauses can be misinterpreted to get one's way out. A crafty partner will make excuses during service delivery and frequently cite contractual terms. On the other hand, a trouble free partnership is the one where contract just serves as a formal agreement while the spirit of working together defines the strength of partnership.
5. Poor communication and co-ordination
When the intent is lacking, service provider will not bother to communicate with you on various important issues. The result is ultimately reflected upon quality of service delivery. Lack of communication creates obfuscation. In many cases, in-house employees have to work in tandem with the offshore team. Incompatible partner will not take steps to improve co-ordination between the teams which will lead to downfall in productivity of your in-house employees. In-house employees will be burdened with extra work as they'll experience lack of support from the service provider.
6. Time waste
When your partner decides not to devote sufficient time to cater to your customers, there is nothing that can change this attitude. Ultimately, you start missing project deadlines. Missing deadlines becomes like a chain reaction, difficult to stop. You are always behind schedule and your performance is sharply affected in the bid to finish the project hastily.
When there is no progression in the partnership, a moment comes when you realize that you have lost a couple of months and in worst cases, years too. This downward spiral stops only when you take a firm decision and step out of the partnership.
7. Money going down the drain
An unplanned decision hurts badly in future. When your outsourcing decisions are taken in the spur of the moment, your financial performance is bound to get affected. The purpose of outsourcing is to free up your resources to concentrate on your core business activities. But what happens, when your secondary activities are not taken care of? You end up spending more money, deploying more resources and human capital to carry out the same task. In the time where profit margins are shrinking due to competition, a wrong outsourcing decision can be fatal to your business. Many service providers overbill their clients when the client is ignorant of the details.
8. Company image is tarnished
When your customers don't get good service from your service provider, they will only blame you. It is your responsibility to make sure that they get the best service. If your outsourcing provider is someone who shrugs his shoulders at your customers, it is your company image which is being tarnished. Customers feel neglected and you lose them. It takes years to build a brand and win customers' trust. One poor outsourcing decision will cost you more than money.
How to choose the right partner?
Comprehensive approach
A compatible outsourcing provider will have the ability to understand your overall project requirements. Check for their ability to assess workflow processes, software requirements, compliance regulations, server and network management ability and disaster recovery plans.
Track record
Find out about their track record, quality and quantity of customers served, vertical served, scale of business served, number of years in the industry and project failure to success ratio. Ask for references to know about any shortcomings and inabilities to face a particular challenge.
Ask for business objectives
Knowing their business objectives in detail will give you a clear picture whether the business is ambitious to serve a long-term partnership or just interested in making quick money doing short-term projects. This is important so that you don't waste time in pursuing someone who does not value the relationship.
Credentials
With a deluge of service providers in the emerging economies, almost everyone claims to be the best in the industry. Most of them are incapable and lack sufficient experience in the industry thereby posing a major threat to your services. It is always better to find out thoroughly about the credentials of directors of the company, their experience, and qualifications to know if they match your goals and service standards.
Cultural compatibility
If the service provider does not understand the way you function, it becomes difficult to perform and meet your expectations. There is always a communication barrier as teams are unable to understand each other.
Post development support
This is a crucial part in the partnership. Is your service provider someone who only believes in "deliver and move" nature? If yes, then must think twice before entering into partnership. Make sure that you get full support upon project completion. There can be a number of issues during implementation stage and it is the responsibility of the service provider to provide you assistance till the implementation glitches are ironed out.
Finally, Technology check
It is easy to claim that one has state-of-the-art technology; the reality may be shocking for you. Do not believe in claims, instead visit the service provider and conduct a technology and infrastructure audit of their workplace. This will help you to understand their processes, methodologies and systems in place. You will also know what to expect out of them.
Subscribe to our Newsletter