back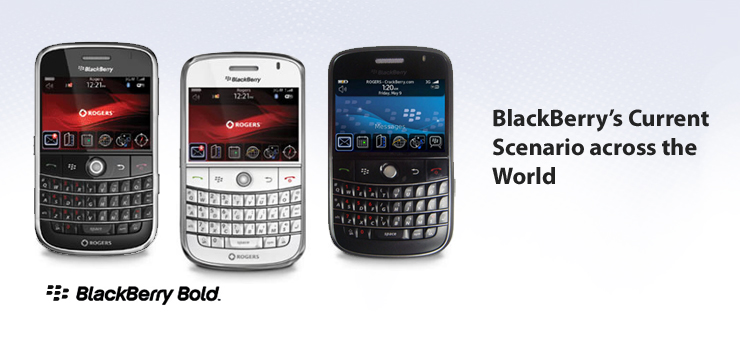 Mobile
Technology
Why You Cannot Ignore the BlackBerry Mobile App Platform?
Before smartphones were manufactured the way people understand them now, RIM perhaps was one of the pioneers in manufacturing devices that could be termed as phones that also doubled up as digital assistants. BlackBerry devices managed to retain a loyal audience of business users, government employees and even a segment of general populace.

BlackBerry's Current Scenario across the World
With its addictive BBM messenger and secure email application, BlackBerry devices remained popular until a few months ago when the company experienced outages throughout the world. The devices are still popular in emerging markets like Brazil, India, Eastern Europe, Indonesia and South Africa, though its popularity in its home country Canada and also the consumer juggernaut U.S. has waned.
What BlackBerry's Condition Could Mean

A reduction in its popularity doesn't necessarily mean that it is all over for BlackBerry. Instead, it could just mean this is one of those opportunities for developers where they can target not just enterprise users but also regular consumers who love RIM's BlackBerry devices for its BBM messenger and its highly functional physical QWERTY keypad. BlackBerry devices run on Blackberry OS V 7.0 at the moment, and their flagship model 9900 is one of the best models that BlackBerry has ever launched. The latest smartphones by RIM feature several new features like NFC, augmented reality, support for 4G-LTE networks, touchscreen capabilities along with physical keyboards and much more.
Blackberry OS and QNX: The Future

However, being a company that not only manufactures its devices but also depends on its own operating system, it is all a little confusing at the RIM headquarters. The BlackBerry OS 7.0 has been touted as being significantly faster than its previous versions and the company is expected to unveil a few more devices in the near future.
However, RIM's current plan of action is to overhaul its ageing software and introduce QNX-based operating system by the end of this year. During the fourth quarter of 2012, one may see BlackBerry's first QNX based Smartphones for which developers are being given access already. In fact, BlackBerry PlayBook, RIM's tablet bombed at the market but has received positive critical response and the company shall use the very same OS on its future smartphones as well.
Why Developers Must Focus on BlackBerry
Developers would stand to gain if they began to work on QNX-based applications as there is a huge market out there, which is going to remain loyal to RIM. The security, tactile feedback of QWERTY keypads and the allure of BBM messenger will keep both enterprise and regular consumers using BlackBerry devices though they may hesitate to do so. This lack of appeal caused due to a dearth of applications available on BlackBerry platform is one of the major setbacks.
If app developers showed a little bit of interest towards BlackBerry OSW and developed applications just as excitedly as they develop for iOS or Android, they have significant chances of tapping an almost undiscovered market potential. Some of the advantages of the BlackBerry OS platform are that third-party developers can go ahead and write software using Blackberry API classes. However, certain functionality may need to be digitally signed. The OS is programmed in C++ and provides support for Java.
With QNX being heralded as the new BlackBerry OS, developers have a lot to look forward to. The next few months will be crucial to not only BlackBerry, but also developers who are considering writing applications for another major OS apart from iOS and Android. App developers have a lot of tools to work with, as BlackBerry has slowly begun to realize the importance of having great applications.
RIM has understood that if they do not lure developers to create apps that would keep its consumers hooked, the company might see losses that are irreversible. Moreover the company has changed its CEO and there is a new chief who might be able to bring back BlackBerry's lost lustre. This worst-case scenario could in fact become a market opportunity for developers out there, who are still trying to figure out if it is a good idea to invest time in developing applications for BlackBerry. The answer to that lingering question is an emphatic 'yes'!
Subscribe to our Newsletter